Well it's that time of year again. The Detroit Auto Show is here again and hopefully it's as good as it was last year. I think last year's pretty much belonged to Ford because the foreign markets weren't really showing us anything new or exciting. So now that I've acquired the webspace to host these, I figured I'd show the pics from last year's show in honor of the annual event. I haven't been to this year's yet because opening day was yesterday and I NEVER go on opening day or a weekend because it's always ALWAYS packed! Because on those days it's 90% dopey ass high school kids who don't know how to act in public and I don't have the patience to deal with that shit. Also I heard something about Eva Longoria (that hot brunette chick from Desperate Housewives) was supposed to be unveiling the Chrysler Imperial concept at the show, which is a 300C replication so people will by it anyway. Eva's cute but..... she's a fuckin' airhead, give me Eva Mendes instead. So anyway here we go.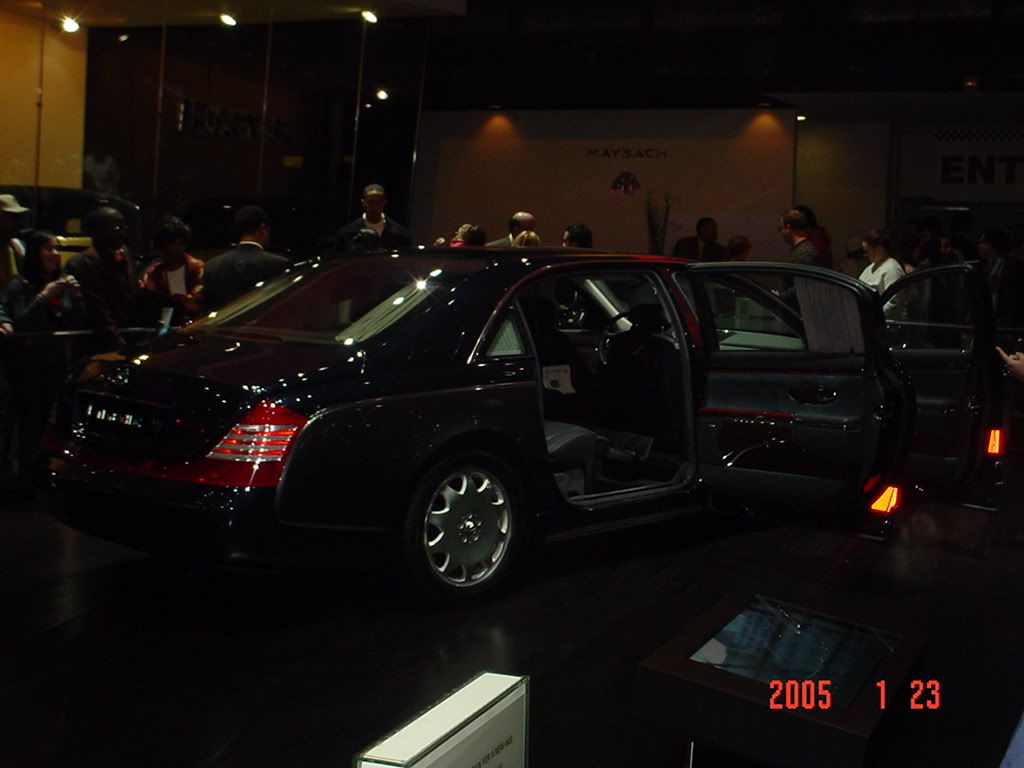 Mmmmmmm..... Maybach.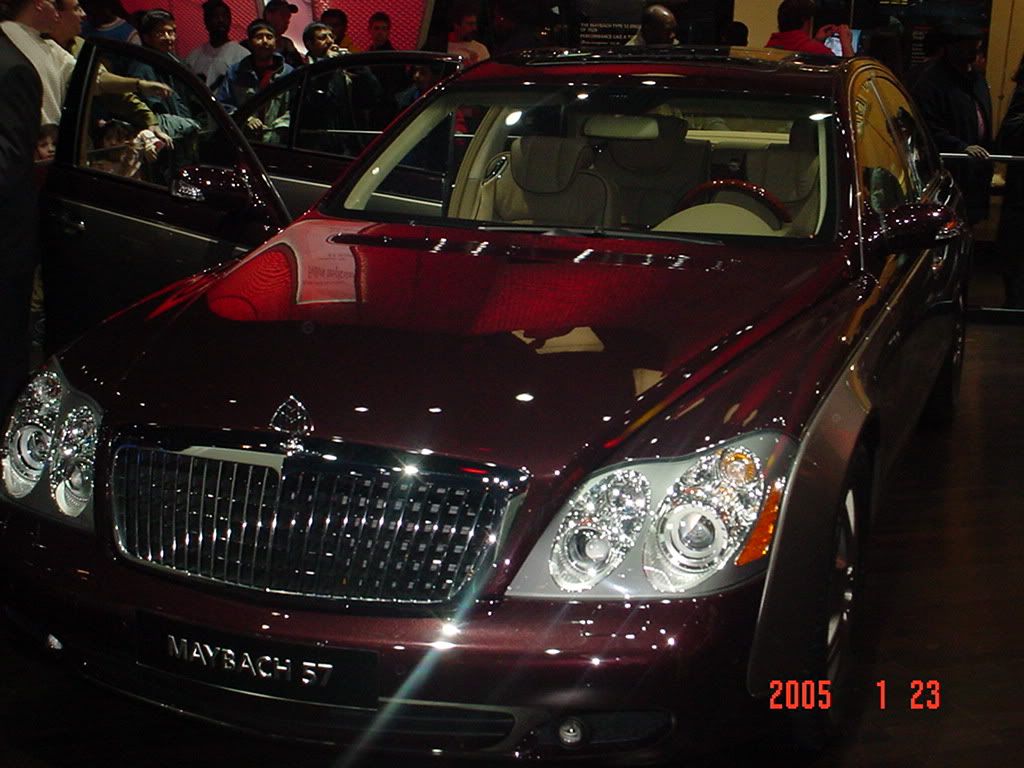 Oh man, the most badass Mercedes to date... the Mercedes-Benz SLR McLaren...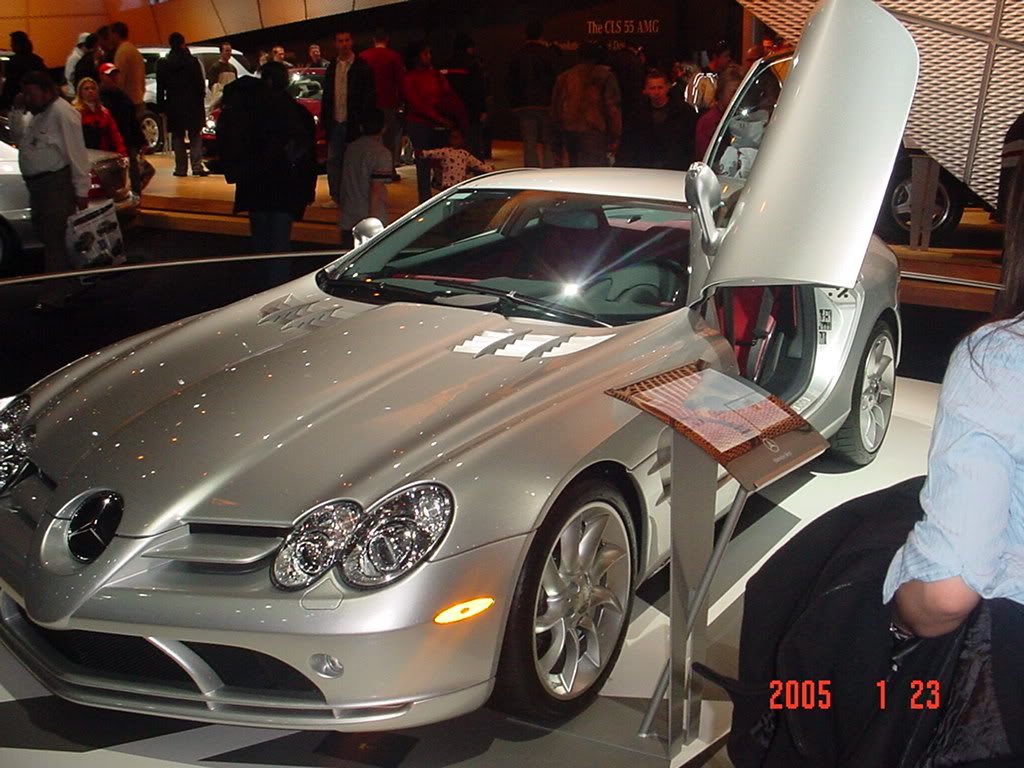 Doors opening like that is so fuckin' cool! Reminds me of that red Camaro that turned into a jet on that 80s cartoon M.A.S.K. GOD I'm getting old!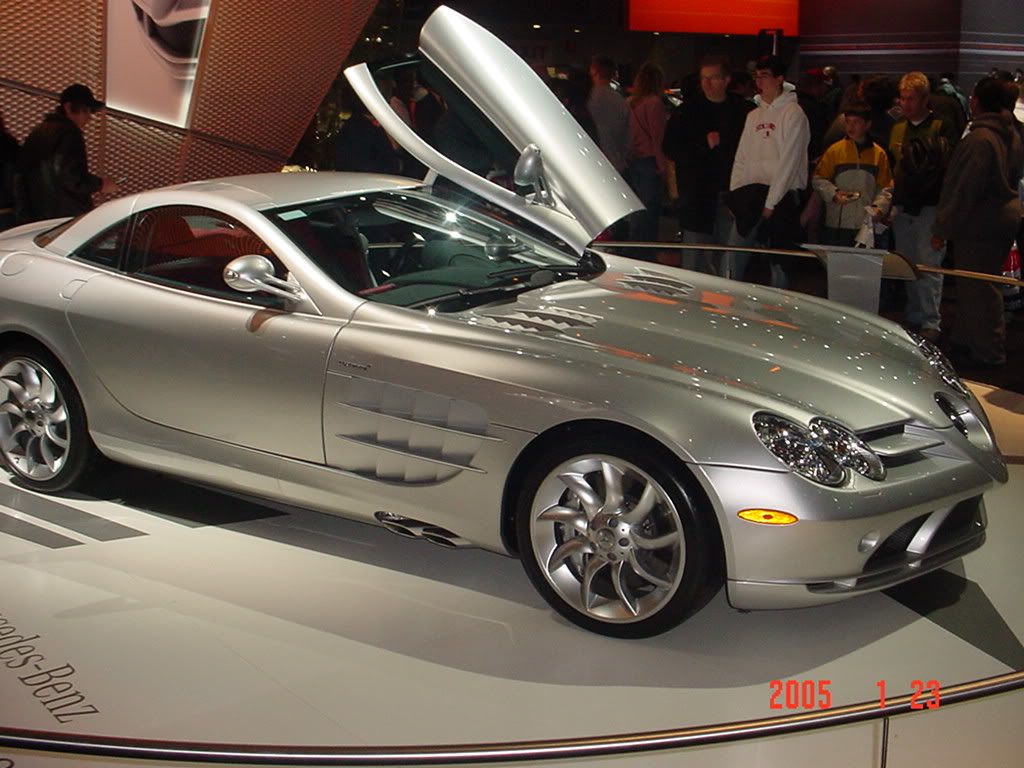 SIDE PIPES!!!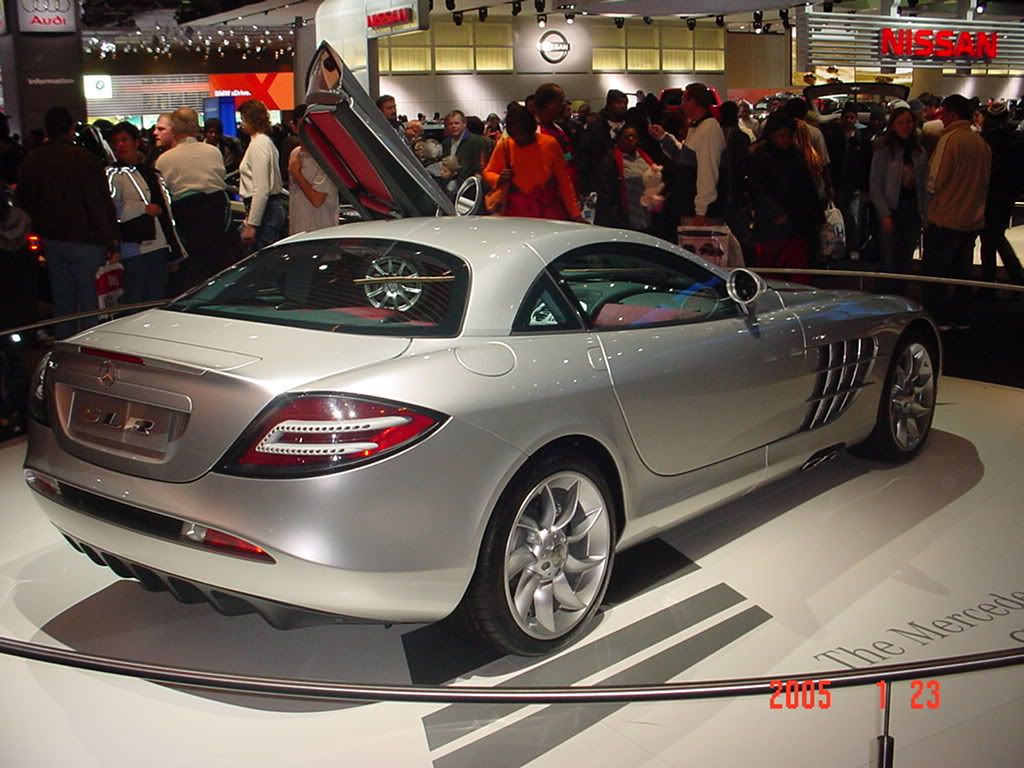 Ah yes, 616 of the sexiest Deutsche ponies to ever grace the hood.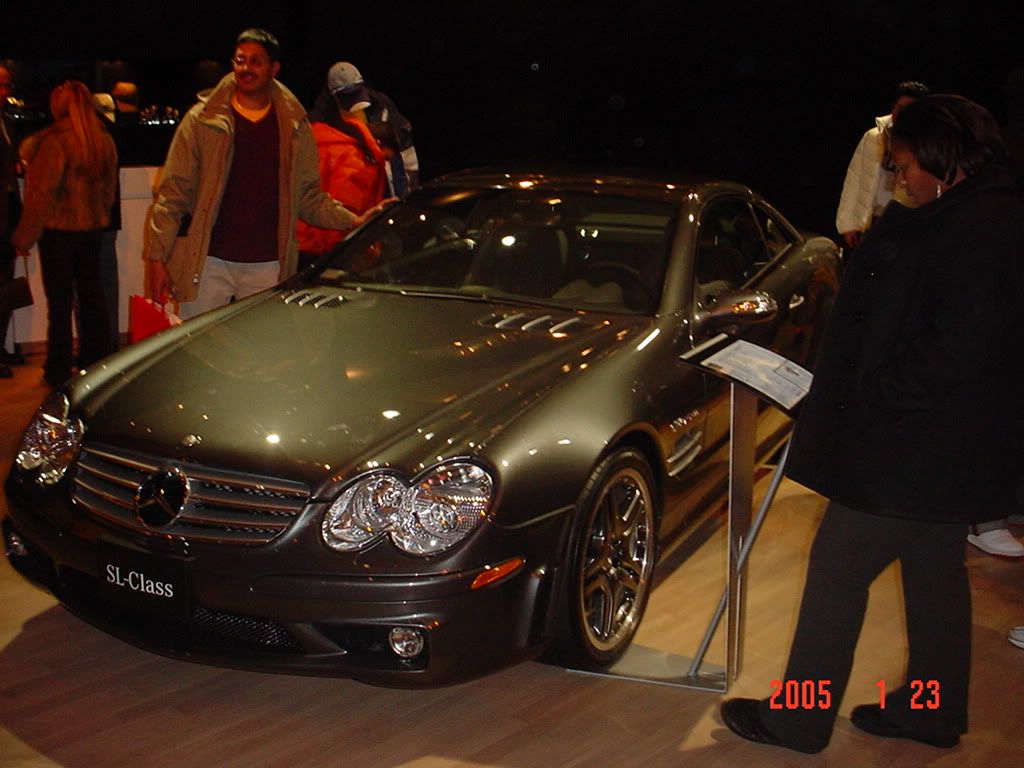 I think this ones an SL 500, I'm not really too good with German cars. All them damned classes and series and what not are hard to keep up with for me.

Onward to Honda..... I guess.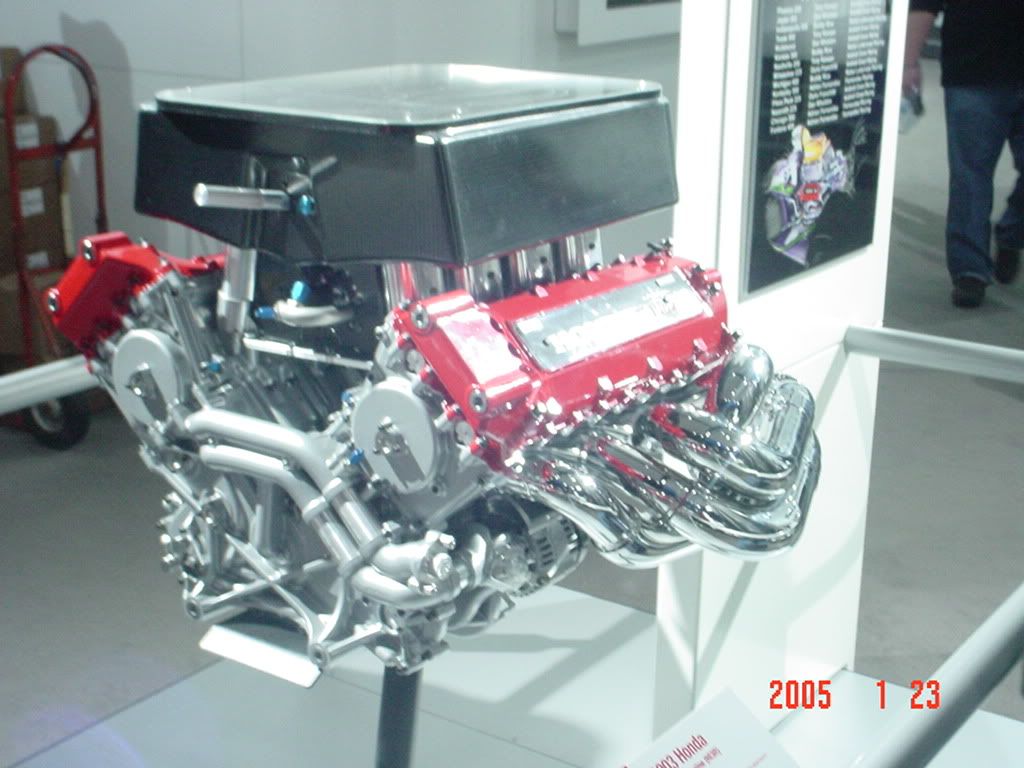 This engine doesn't look anywhere near production, I think this is one of their Formula 1 engines.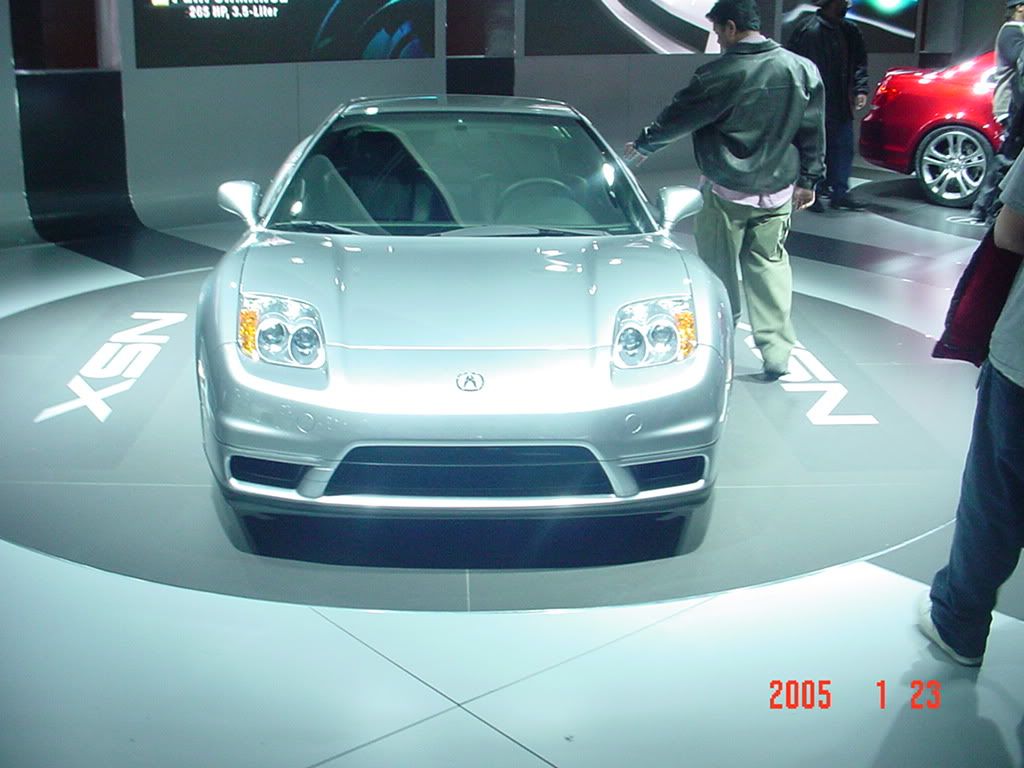 And my favorite Japanese car, the Honda NSX.... oh so sexy.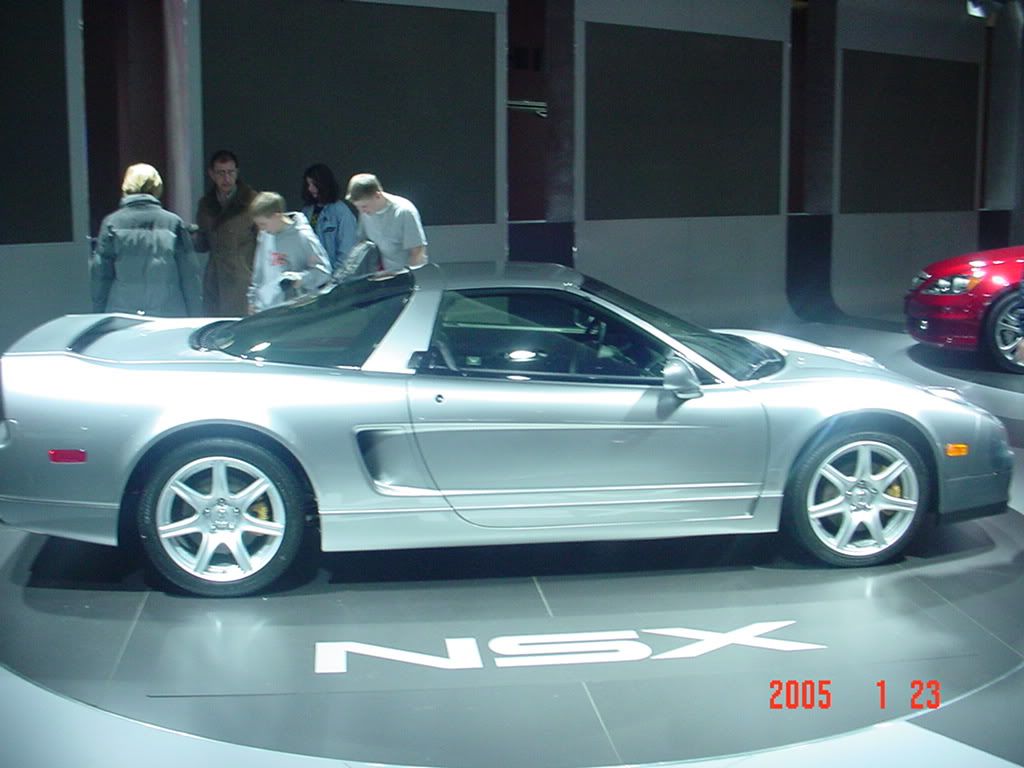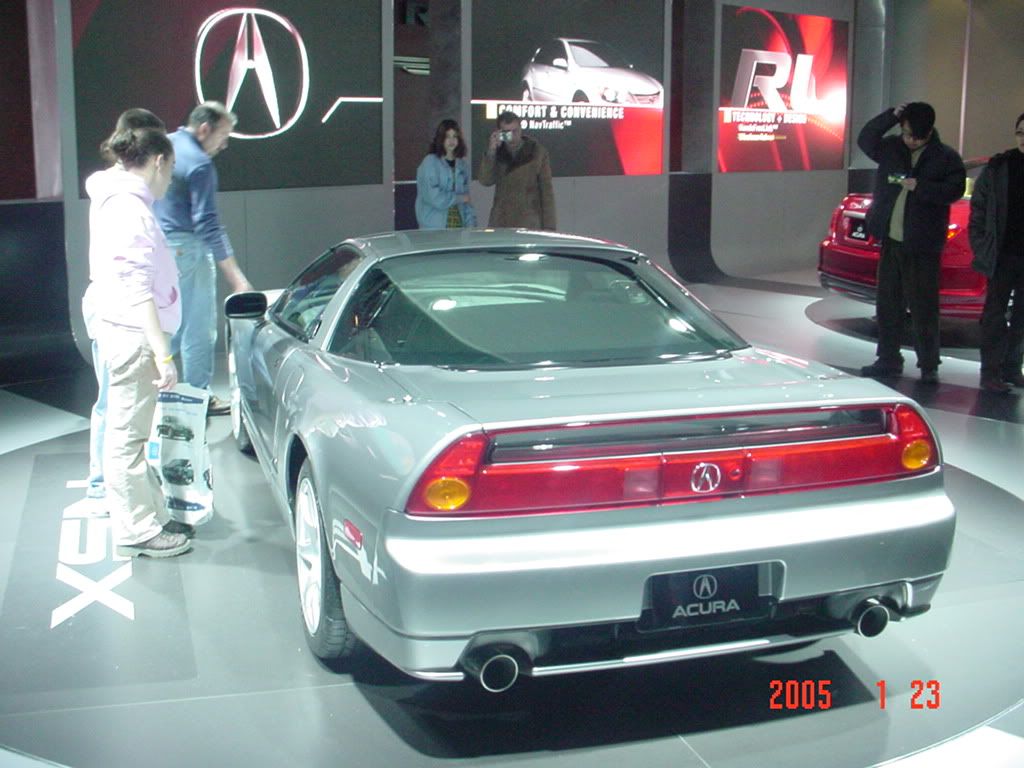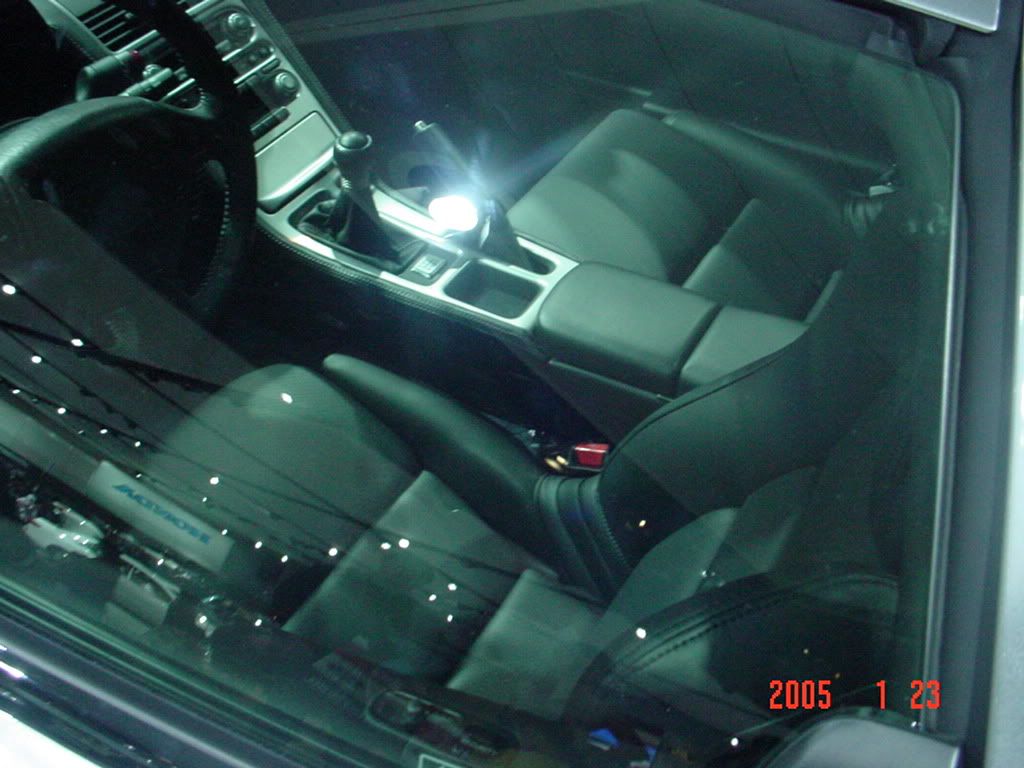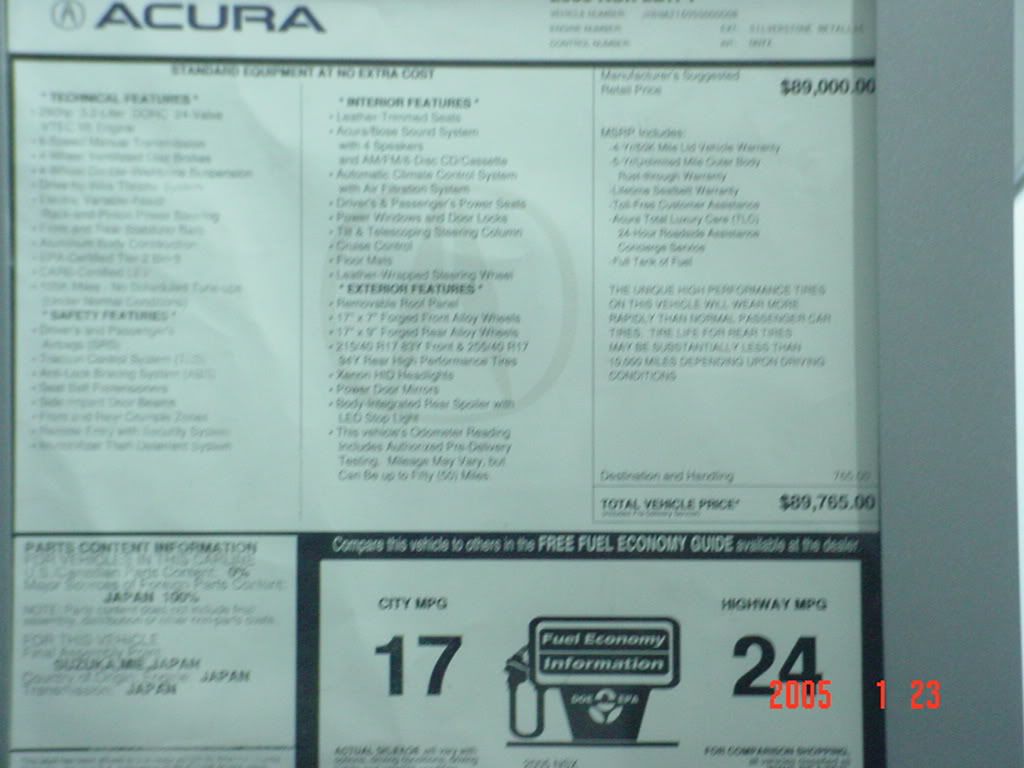 Even though it's a 3.2L V6, you gotta love that mileage for it to be a sportscar.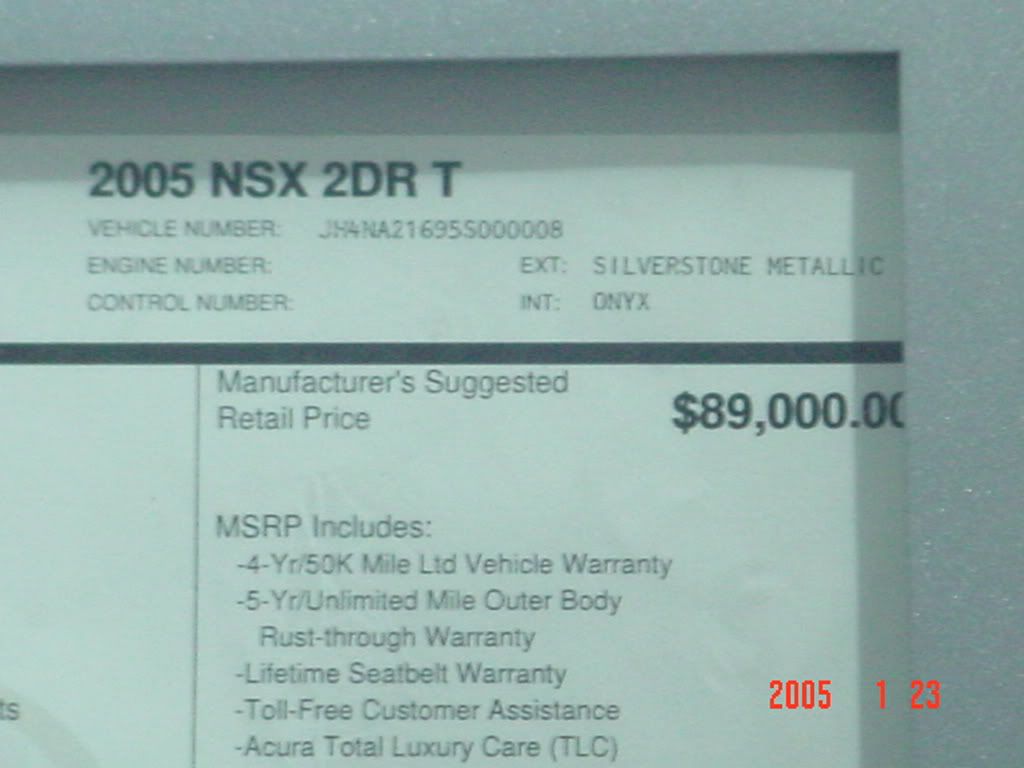 And even though it's a V6 and $90K..... I'd still pay that much for a new penis.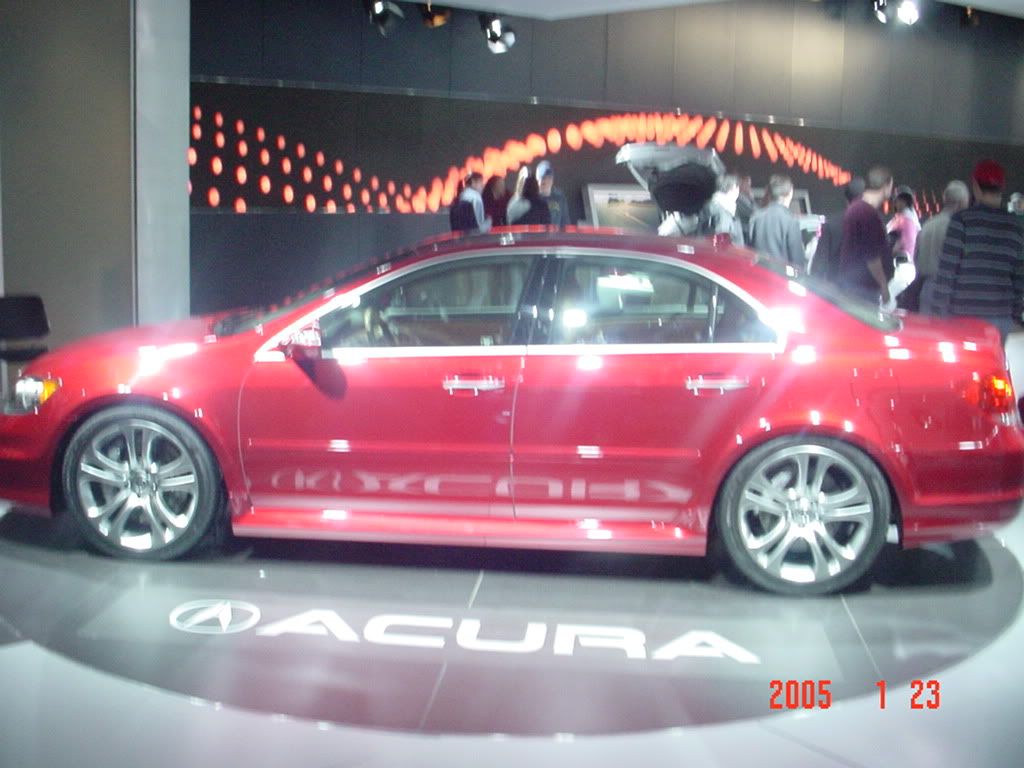 And I think this is the Acura CL.... or something, it looked cool so I took a snapshot.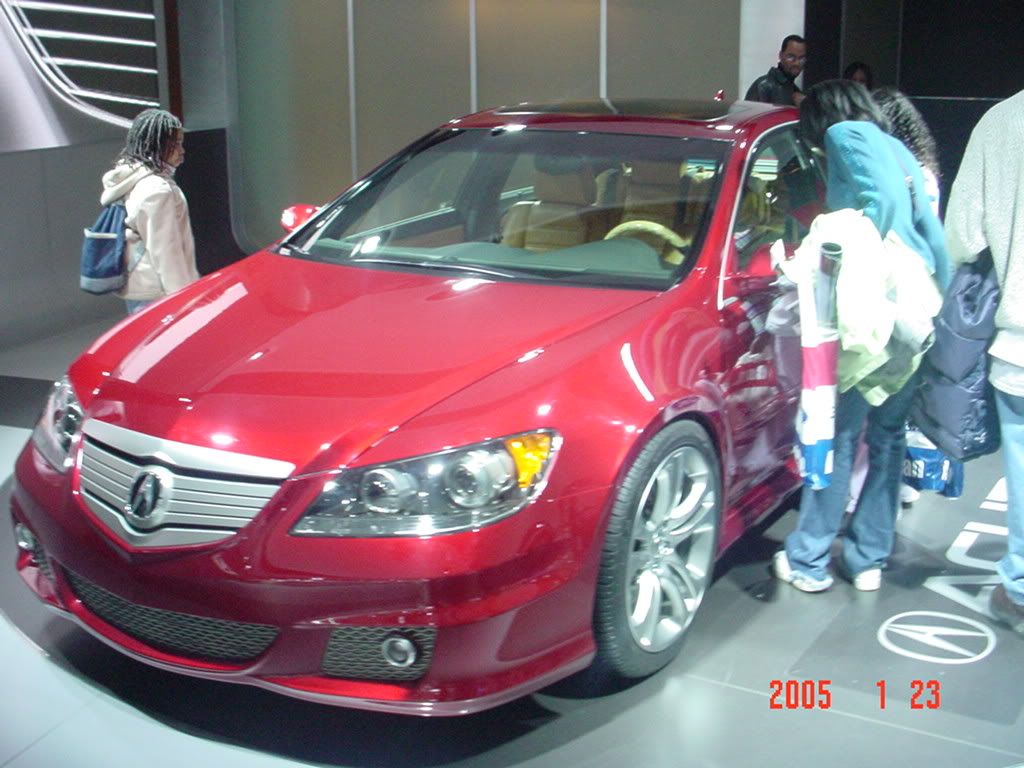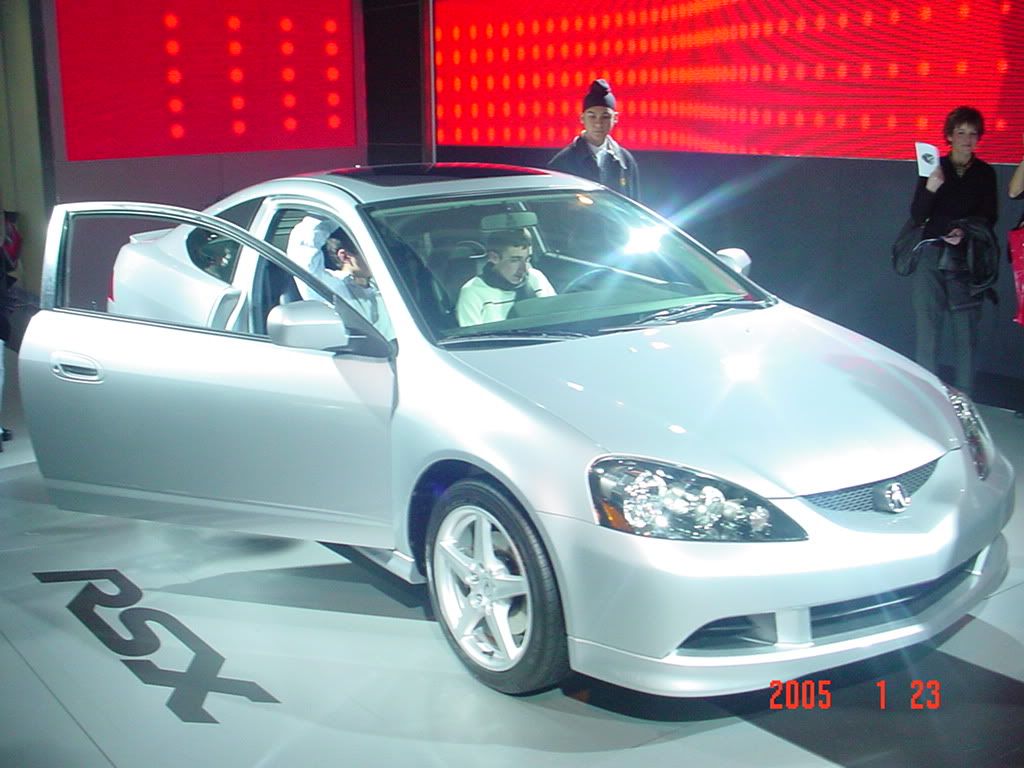 And the 05 Integra.... four bangers and front wheel drive isn't really my cup of tea.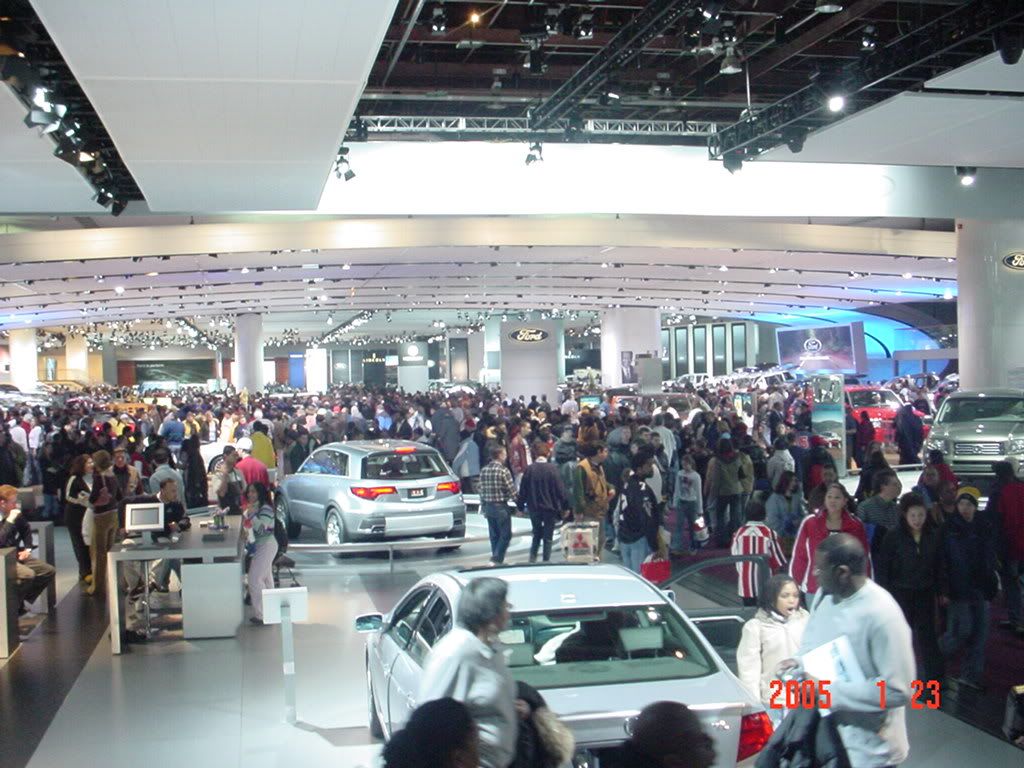 The pony car section...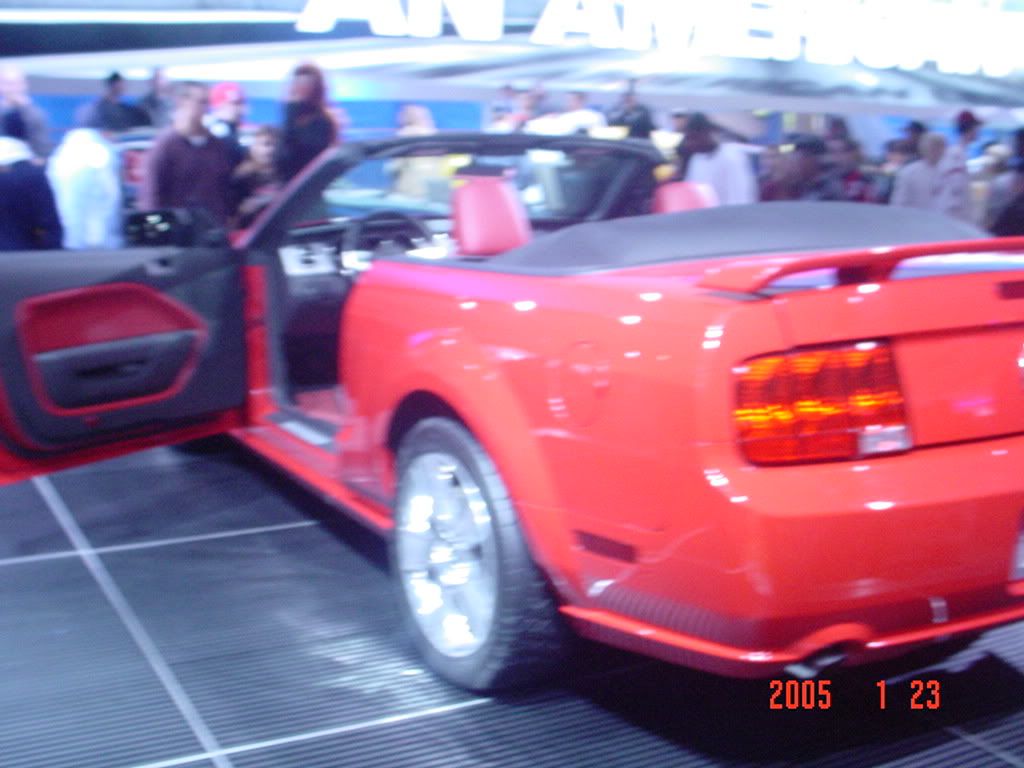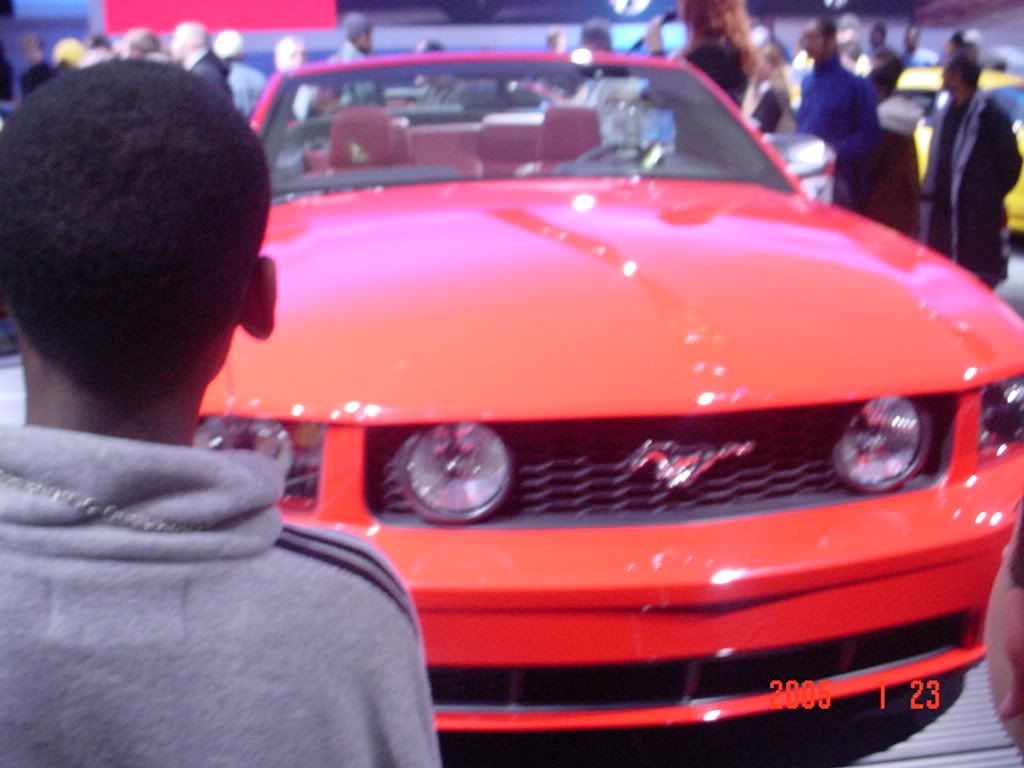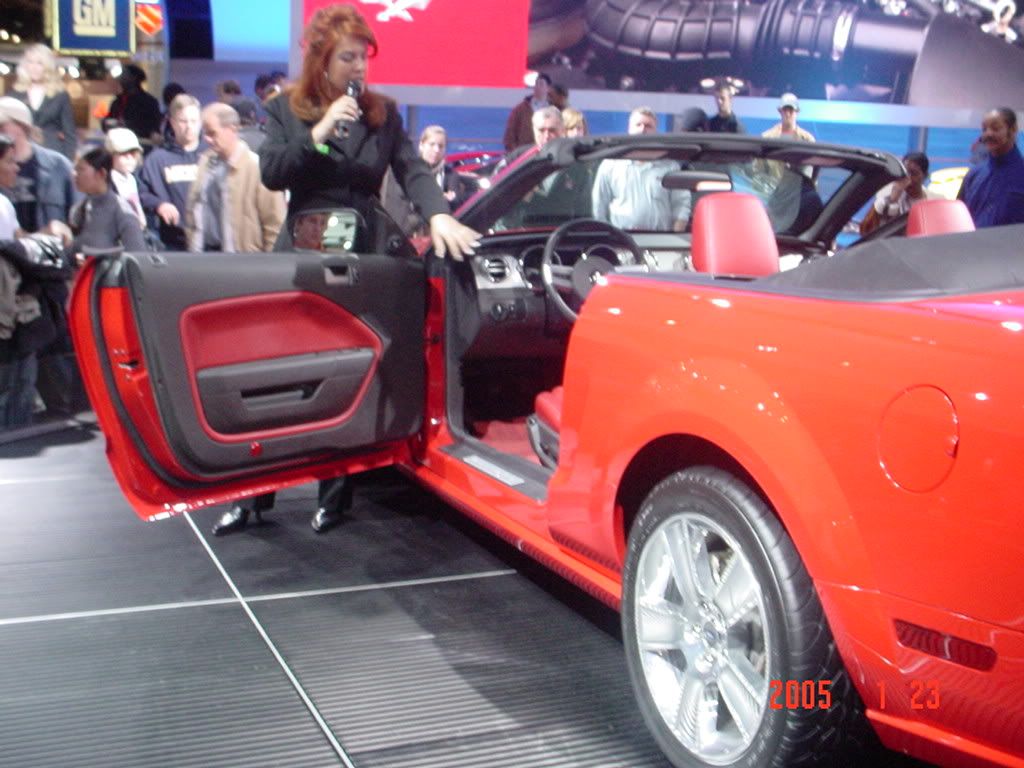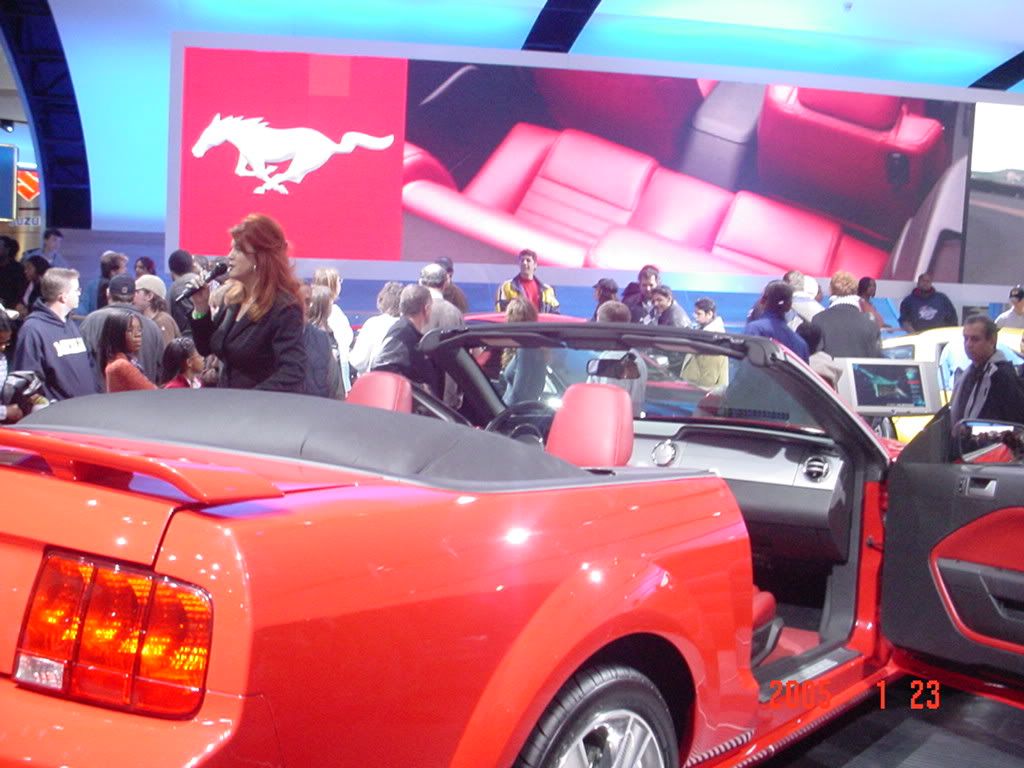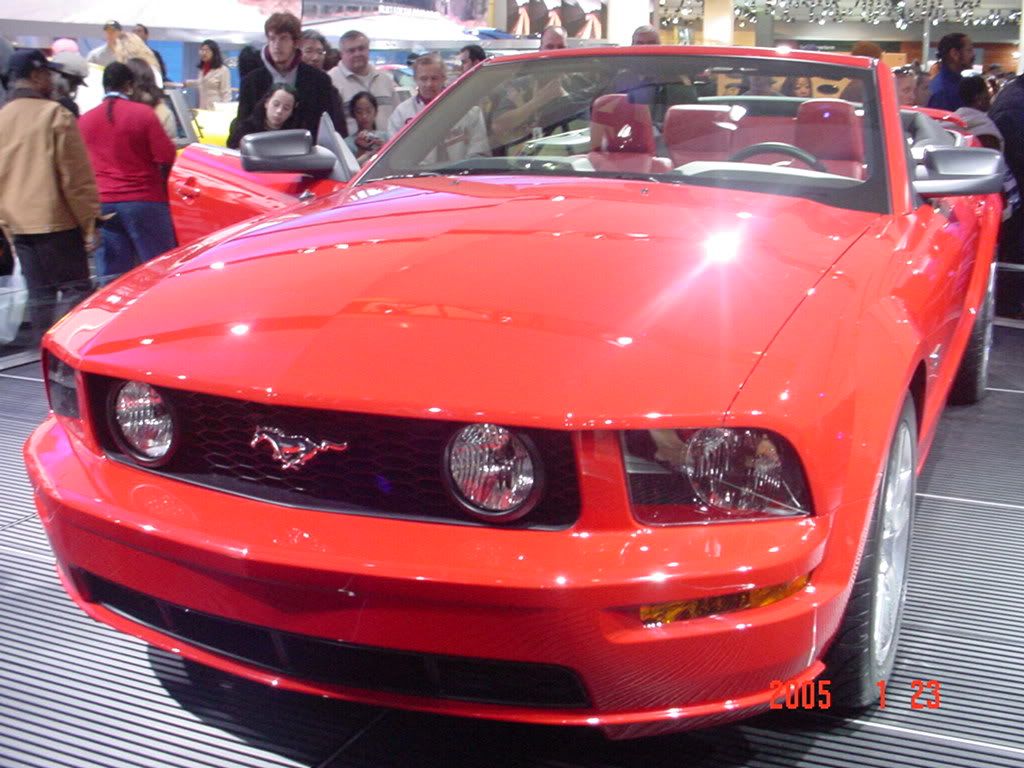 And what's better than a Mustang? A tuner Mustang...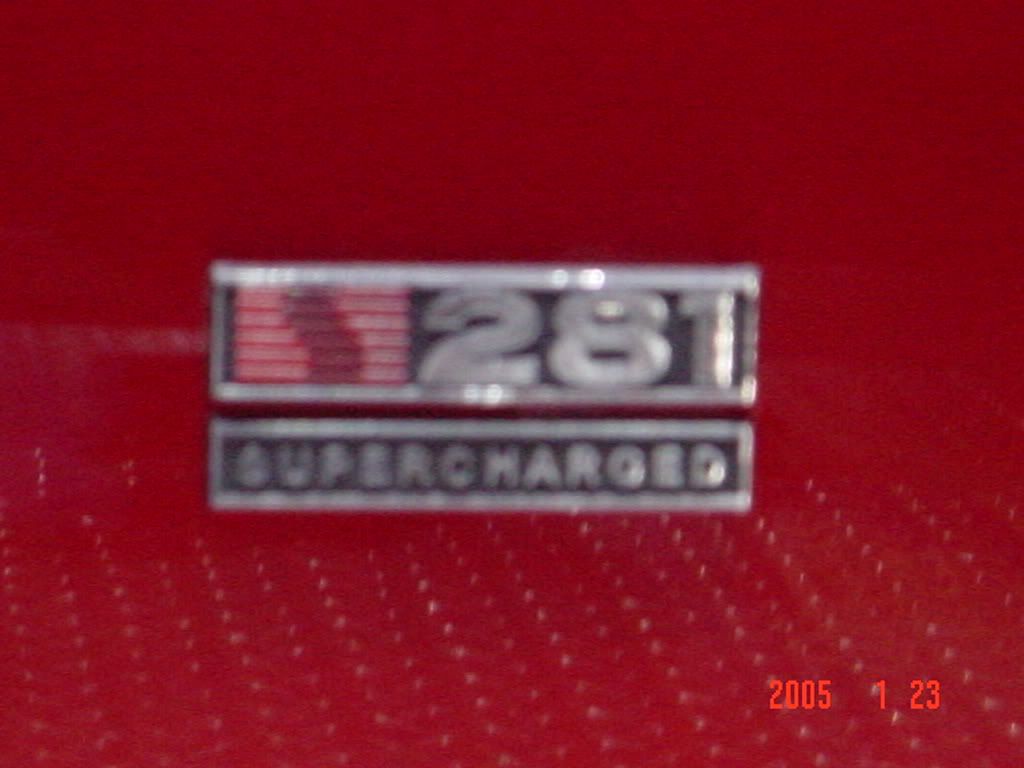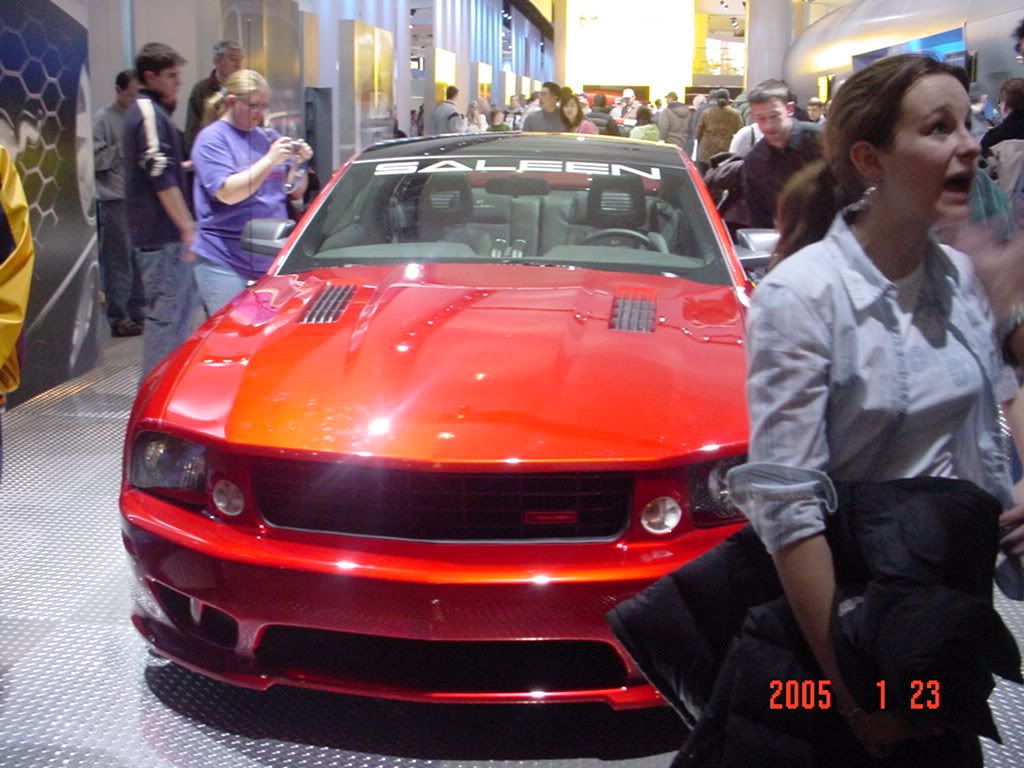 Saleens have always been my favorite Mustangs.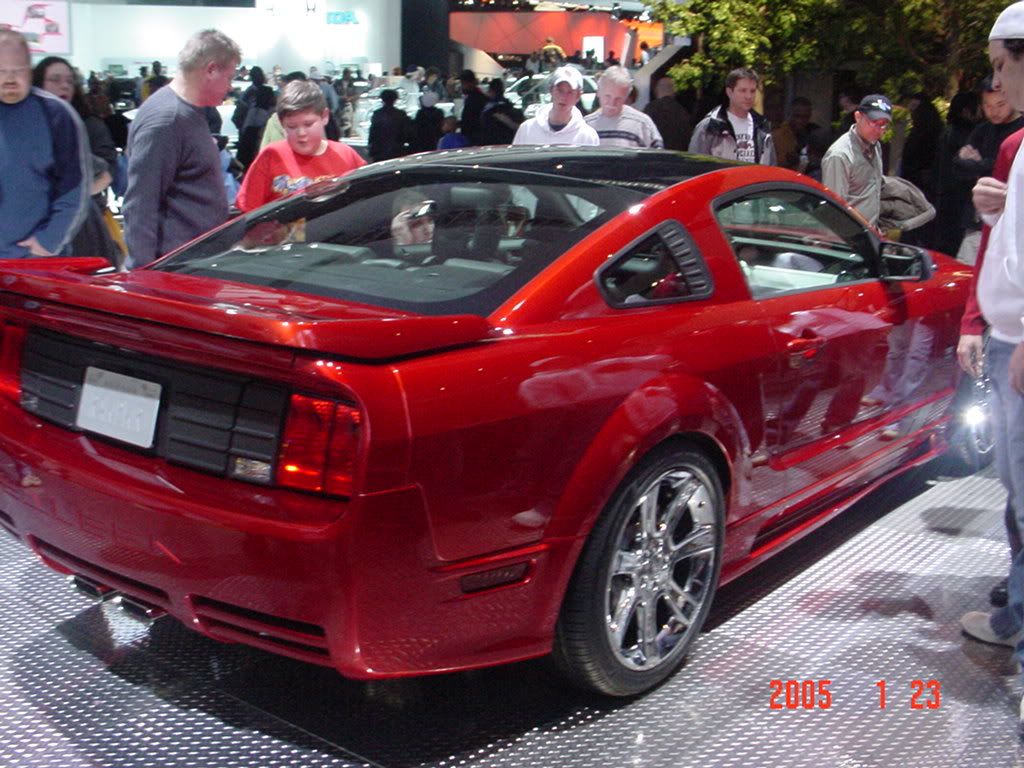 You gotta love those body kits.

And the Steeda Mustang...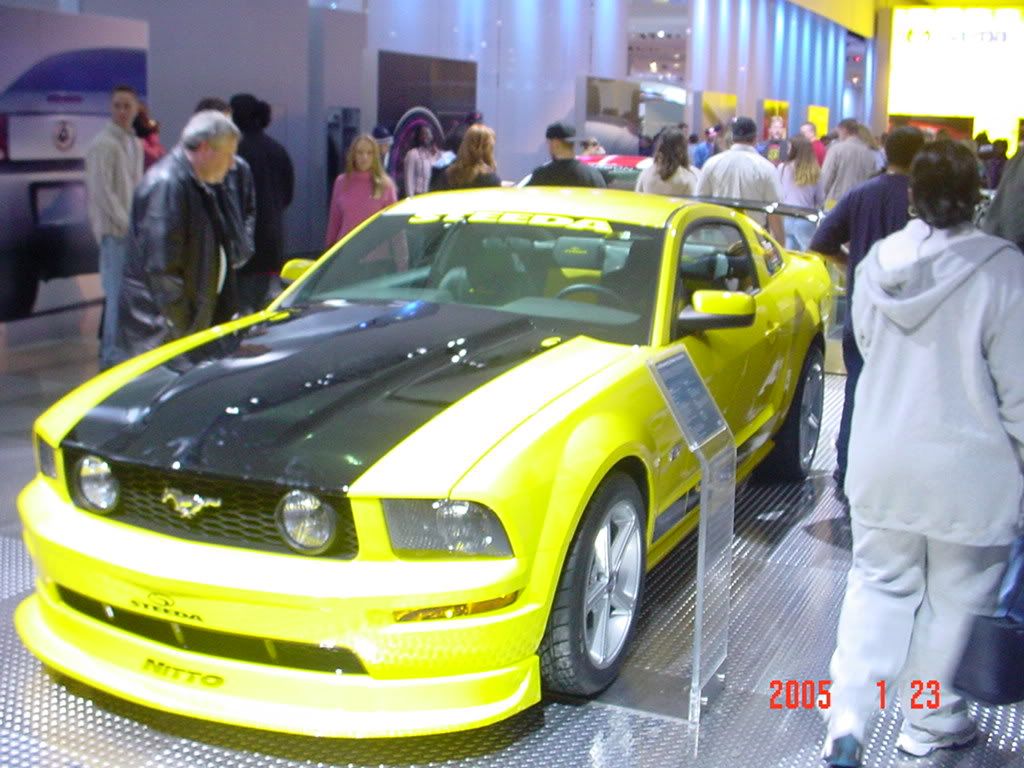 The 3D Carbon Mustang...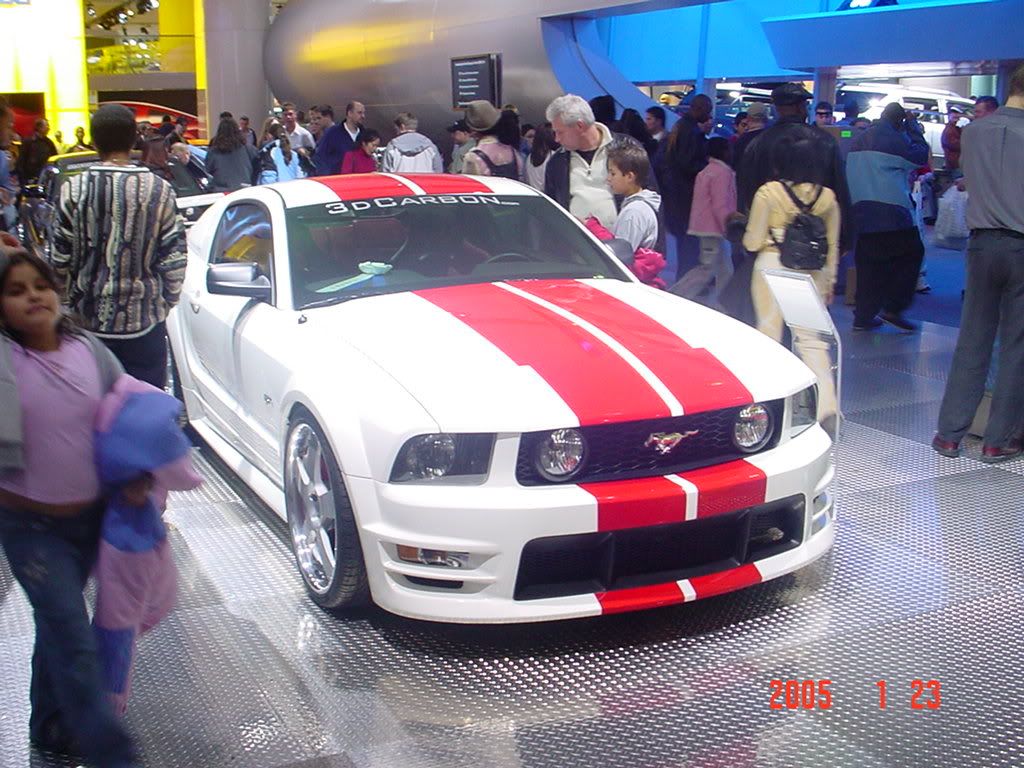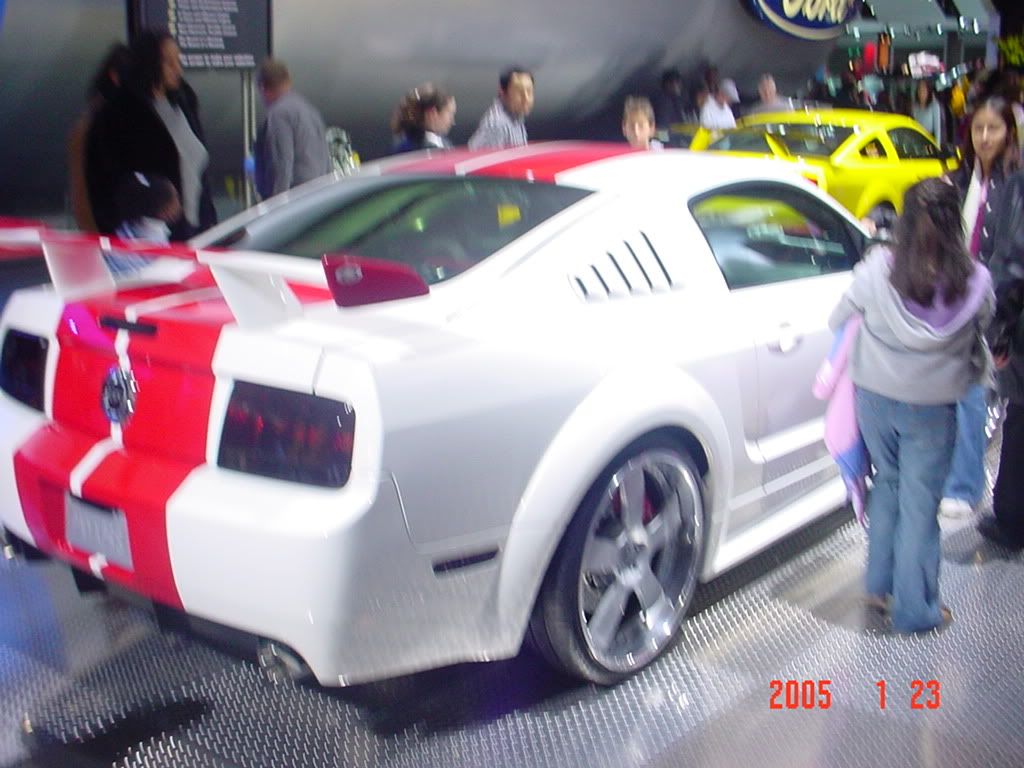 The Mobility Motoring Mustang...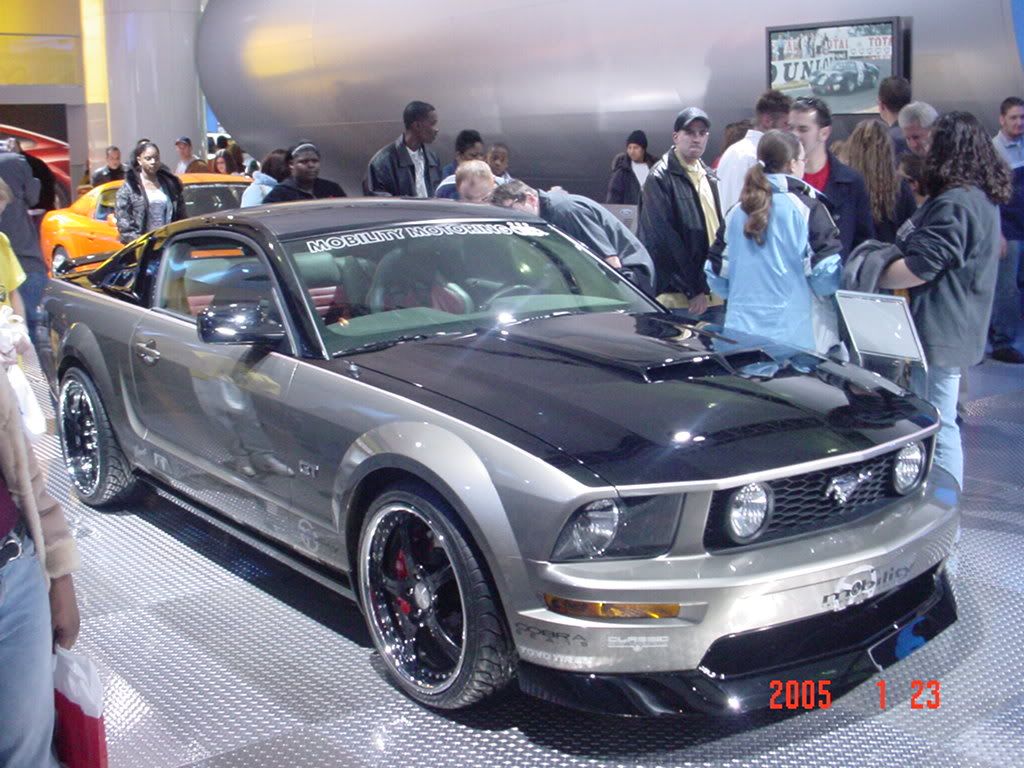 I'm diggin' that two tone paint job.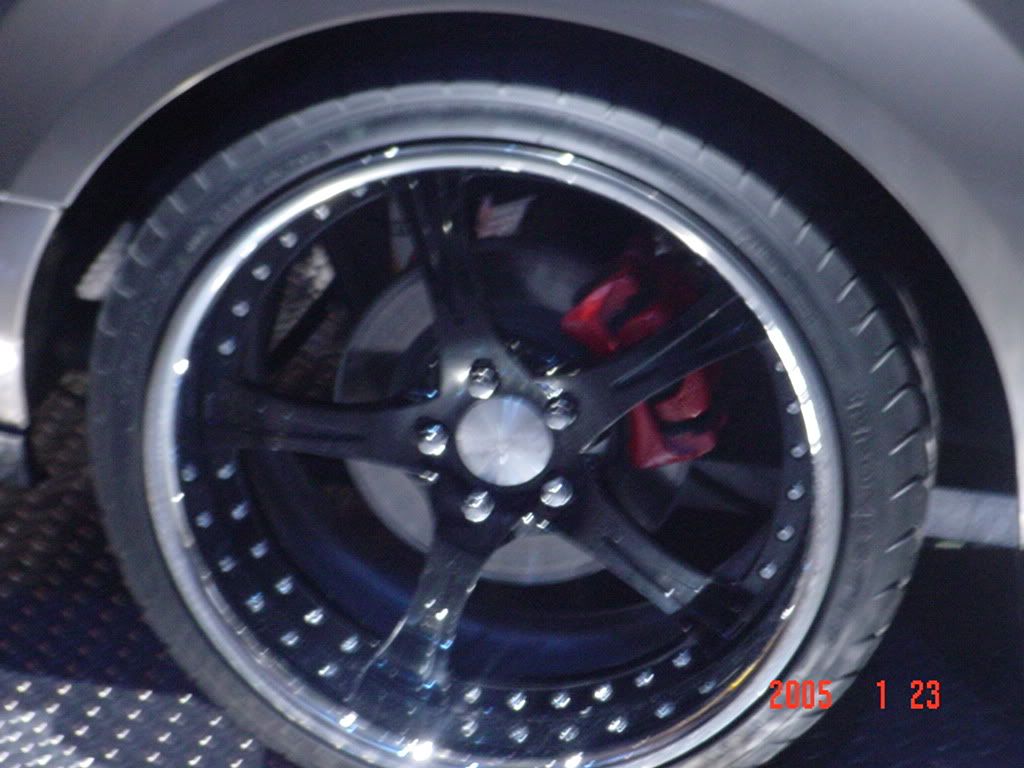 And probably the first Mustang I've seen that rides on Momos.

The Street Scene Equipment Mustang...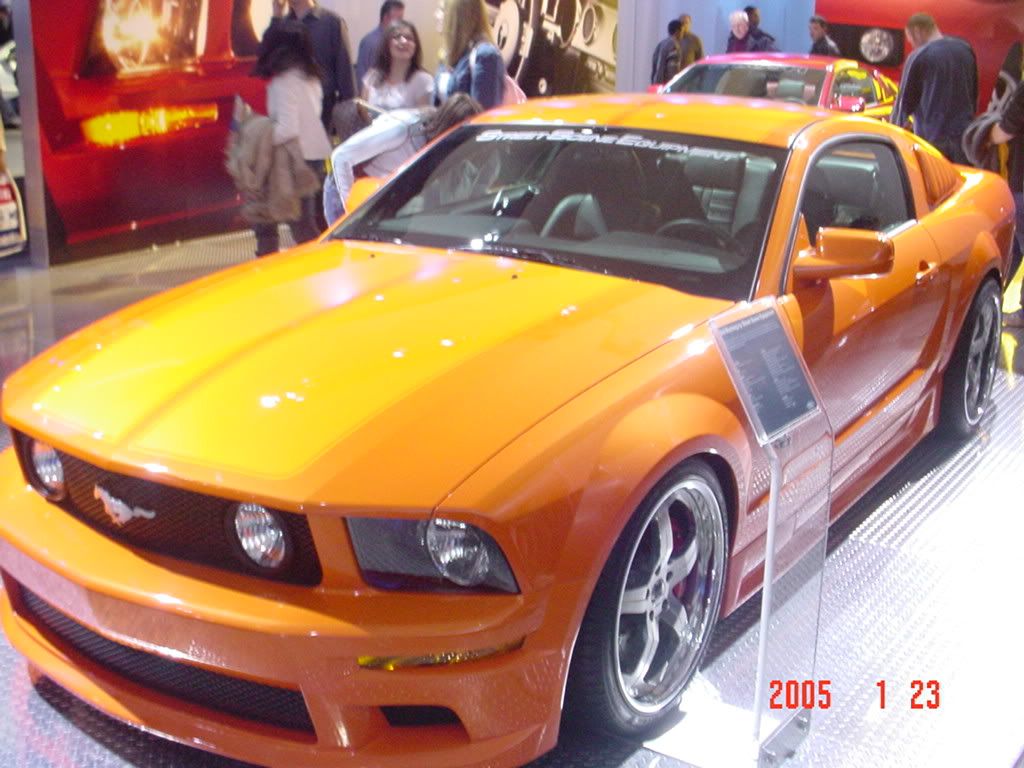 And finally the Roush joint...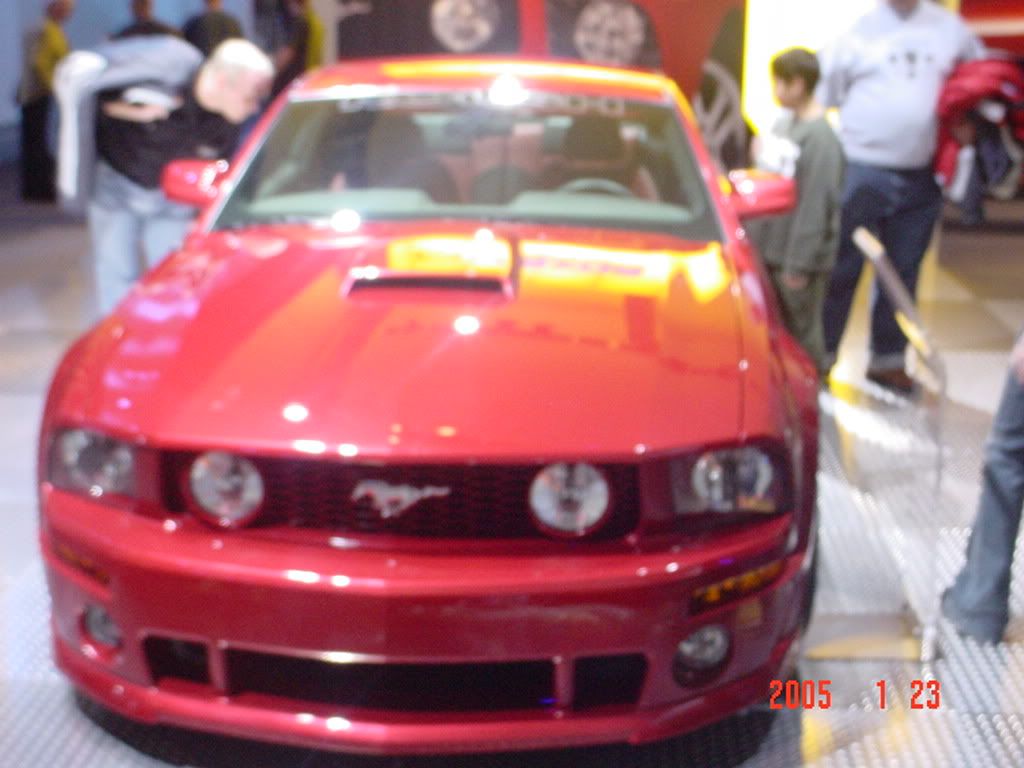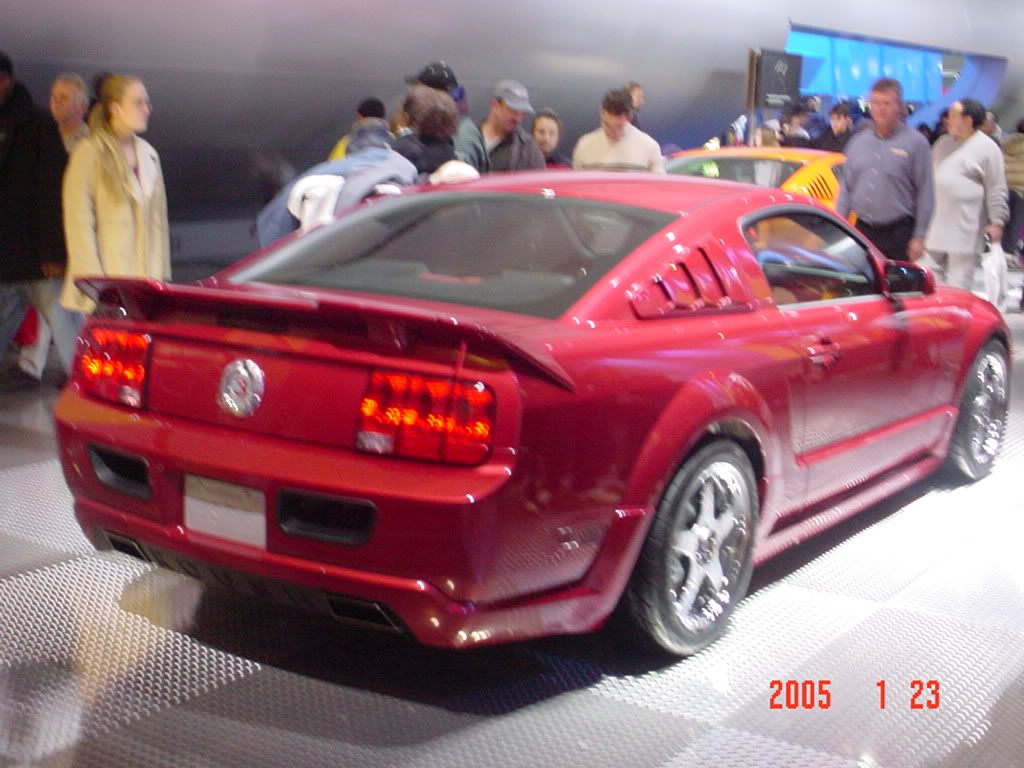 And that's it for the Mustang section..... I know some are like "Thank BUDDHA that's over!"

Well... we're still in the Ford section aren't we???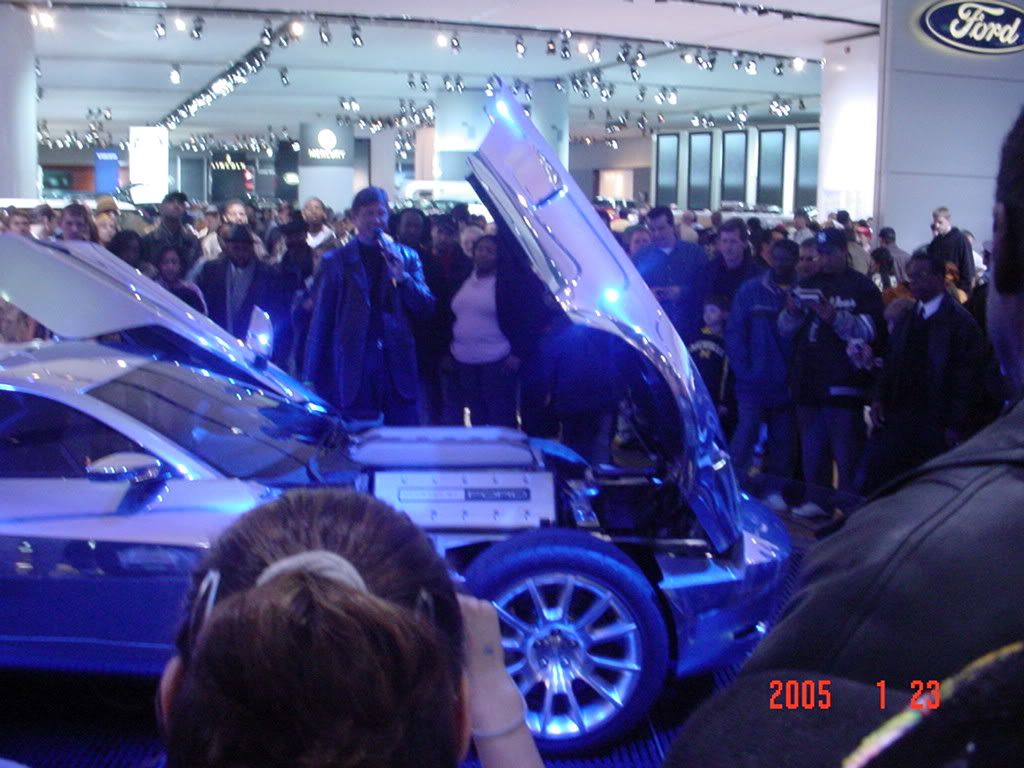 This car was cool as hell, this is the Cobra concept. But the cool thing about it was.... I didn't know that car had no paint. It's just aluminum polished repeatedly until you get that finish..... amazing!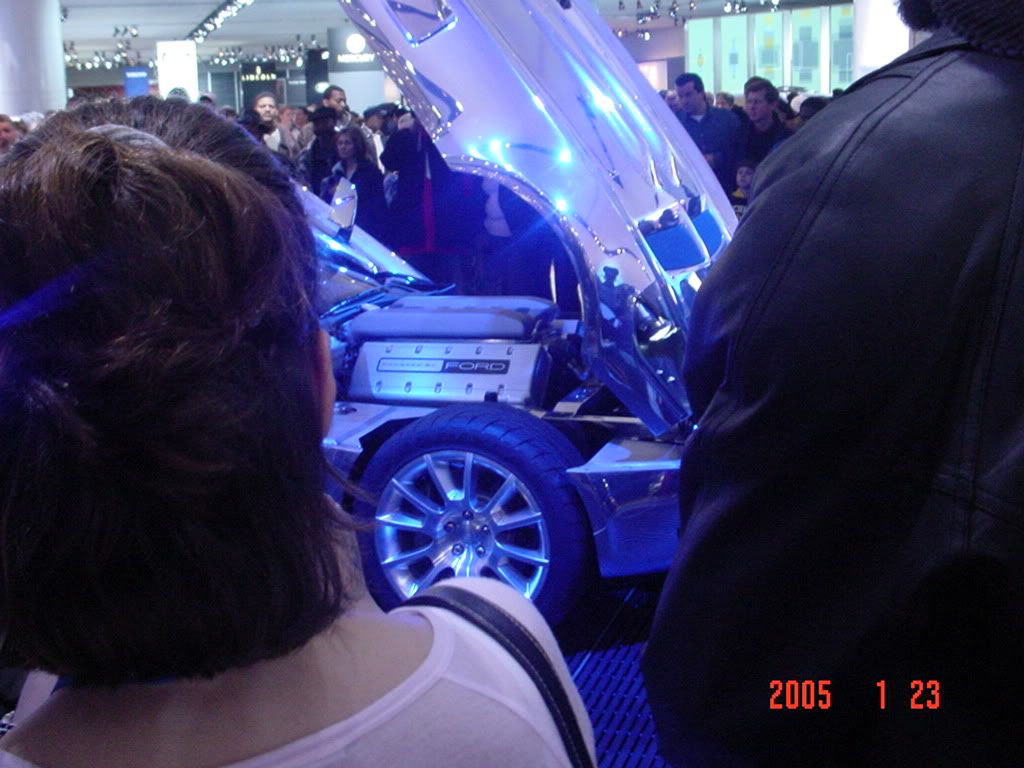 And V10 powered!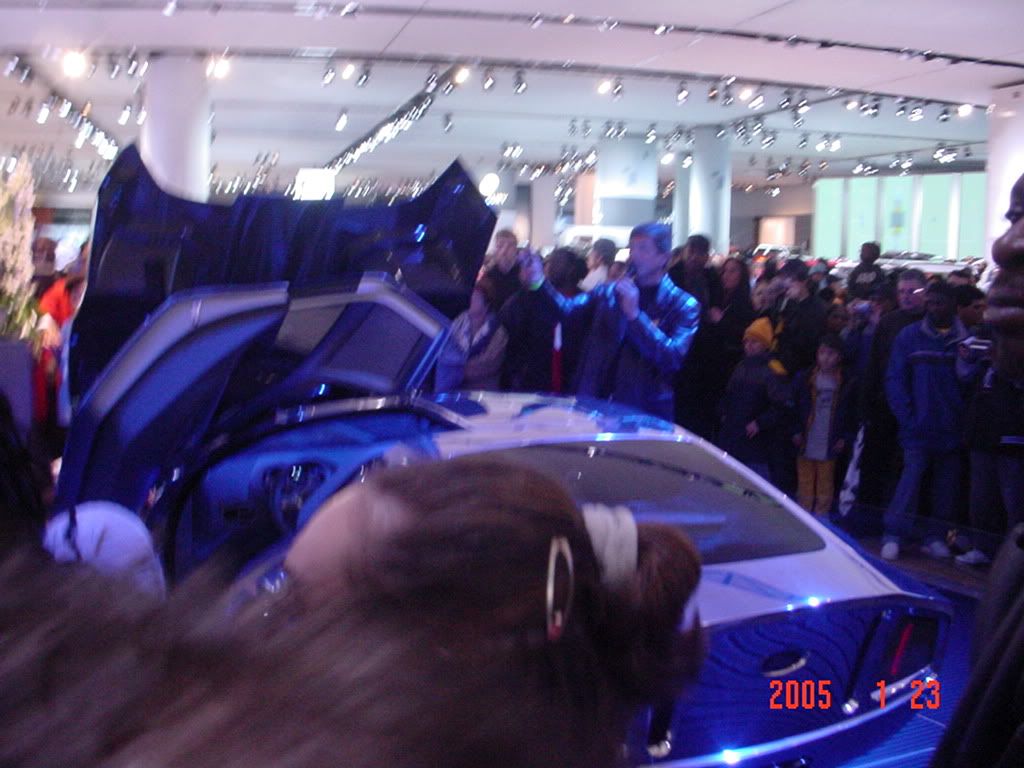 I have reason to believe this car was illuminating the room.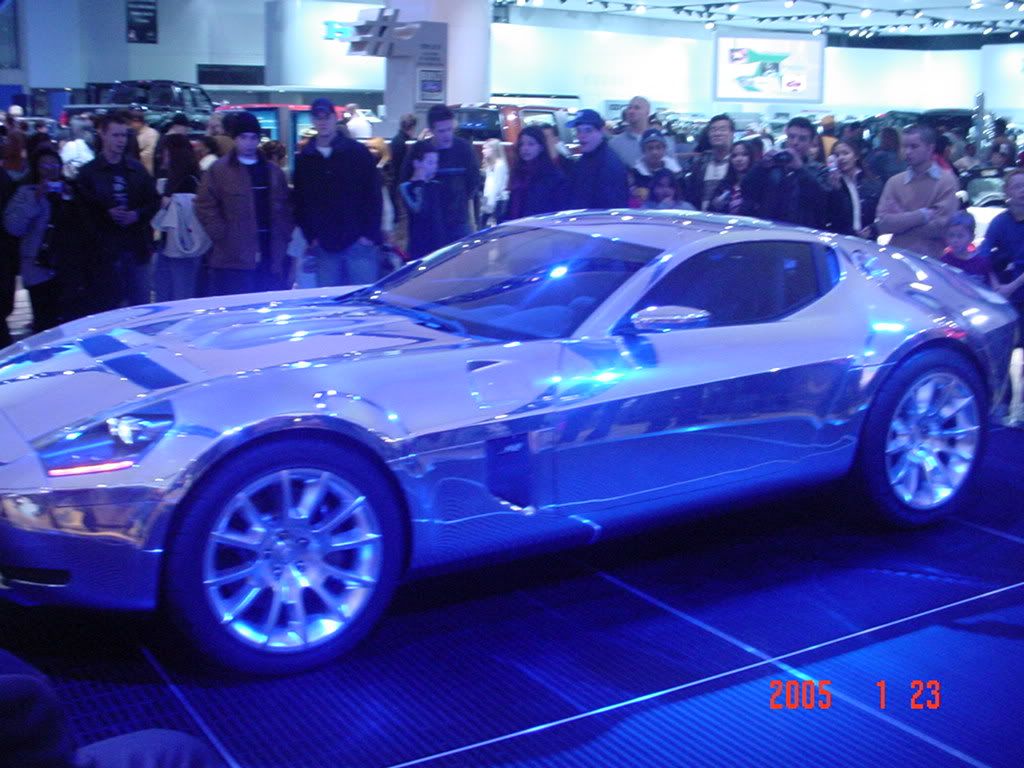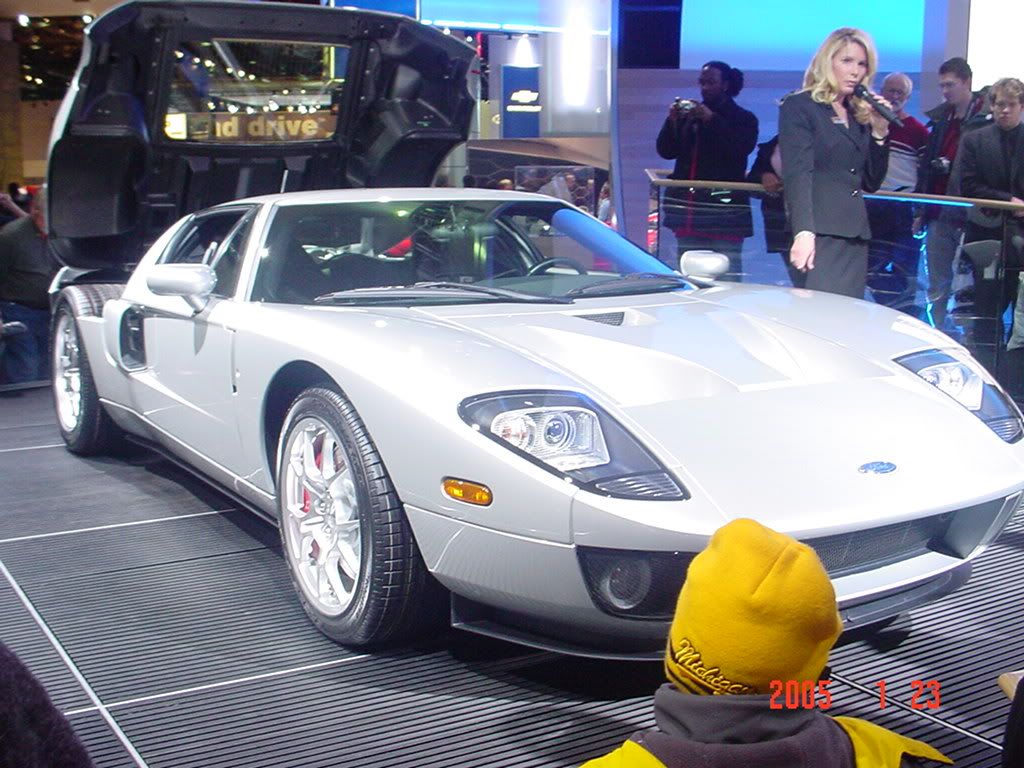 The Ford GT! I still think they shoulda stuck with the GT40 model name like the original racer from the 60s.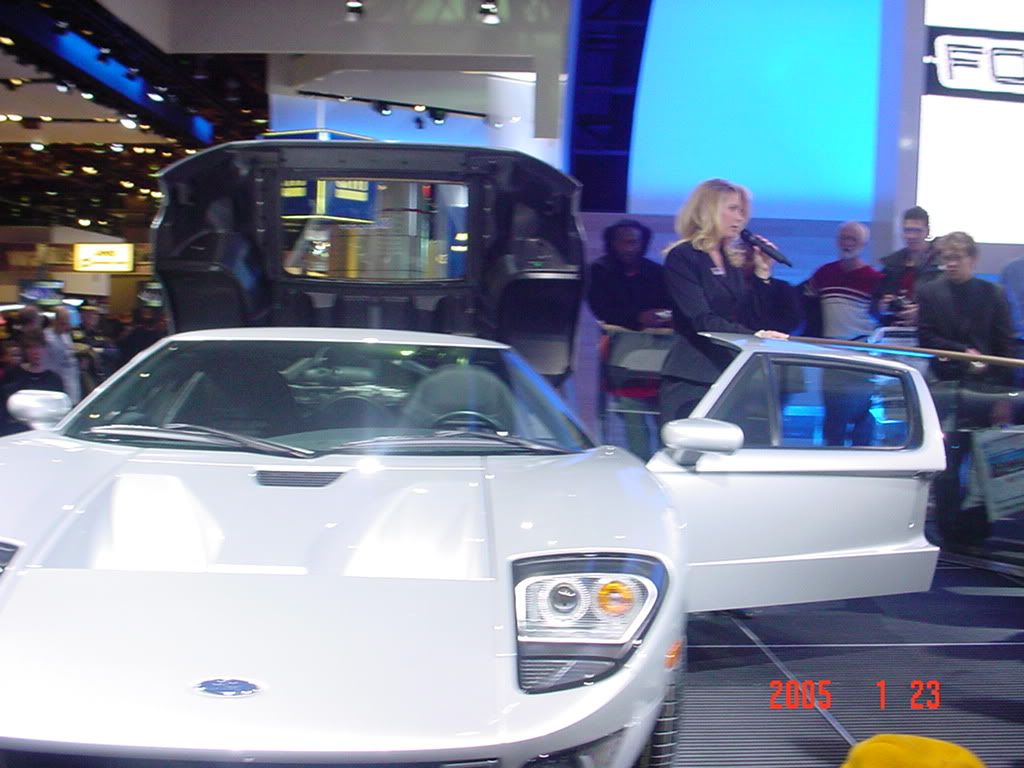 Nonetheless, still a badass ride.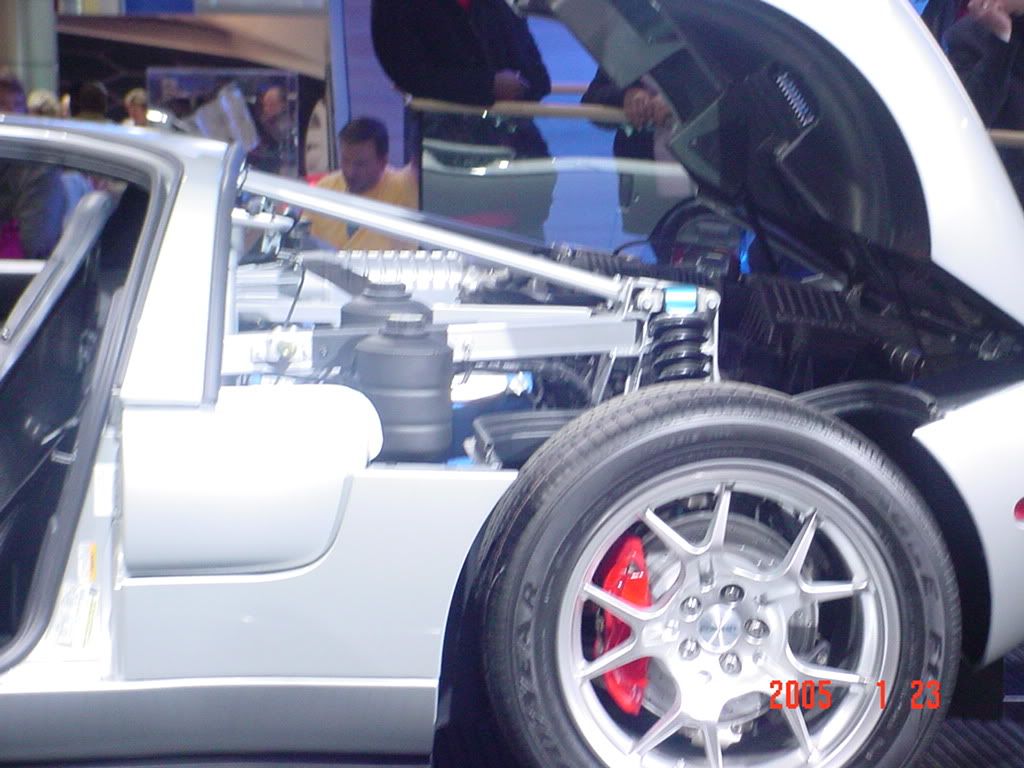 And powered by a supercharged 500HP 5.4L DOHC V8, almost sounds like the same engine that's in the 2000 Mustang Cobra R.... just with a supercharger slapped on it.

Onward we go... to another favorite of mine... the Corvette!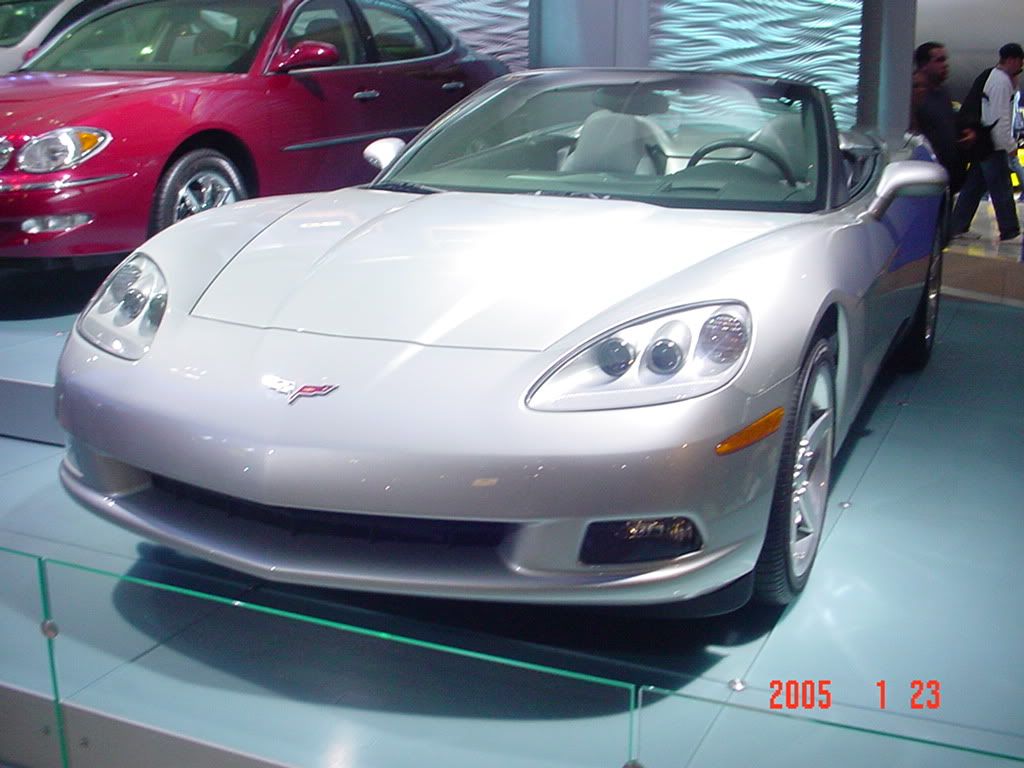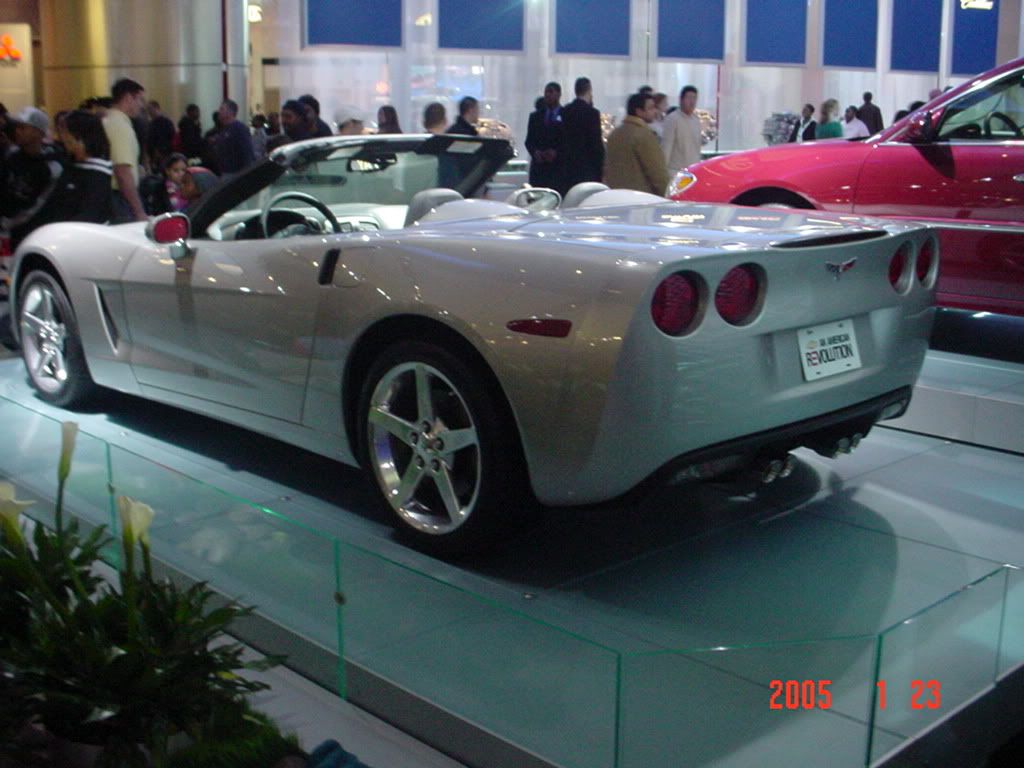 I'm loving these new C6s.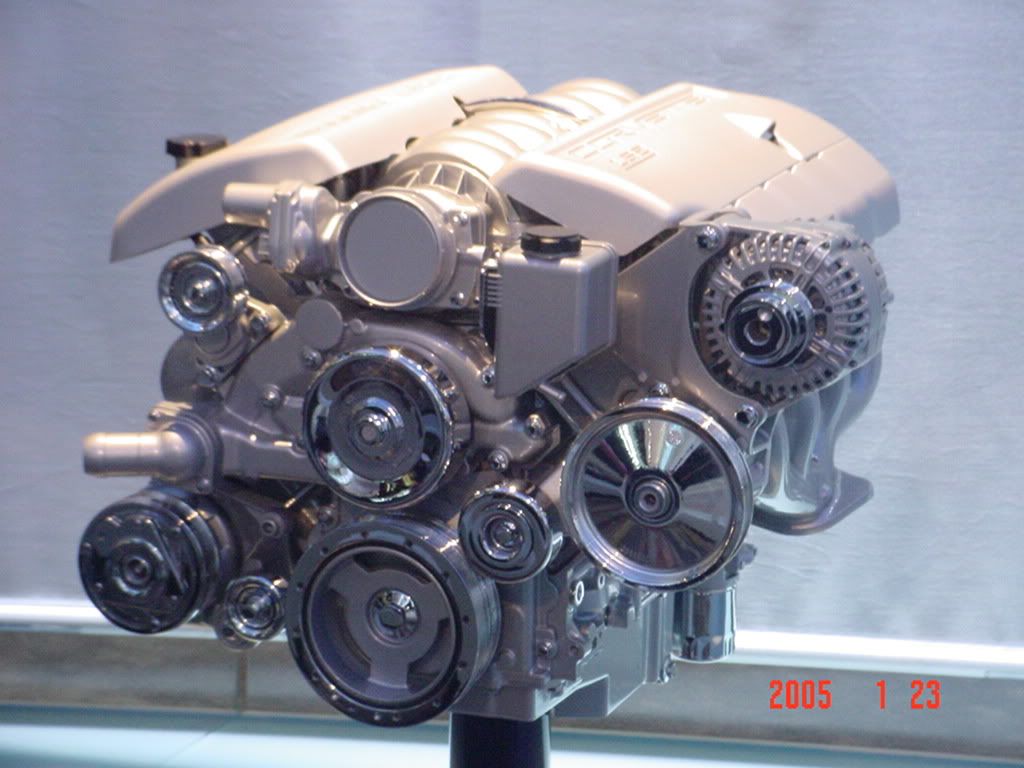 And the new LS2 engine for the C6 Corvettes. Nice little bored-out version of the LS1 engine in the previous models. Goes from a 5.7L to a 6.0L engine. And also gets raised from 345HP to 400HP and puts out just as much torque as it does horsepower...... double threat.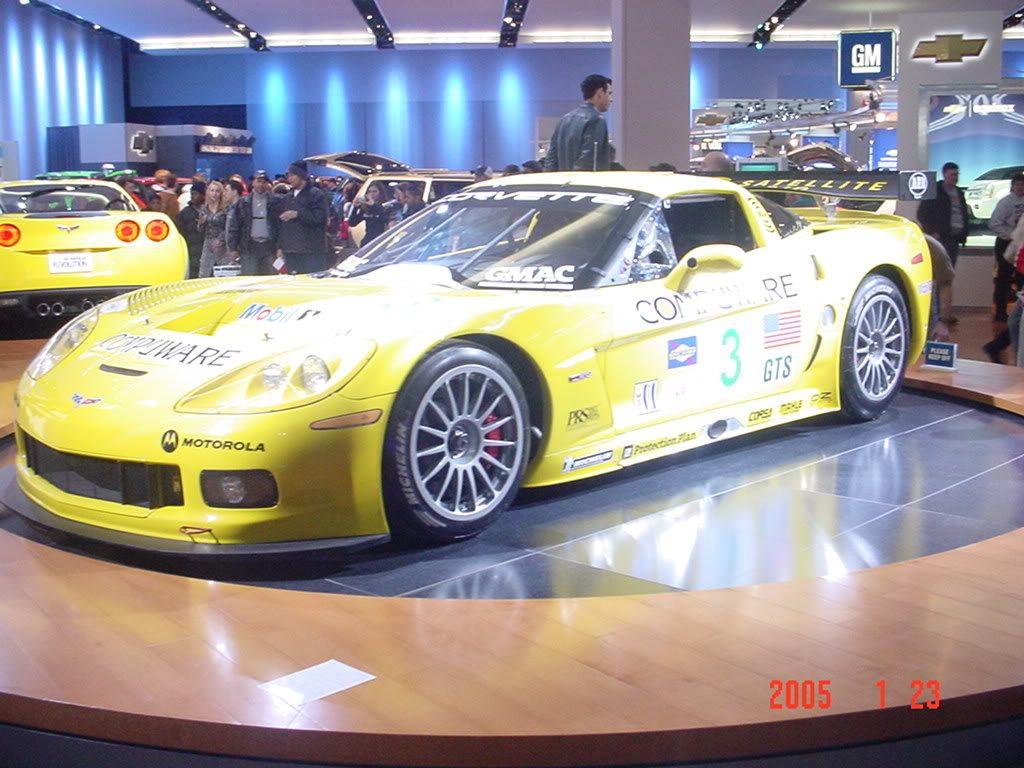 "I think I just filled the cup Silent Bob." And yes Z those ARE OZ Superturismos it's riding on.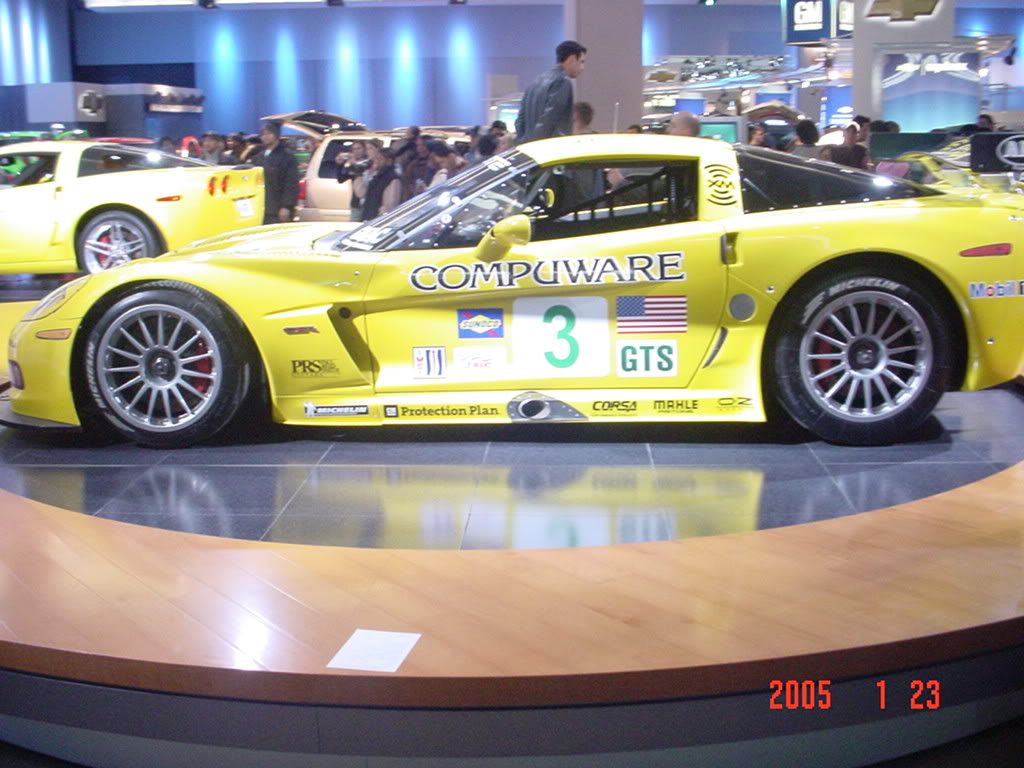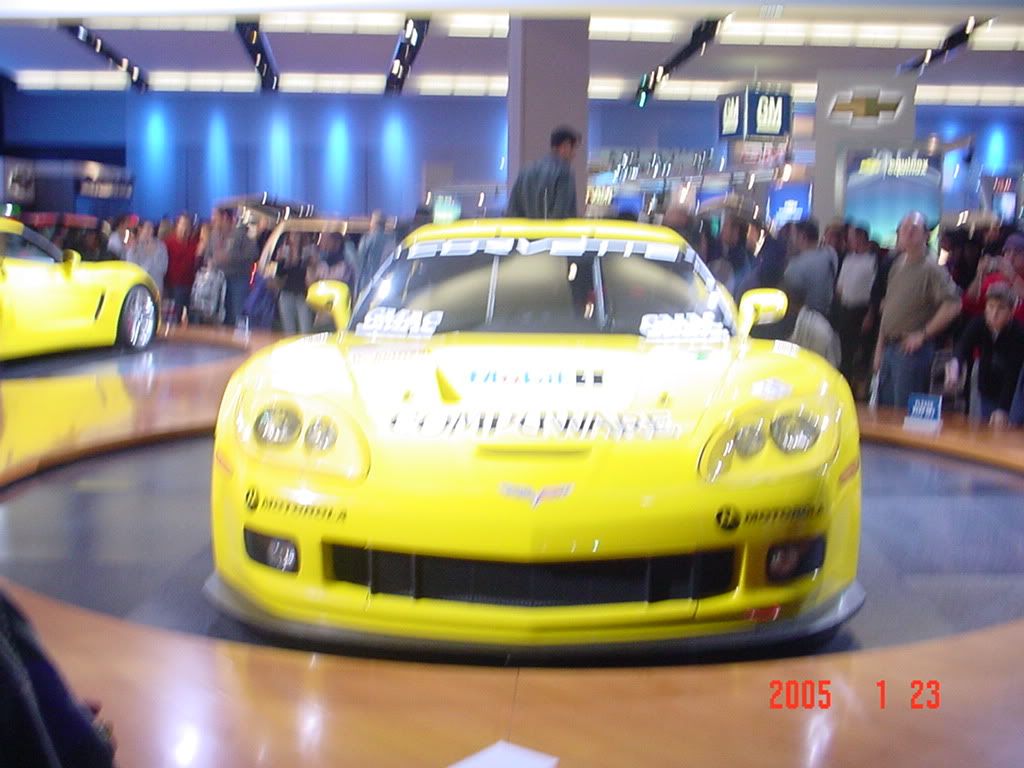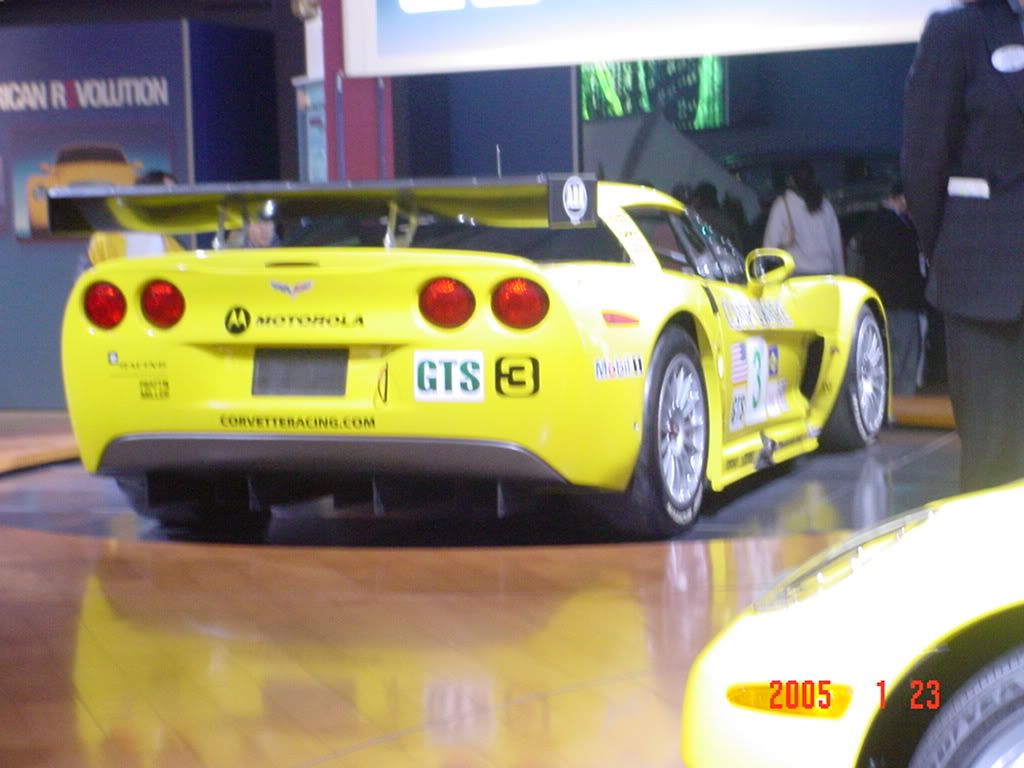 Can't knock a car that's NEVER lost a race for four years and OWNS Ferrari and Porsche racers. And it was made in Downtown Detroit, go Motor City!!!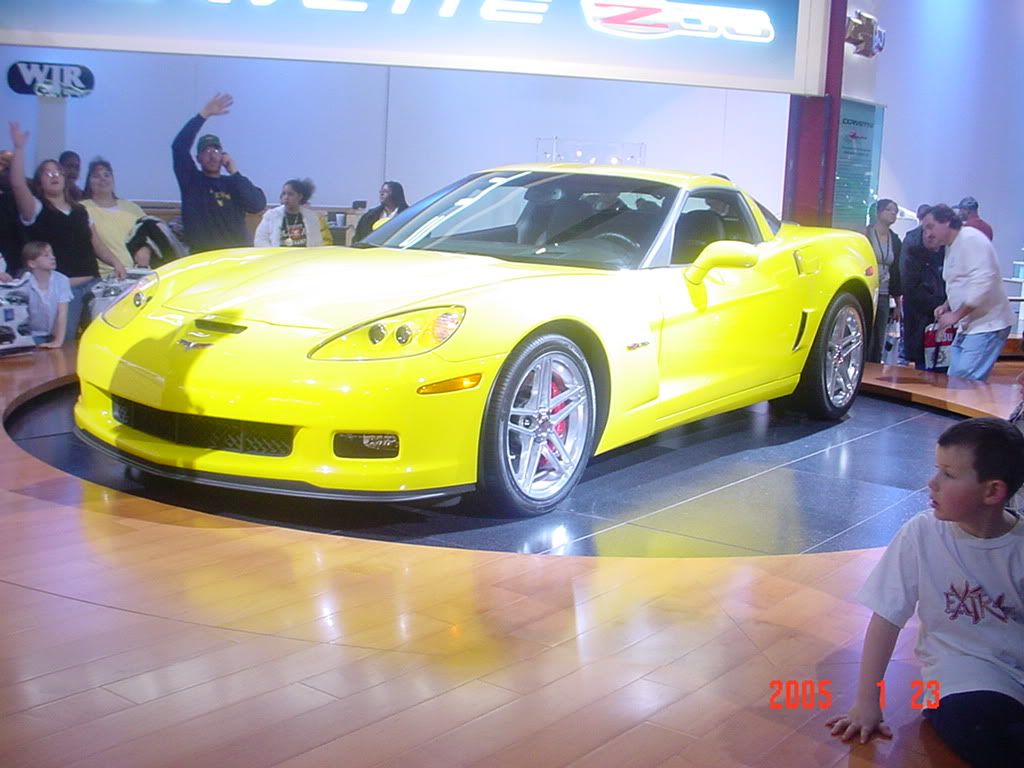 And the uber sexy 2006 Corvette Z06. The car that's PRETTY much made the GT and Viper obsolete. And like a third of the price... talk about bang for the buck.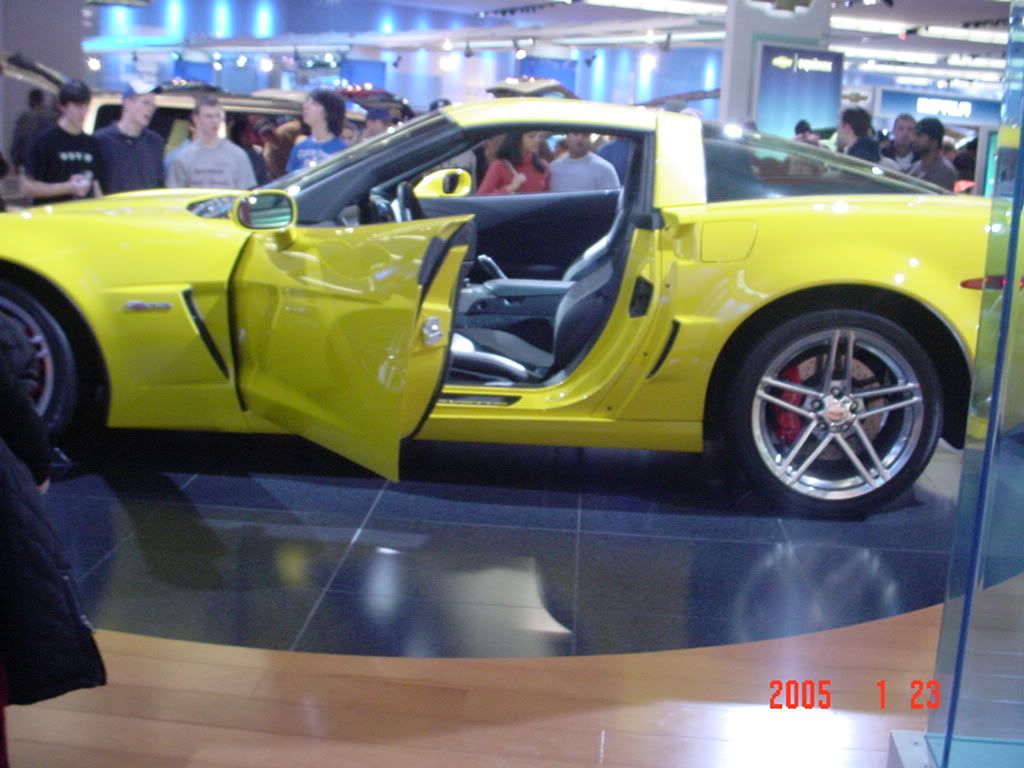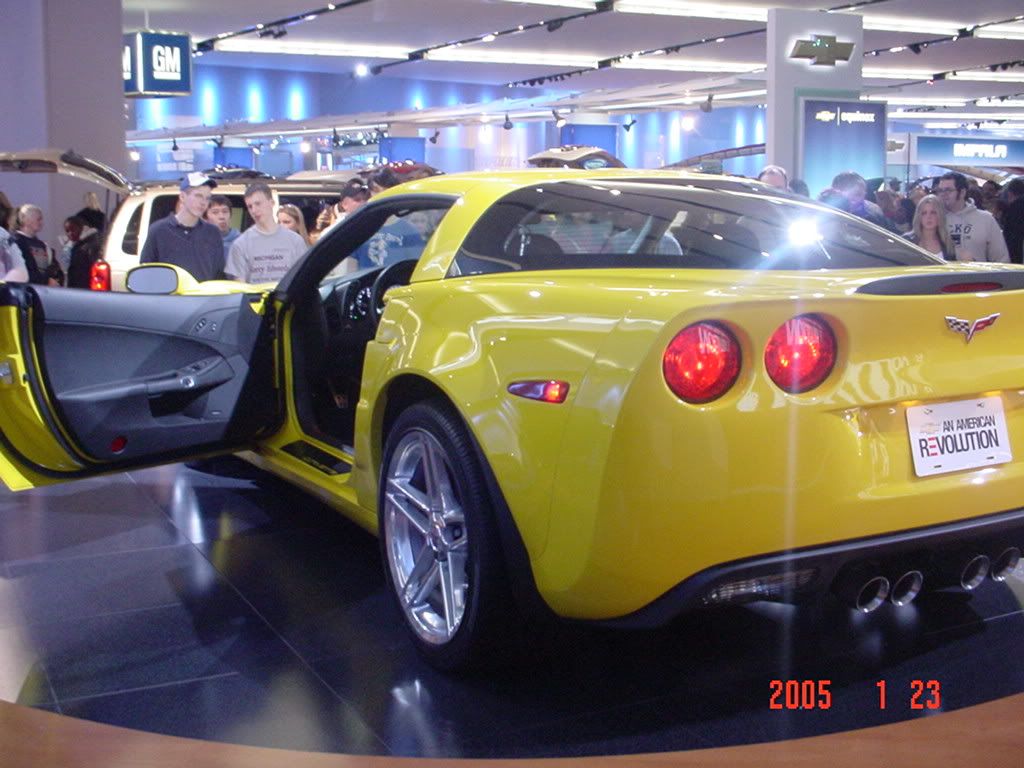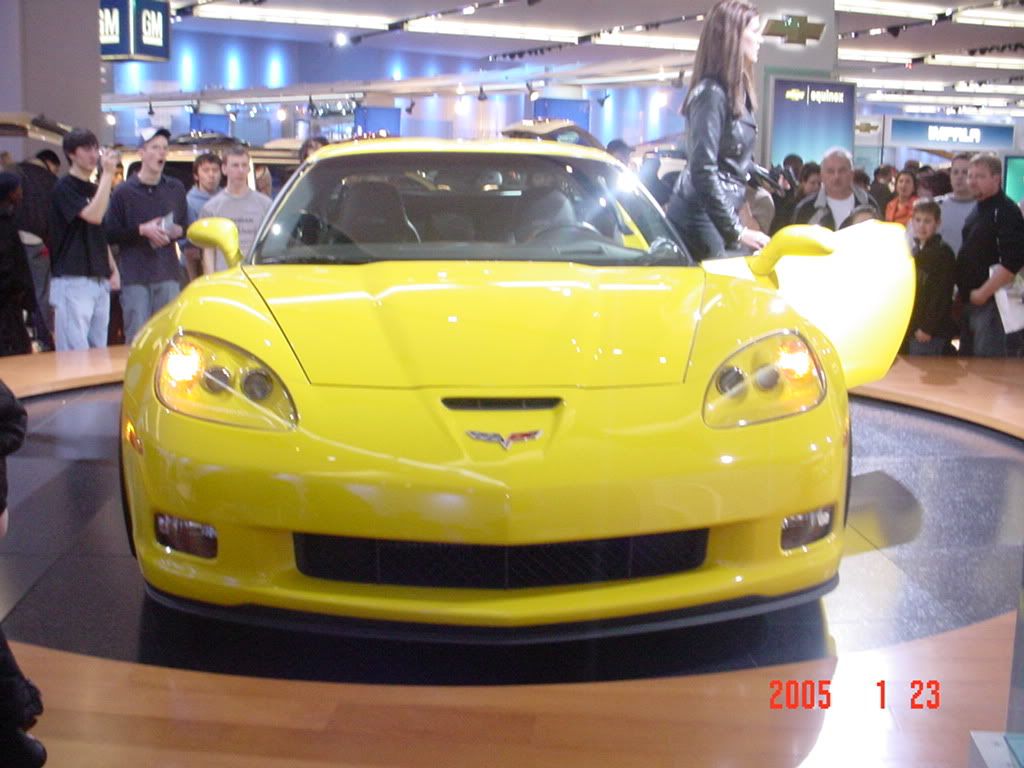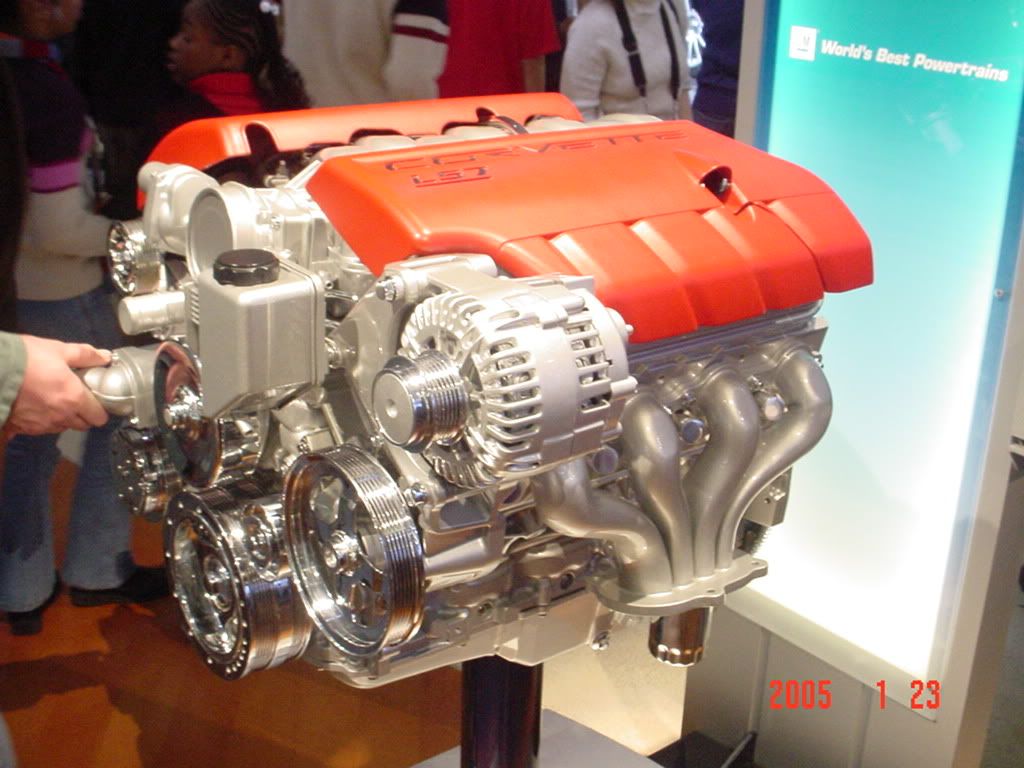 Here's the powerplant for the Z06.

And just look at those tech specs...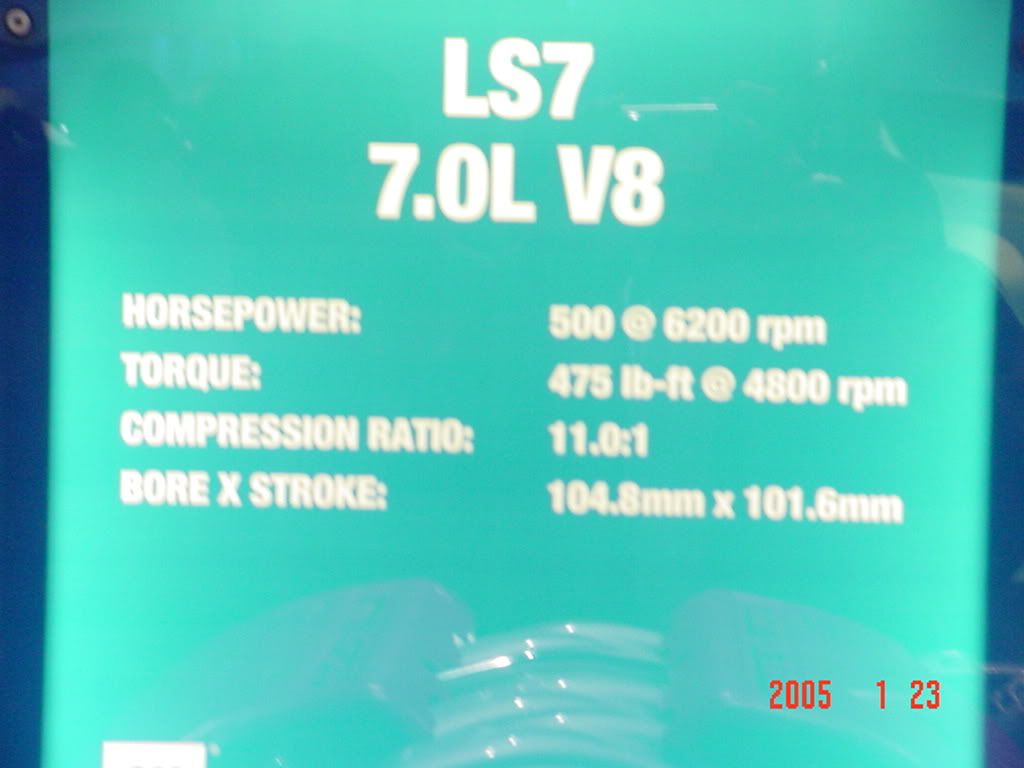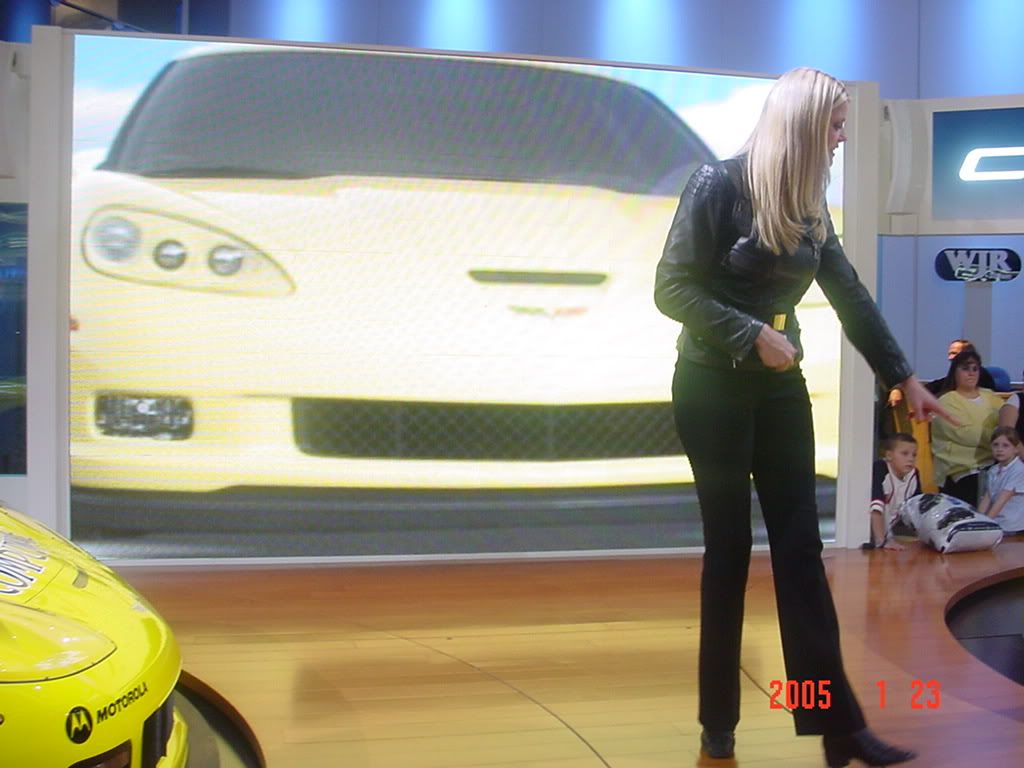 Oh, that's Miss Kelly the lady who was giving the presentation on the new Corvettes. Coolest thirty-something lady on the planet.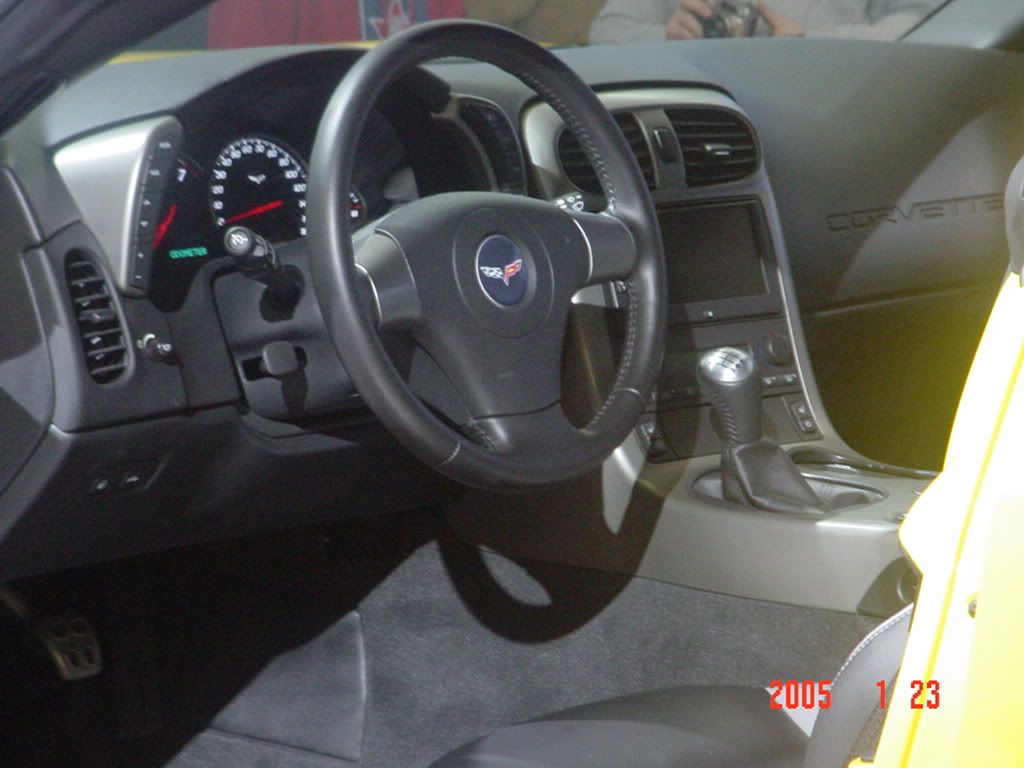 She couldn't let me get up on stage so she took some pics of the interior for me.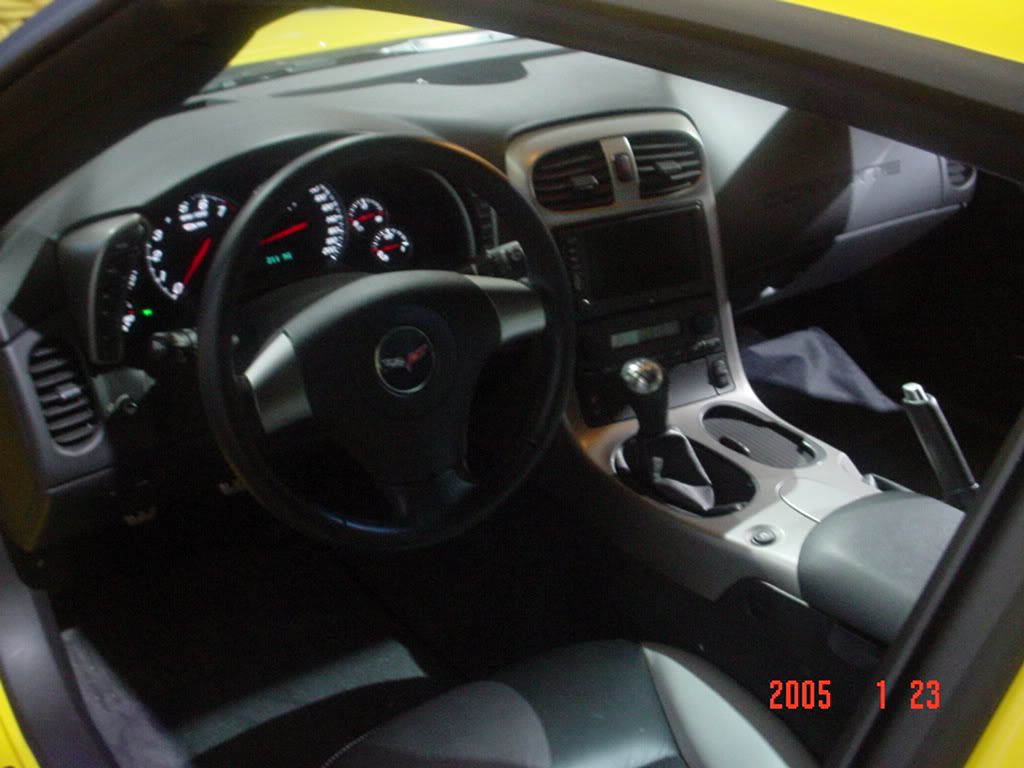 Oh yeah.... onyx interior.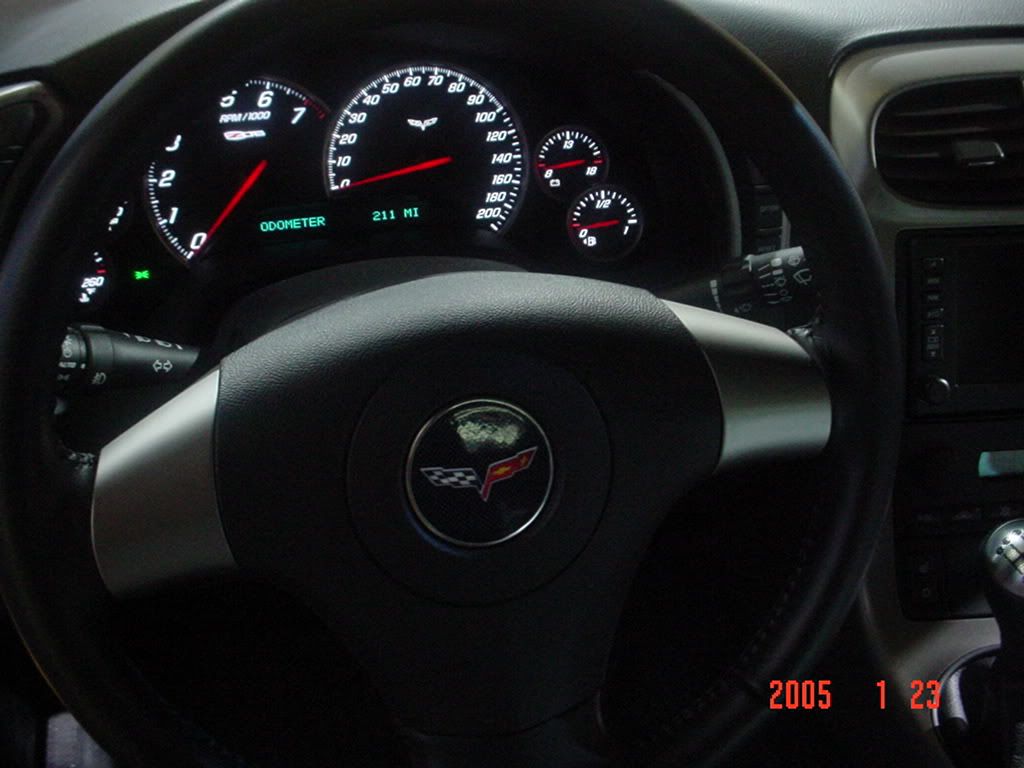 Yeah baby, I'd love to drop your clutch at six grand.:P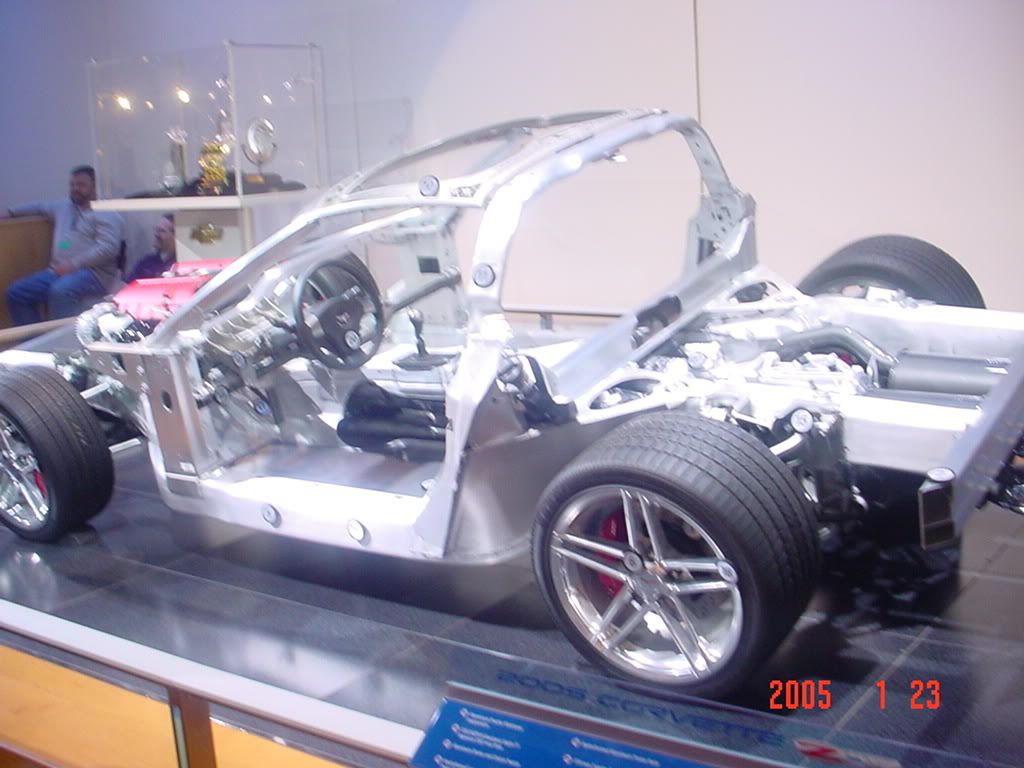 And the cutaway of the vette.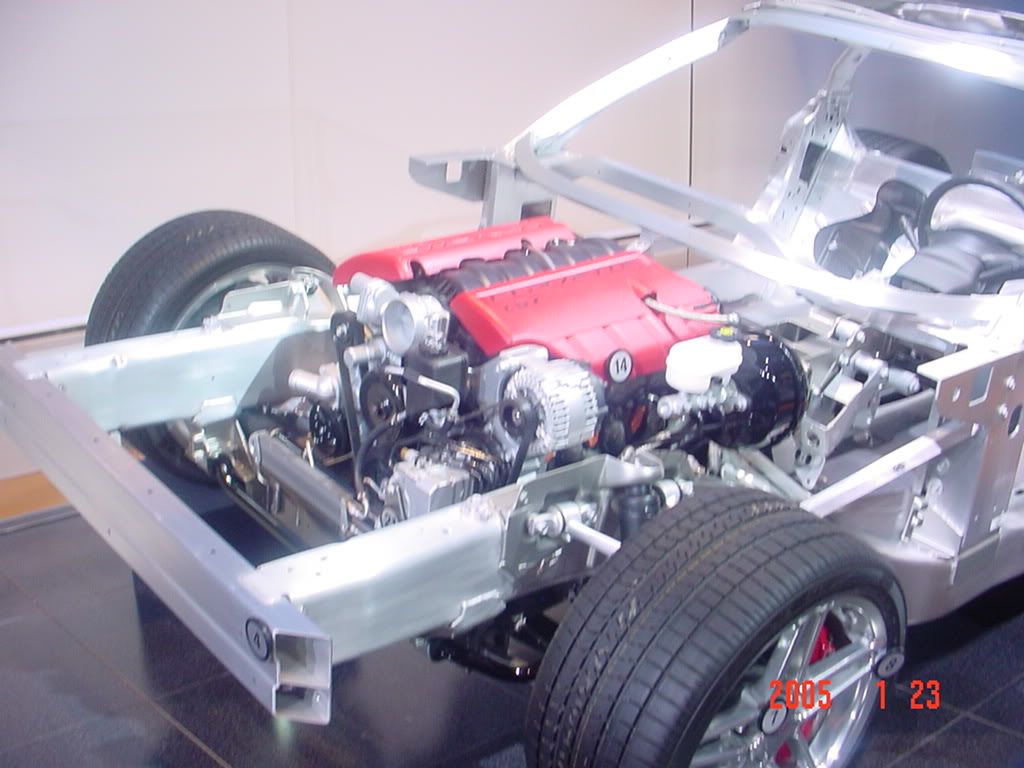 Moving forward...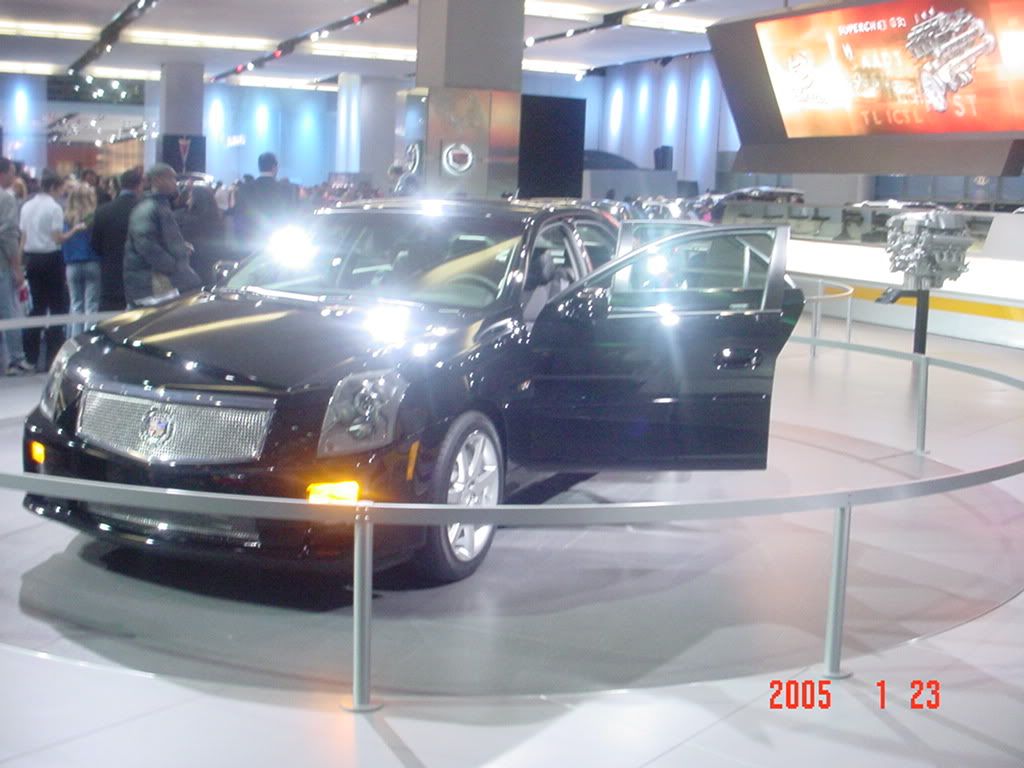 The Cadillac CTS...

And something I'd never thought I'd see...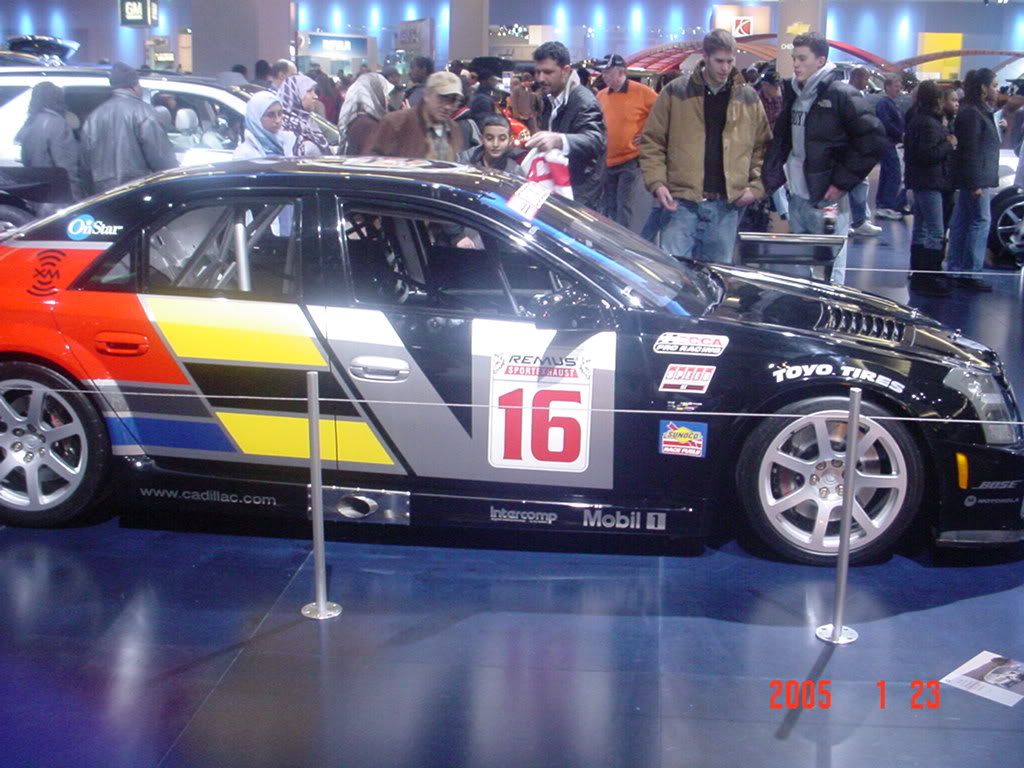 A CTS racer.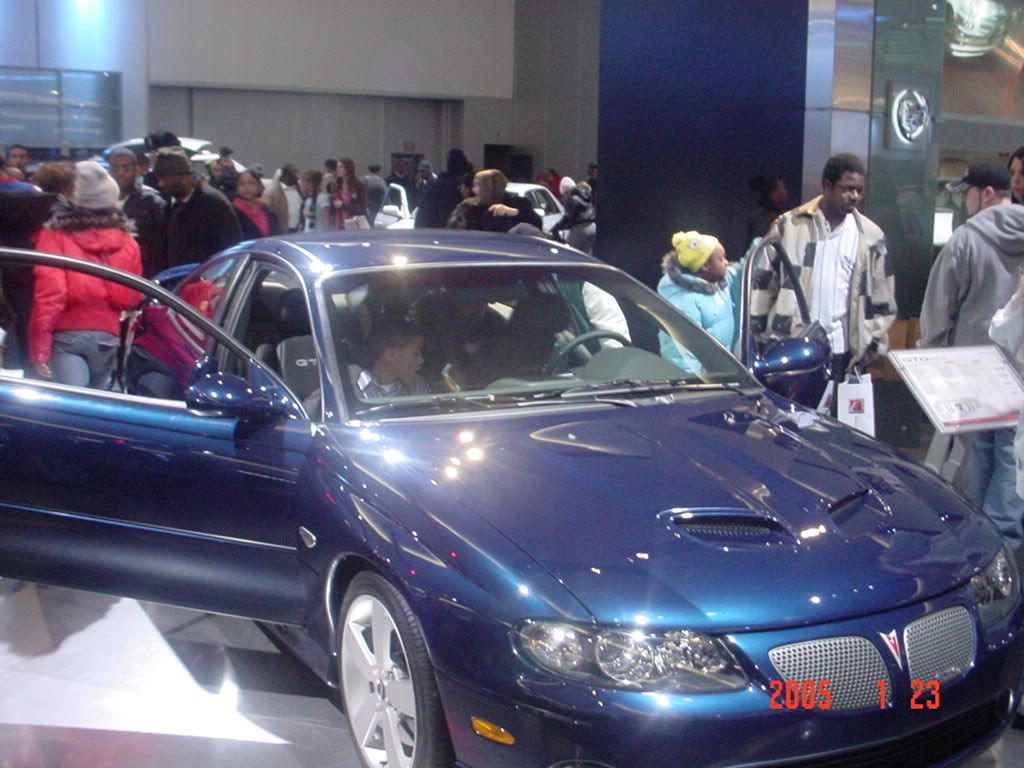 The 6.0L Pontiac GTO... it's got a powerful engine.... but I don't understand why this car weighs more than a Mustang when it's much smaller. Even if you did all the weight reductions in the world for this it'd still be a heavy car.

Damn I spent a lot of time in that GM section.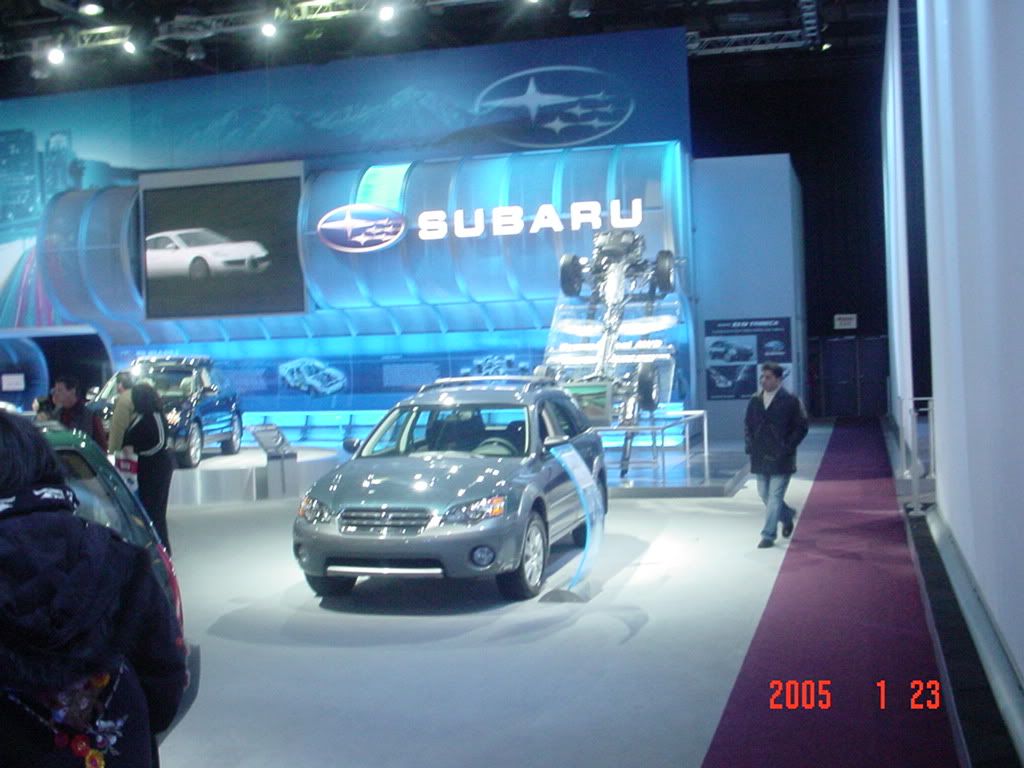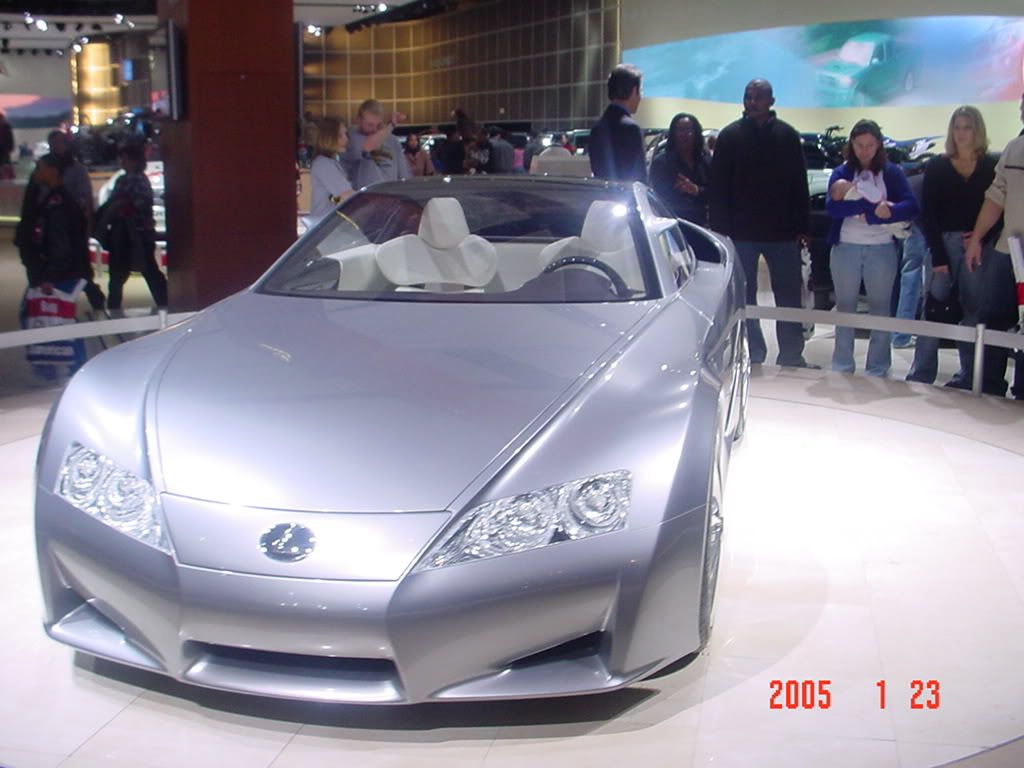 I forget the name of this Lexus, but the front of it looks something like what a future S2000 would look like.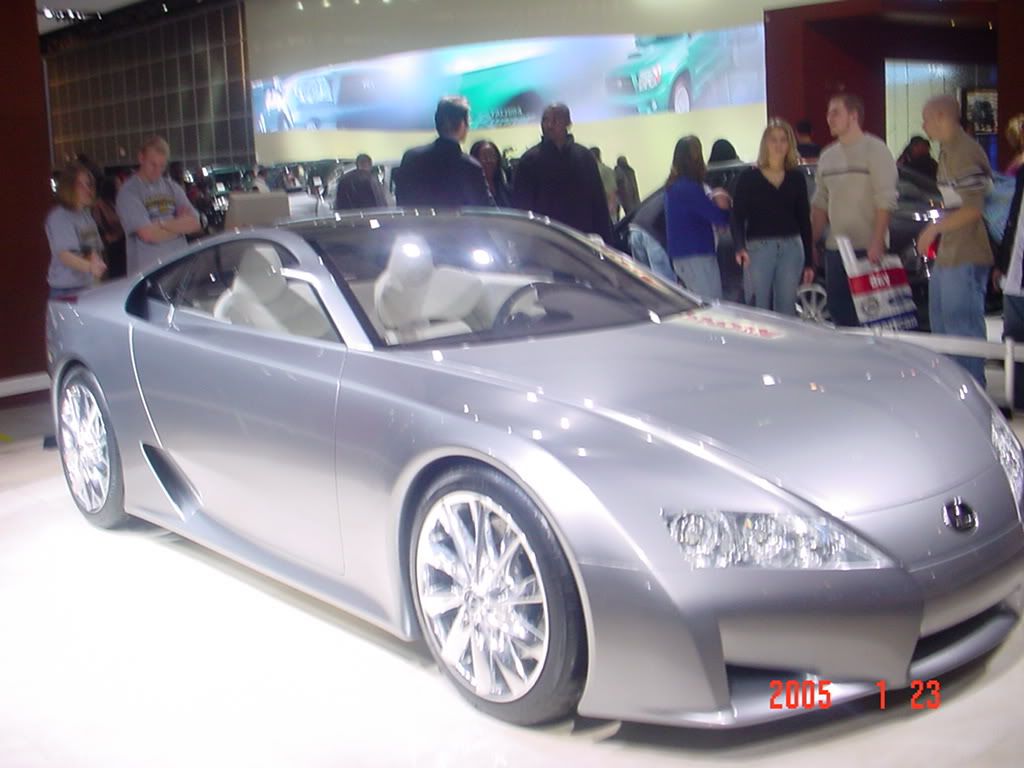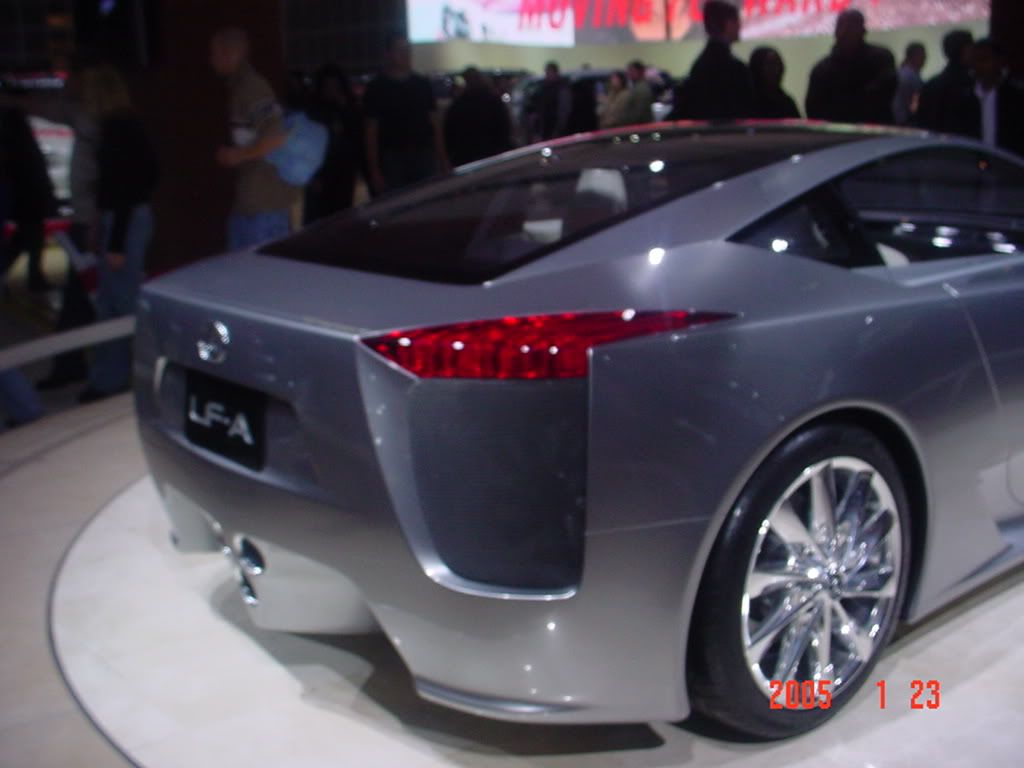 Maserati woo!!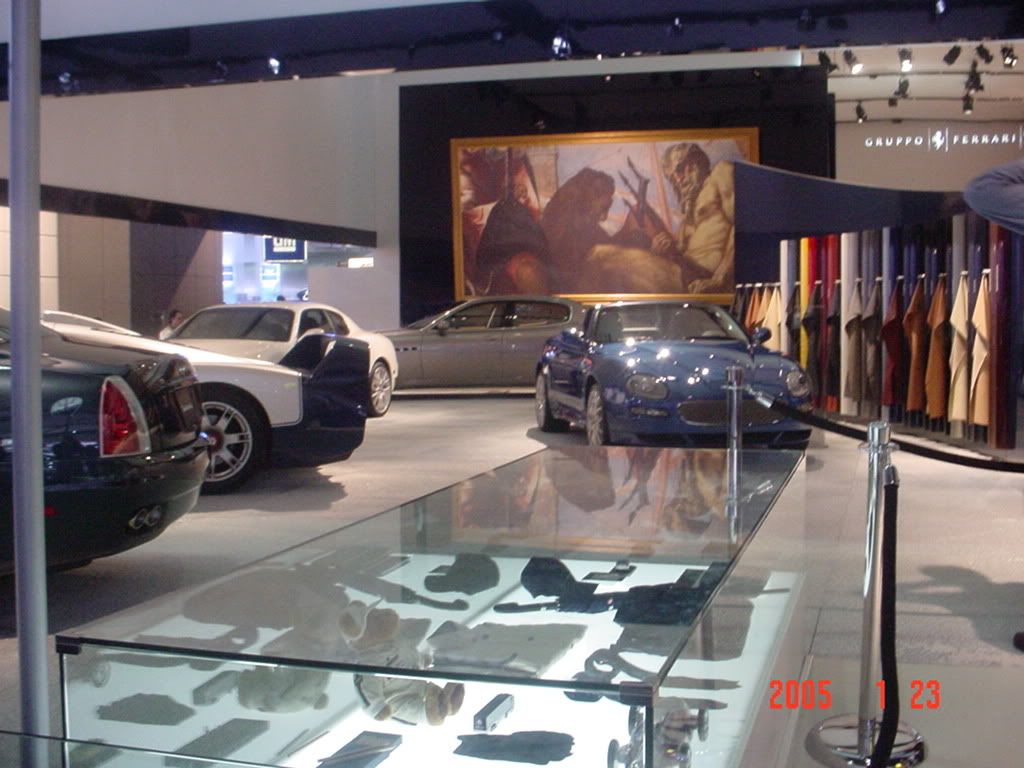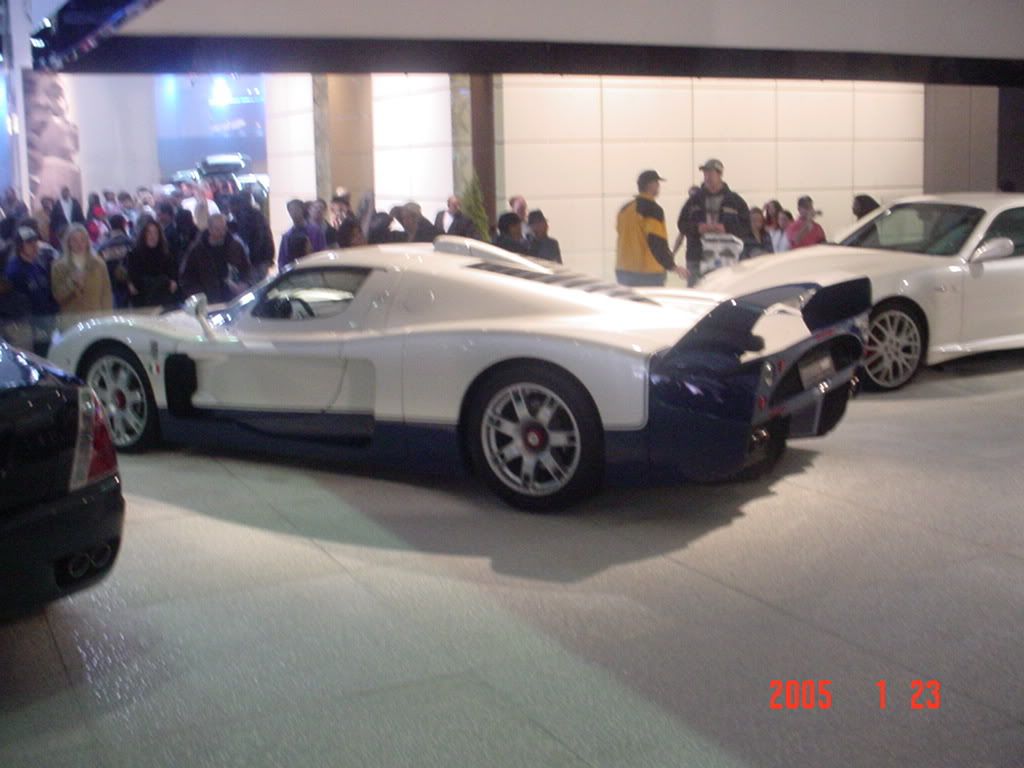 Ah Ferraris, one of the only manufacturers who sells and doesn't advertise.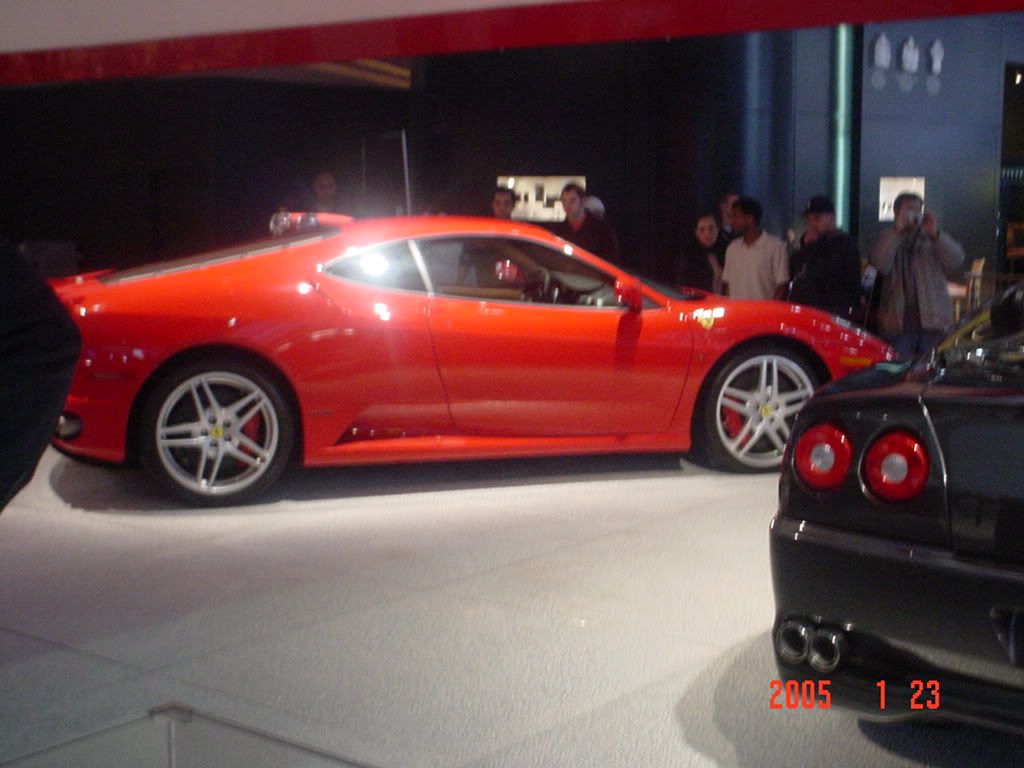 And man that bright red F430 looks sweet!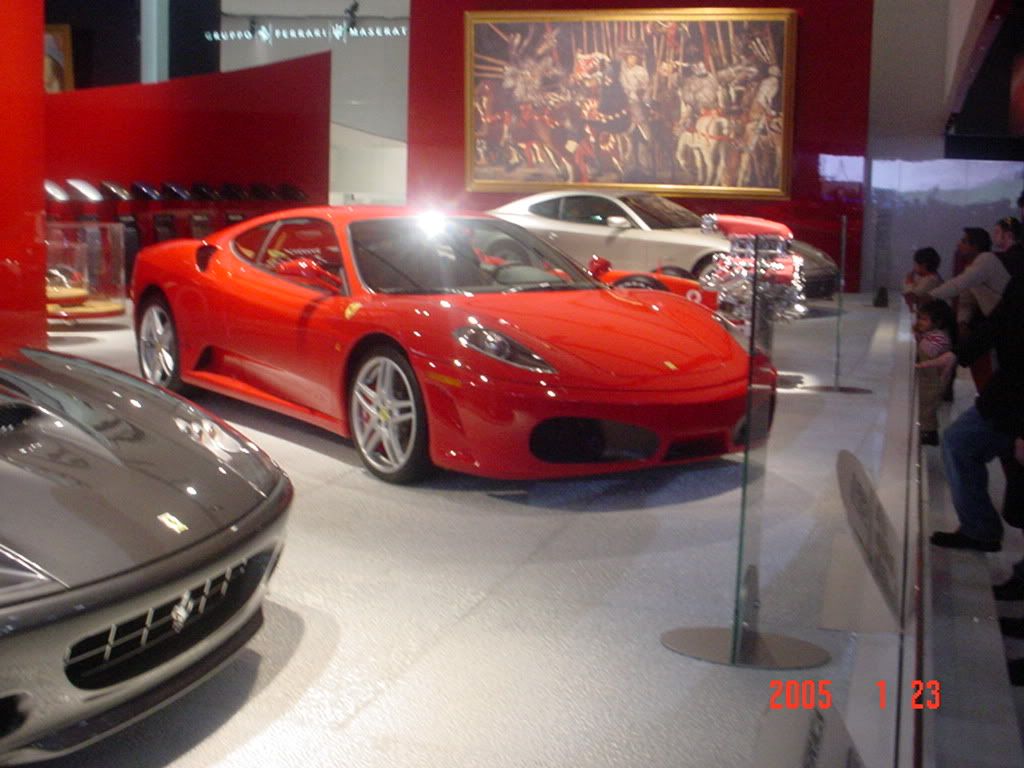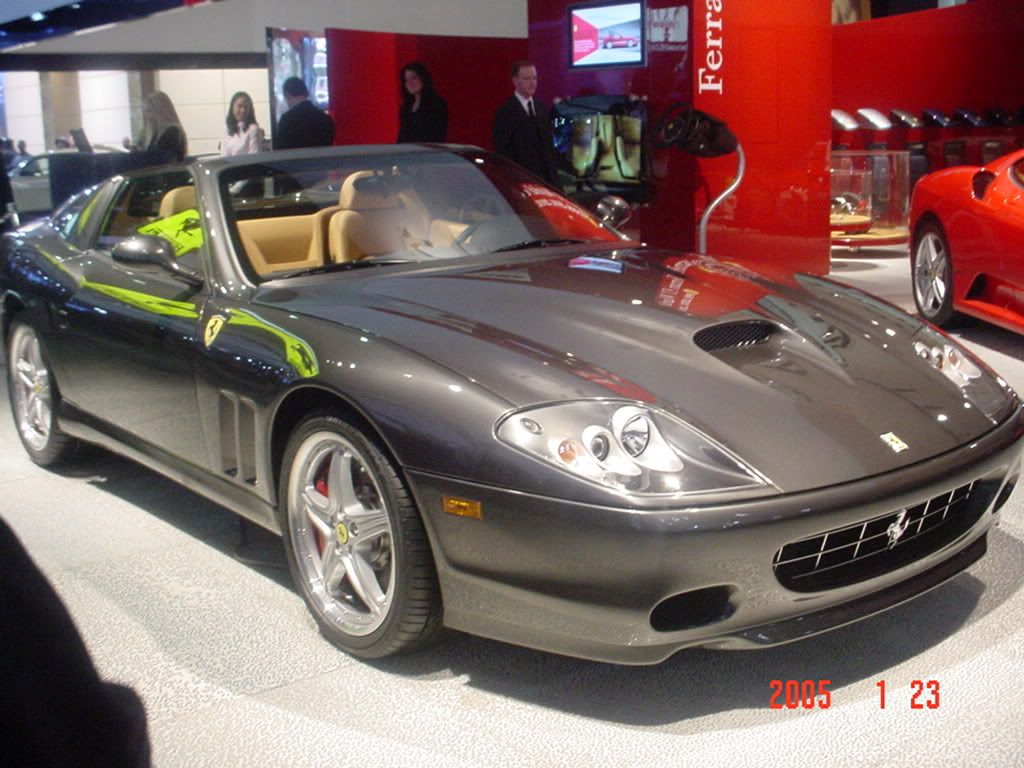 And the Maranello 550, one of the few front-mounted Ferraris. Or would this be the 575???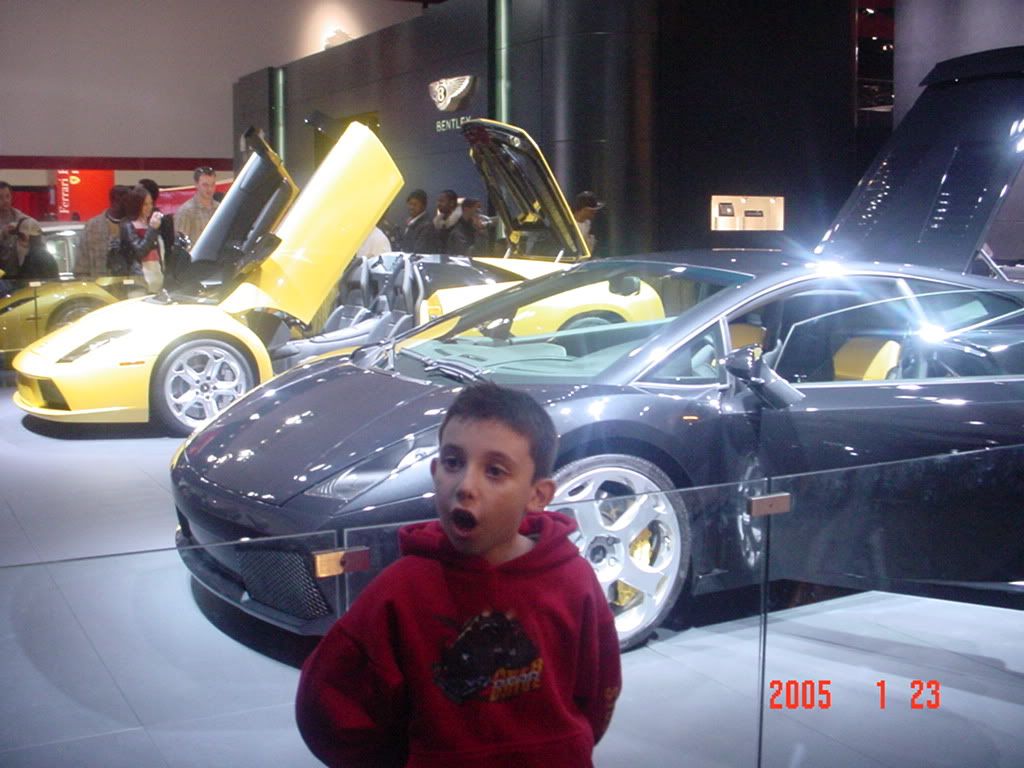 This little Italian kid couldn't take a hint and walk out of my shot. I just said fuck it, my battery was running low.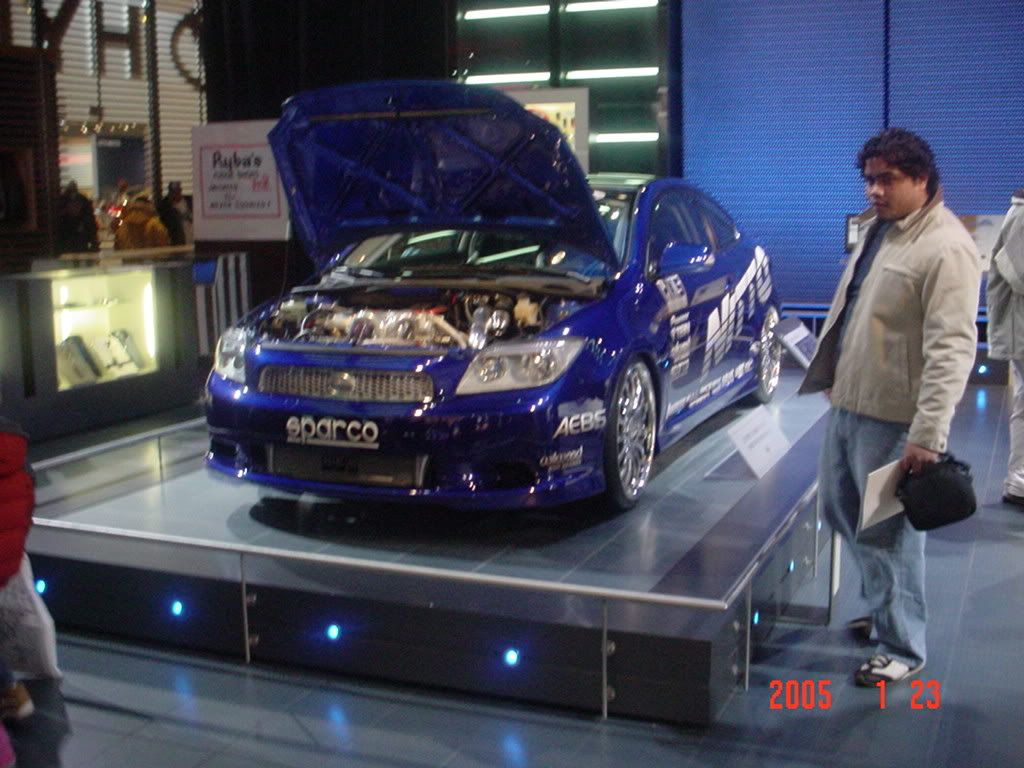 A tuned Scion.......... whoopie....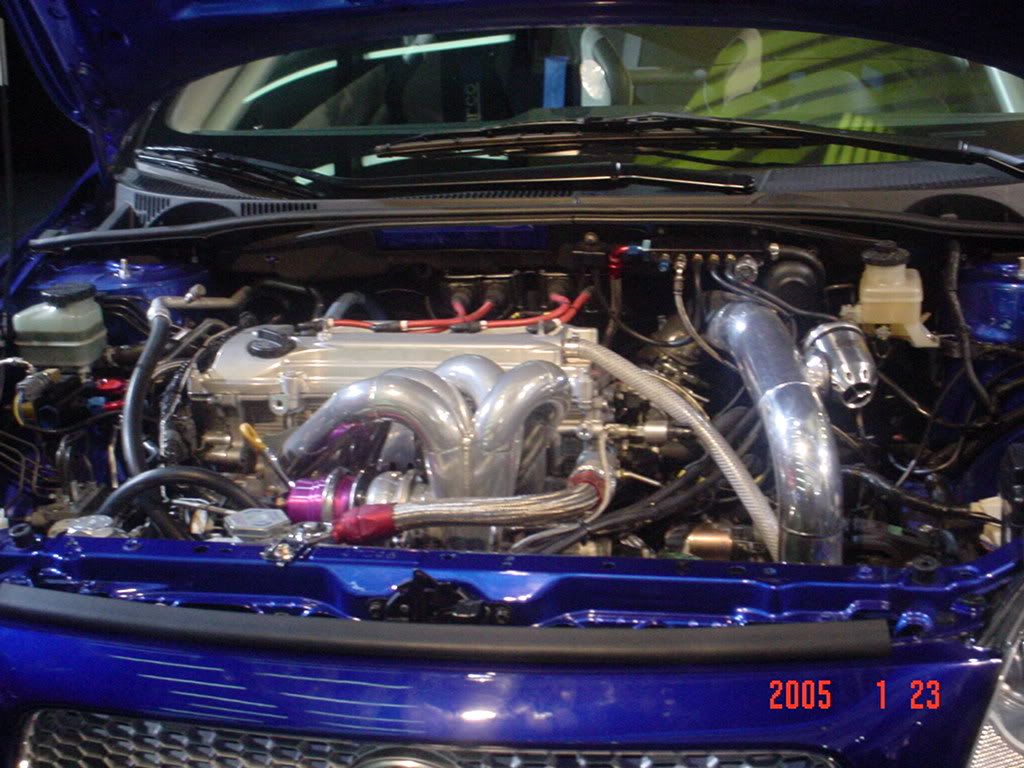 Well, under the hood looks pretty cool.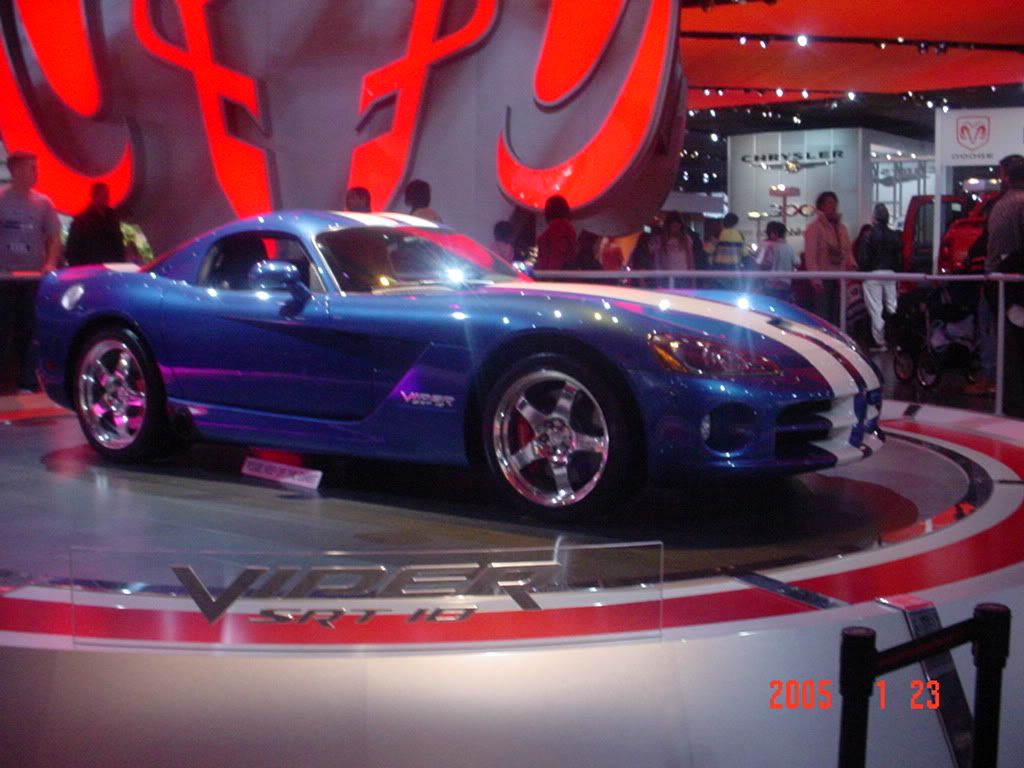 My faith has gone down in Chrysler because they don't stay true to their concepts, because I liked the Viper GTS-R concept better than the SRTs.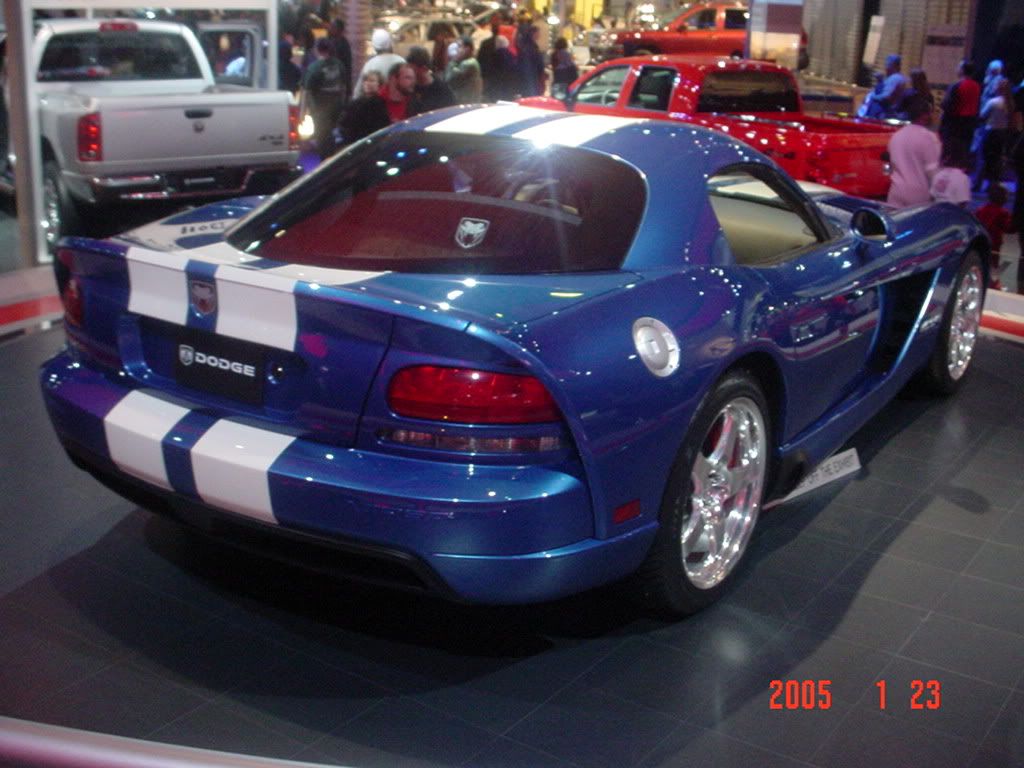 But it looks like this Viper is going back to it's roots.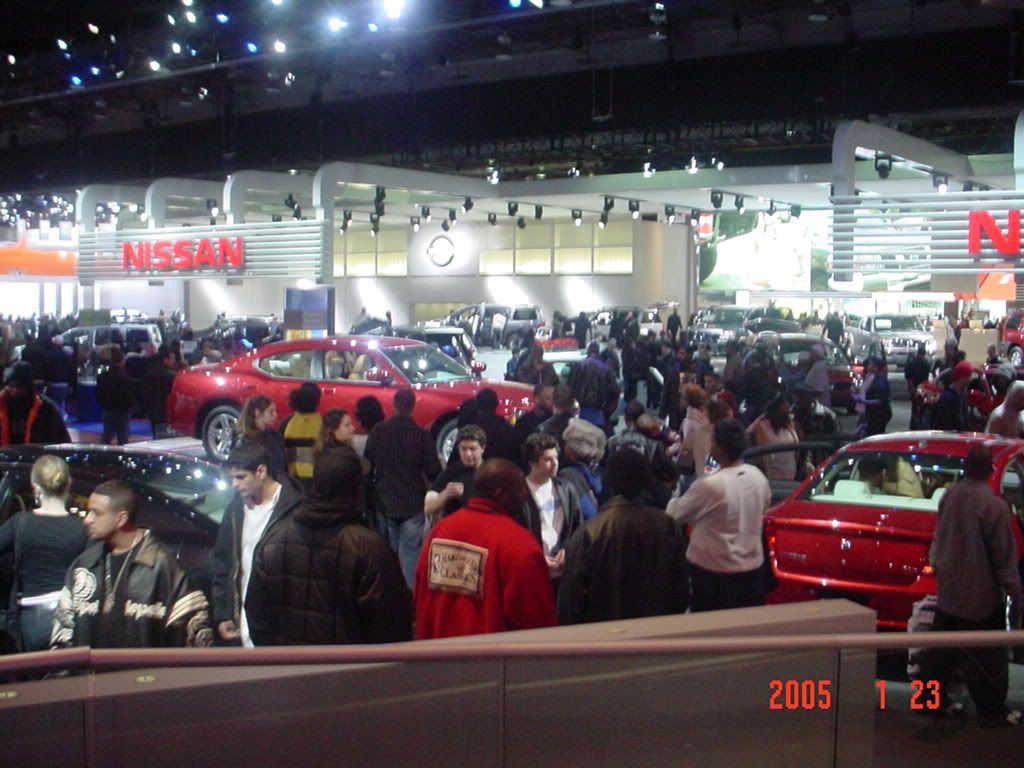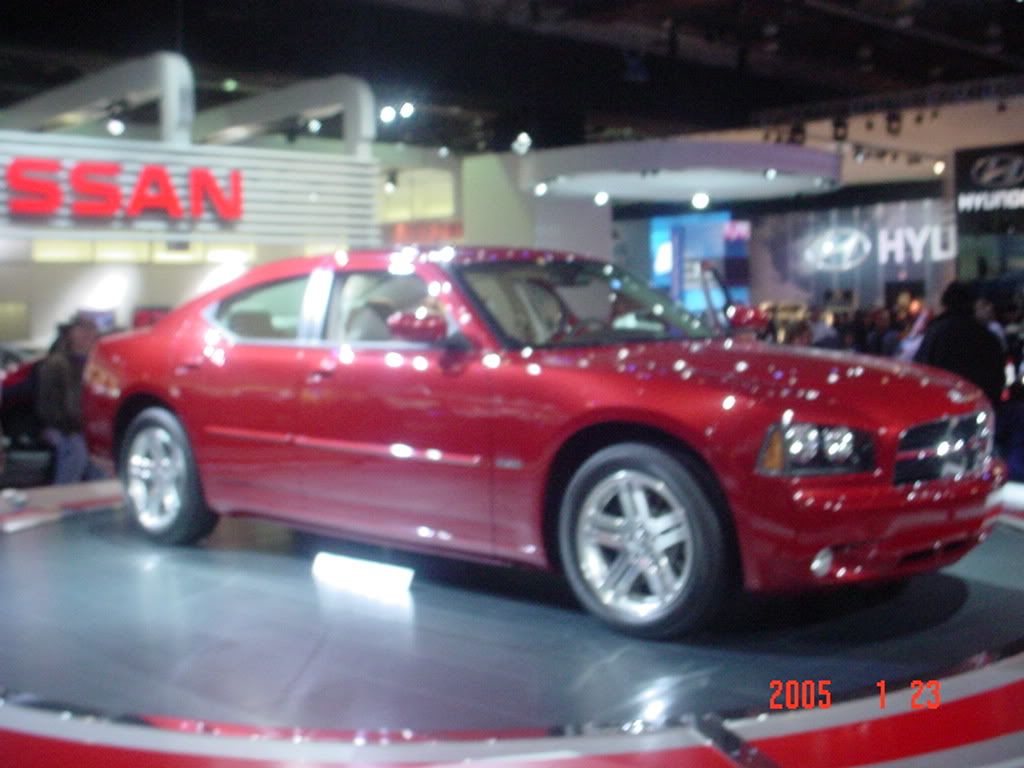 Another Chrysler that does NOTHING for me. The V8 power is nice but it's styling leaves little inspiration IMO. And I believe Chrysler is gonna be the result of this whole global warming thing, they put a damned 5.7L HEMI in every damned car that rolls off their line! But I'll take the General Lee any day.

Like I stated earlier, the Japanese automakers really didn't have much to offer at this event.



But I DO love the 350Z, it's so cool and sleek. And handles like a dream! At this year's Nissan section they're supposed to have the R35 Skyline, I hate the design.... but something tells me the mechanics on that Skyline are gonna be a force to be reckoned with. And I have no idea if they're gonna release it under Nissan or Infiniti.

More German cars now!...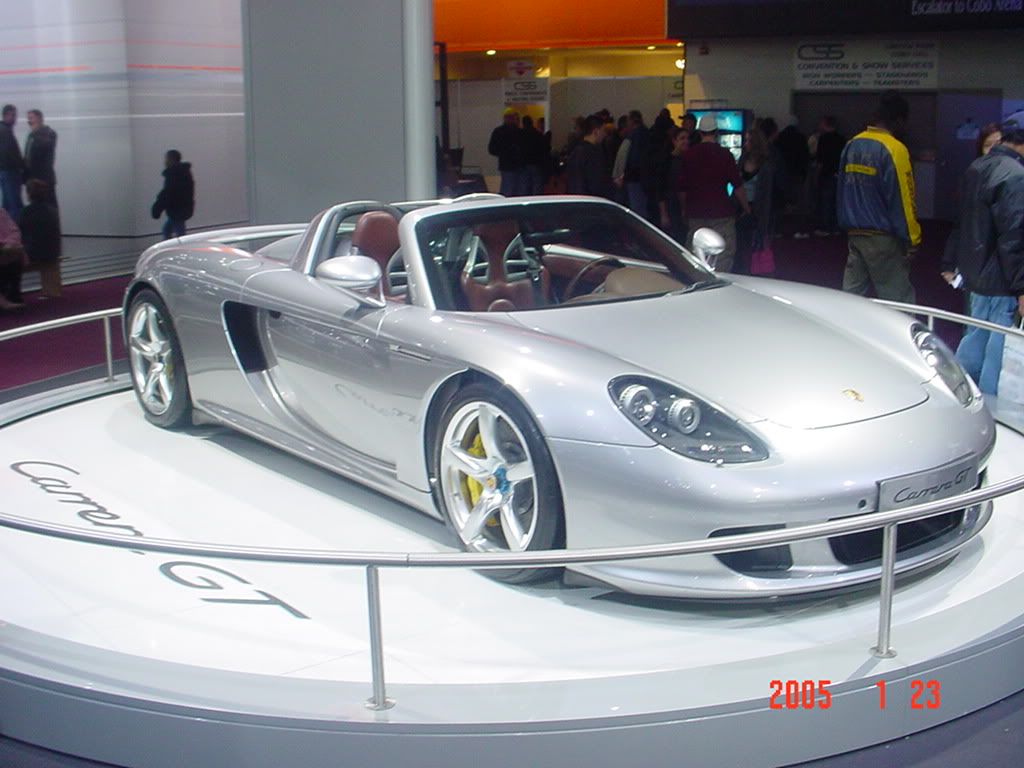 I hated Porsches for a long time because they all looked the same to me but, this has to be the coolest Porsche to date! The Porsche Carrera GT! Mid-mounted V10 and 550HP!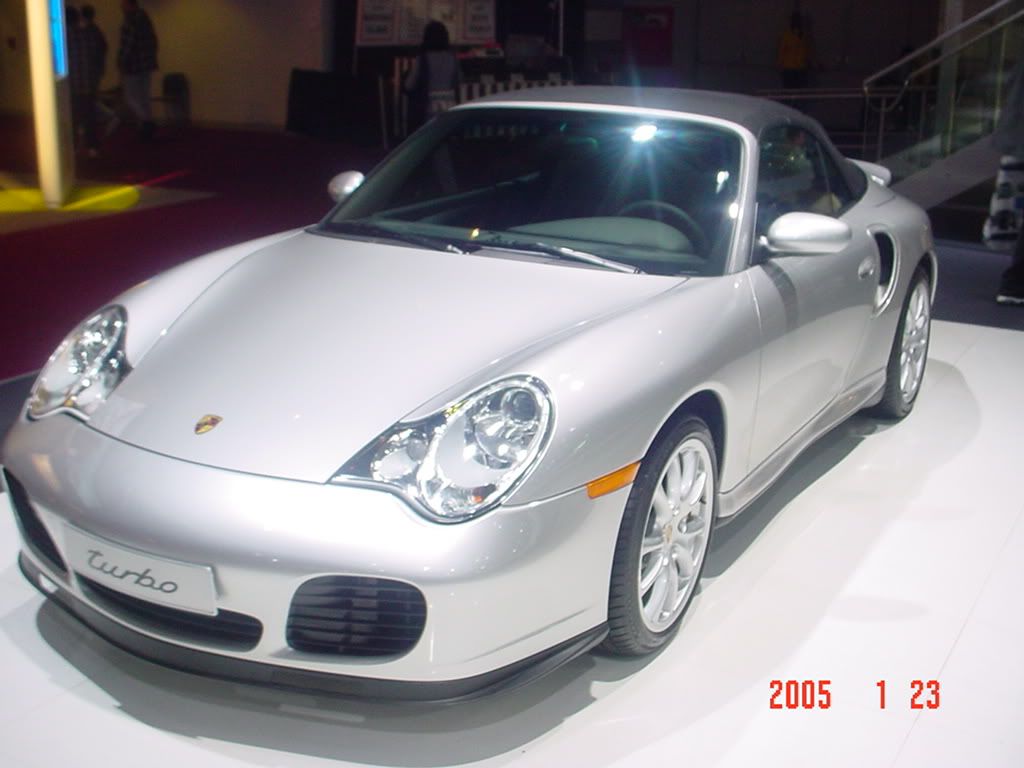 The 911 Turbo S.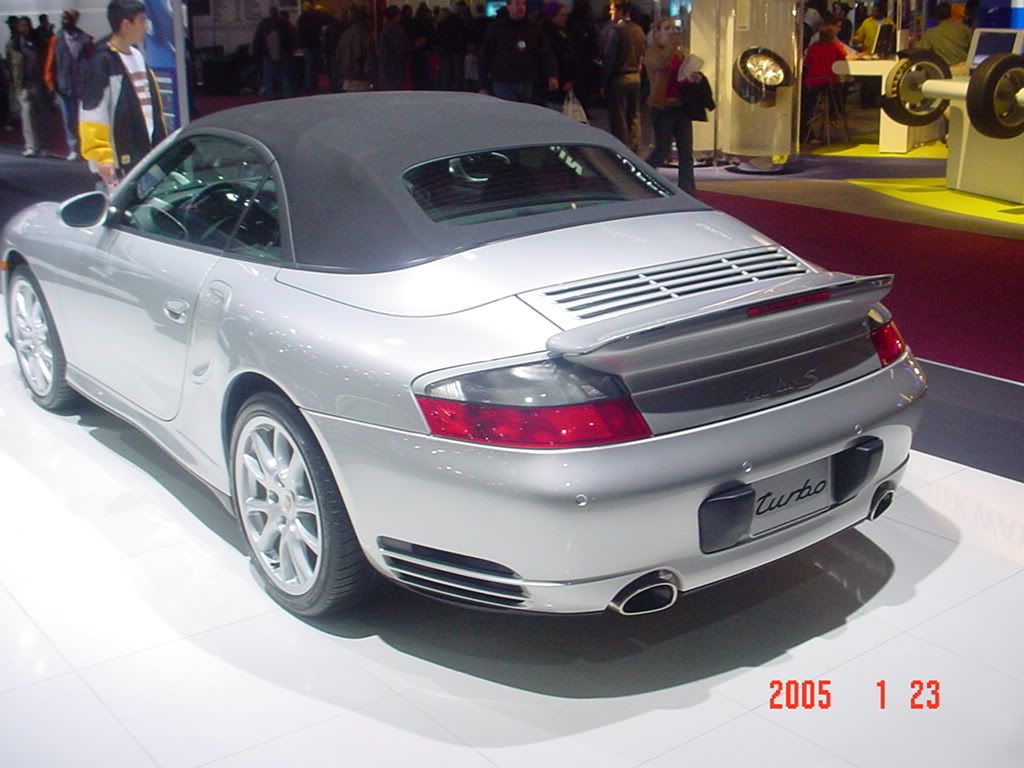 Bayerische Motoren Worke!!!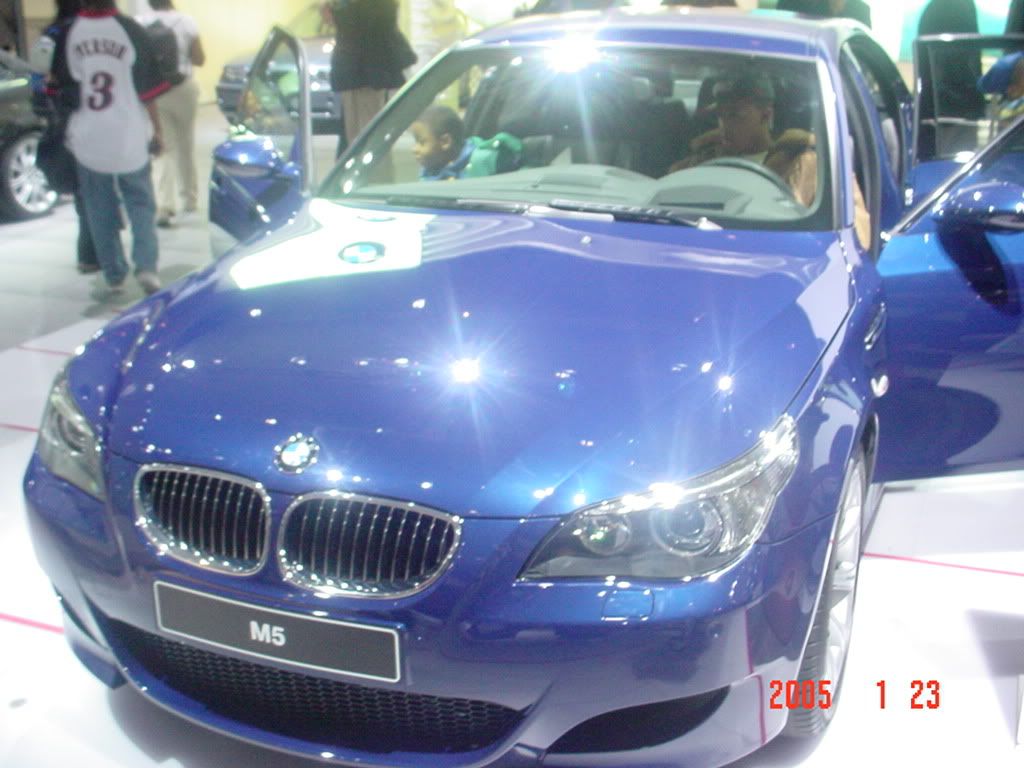 The new M5 in that cool ass blue that BMW does so well.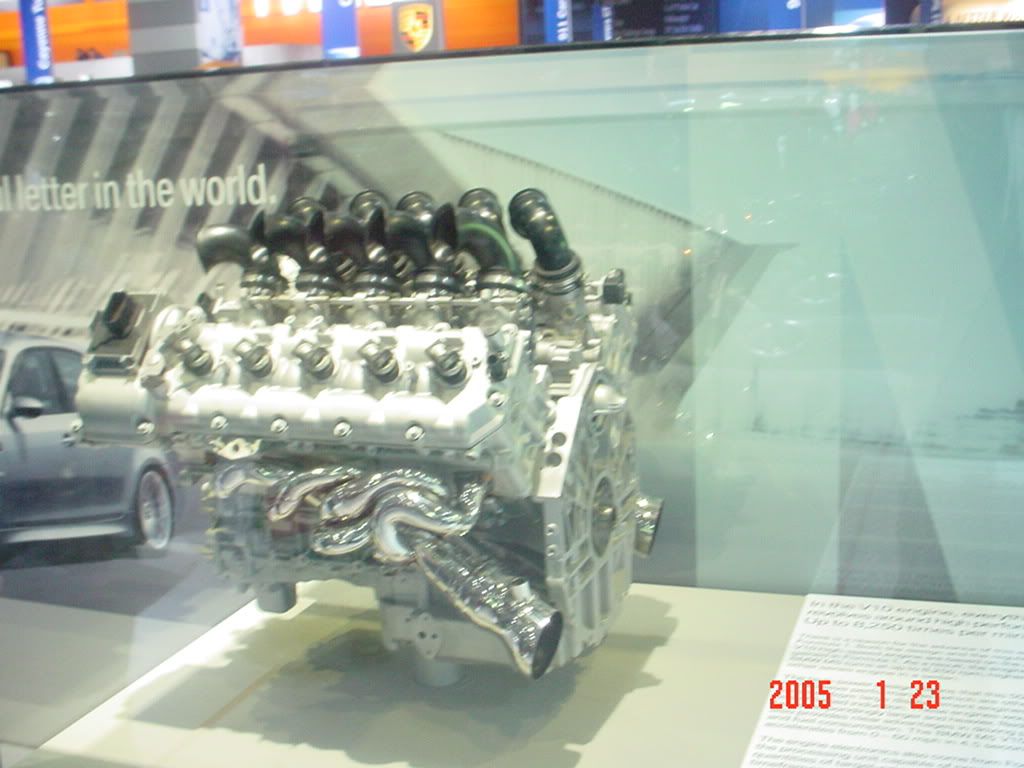 And the M5's V10 powerplant which gives it that 500HP glory. Gotta love German engineering.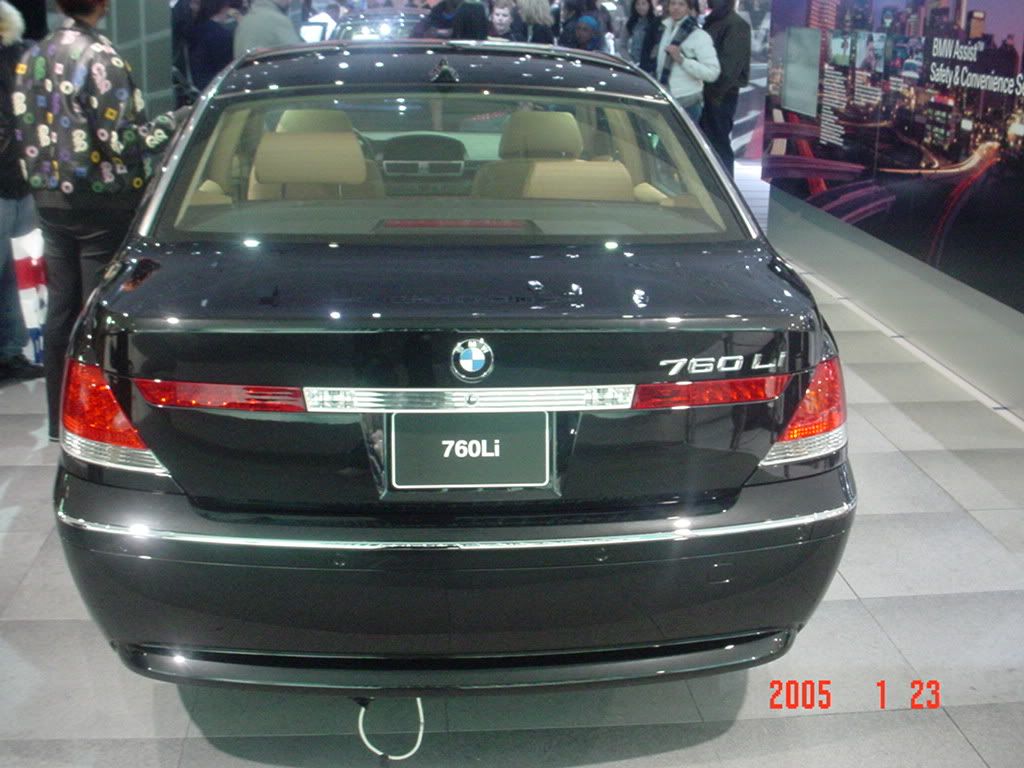 Not a luxury car person, but I wouldn't mind having a 7.60.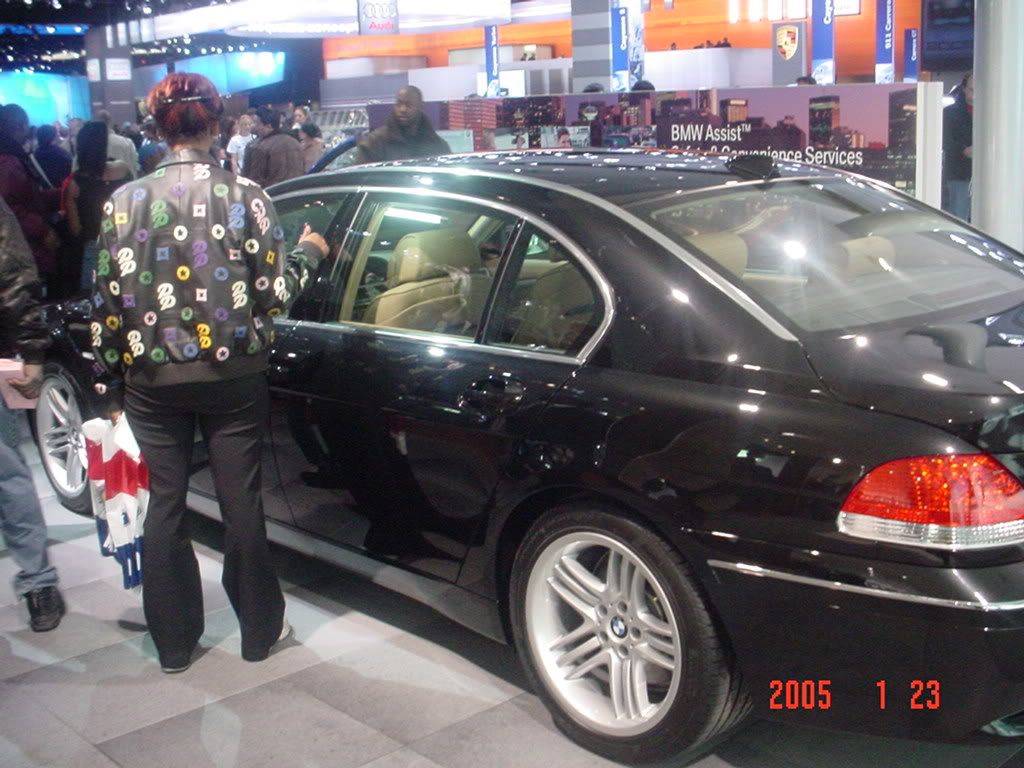 Man I wish, maybe my rich ass cousin will give me her 7.45 when she gets sick of it.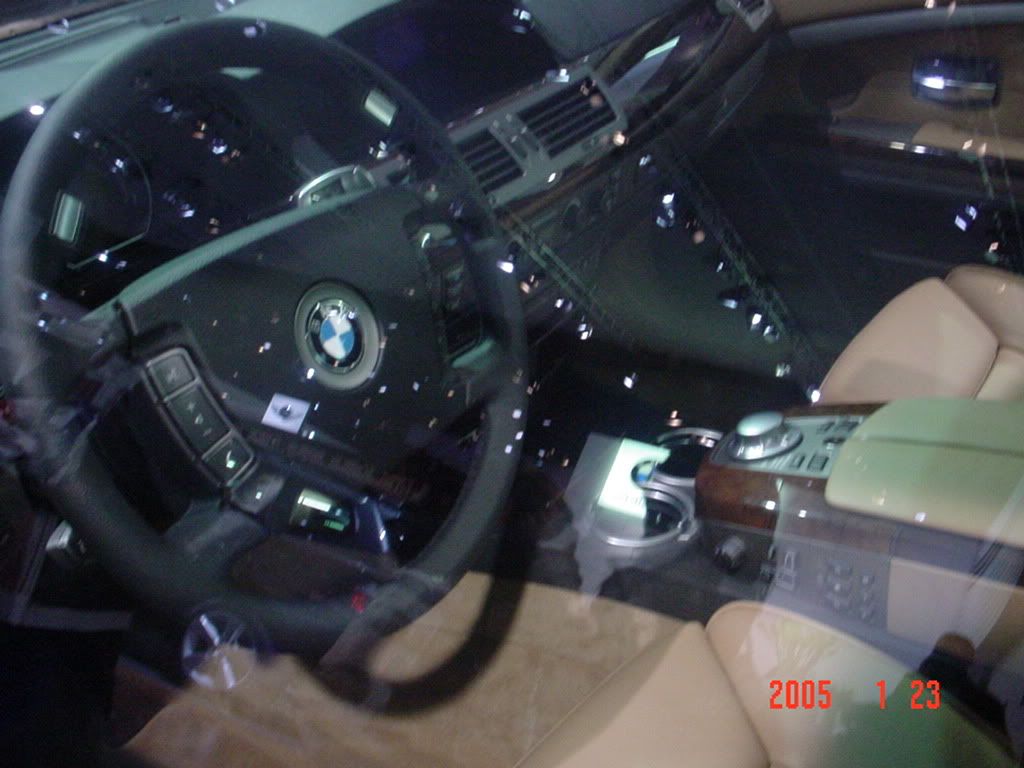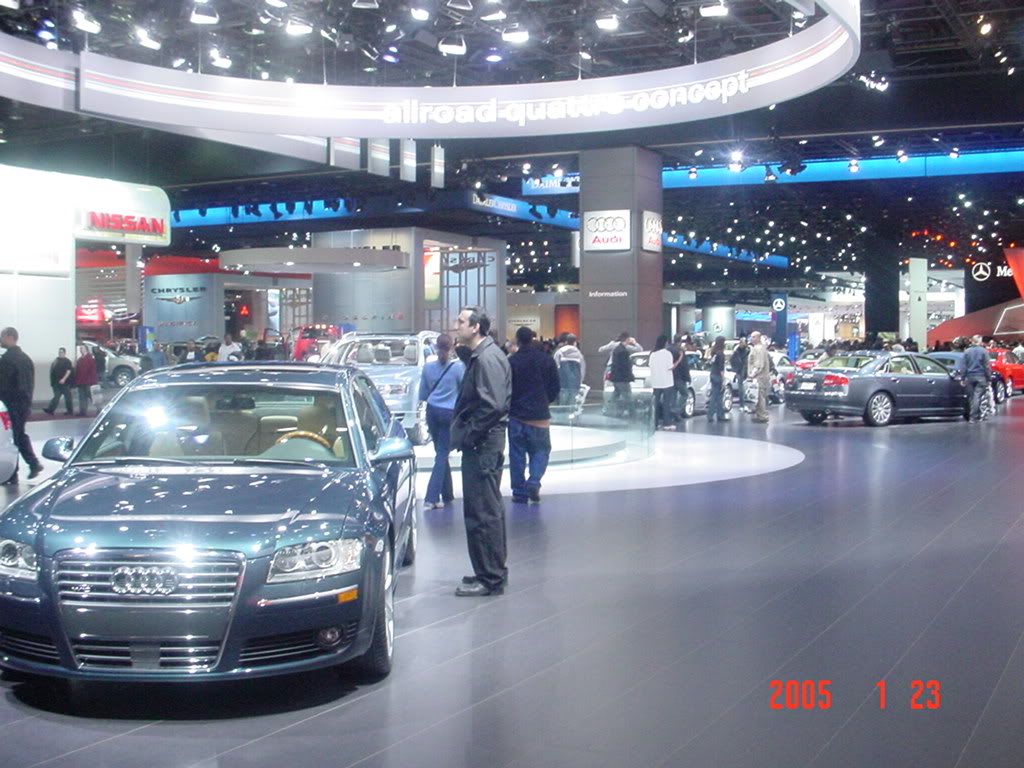 And that's it for upstairs.

Now we go downstairs...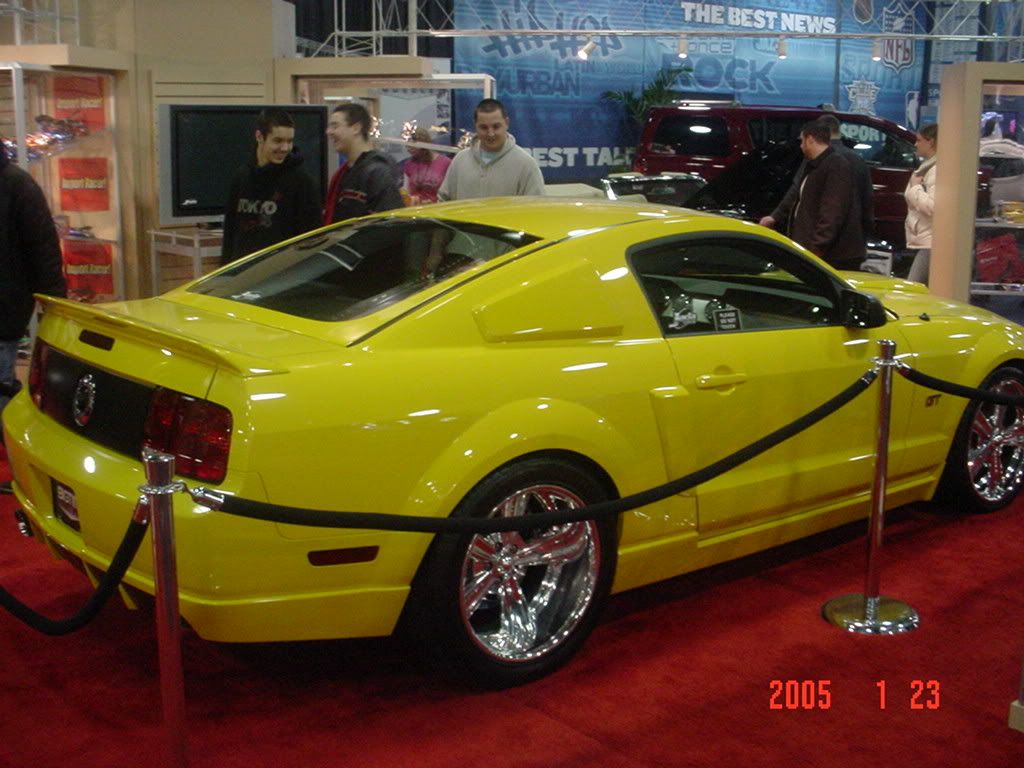 Yes I know.... ANOTHER Mustang.:)

Here's a little something for all the import tuner fans...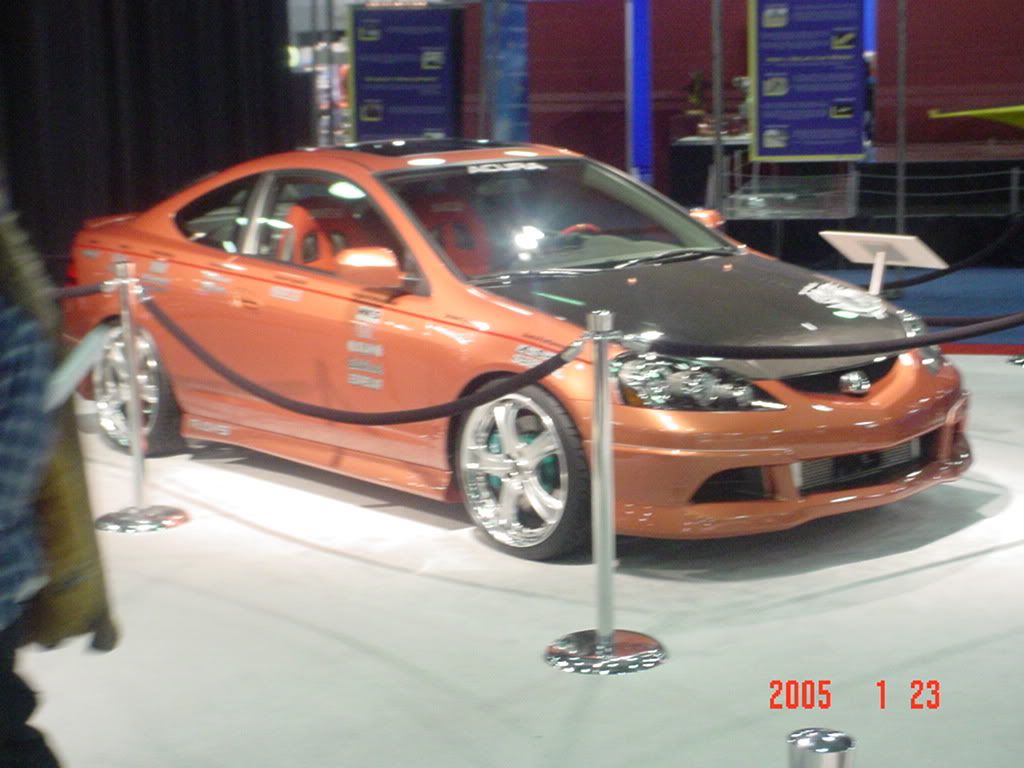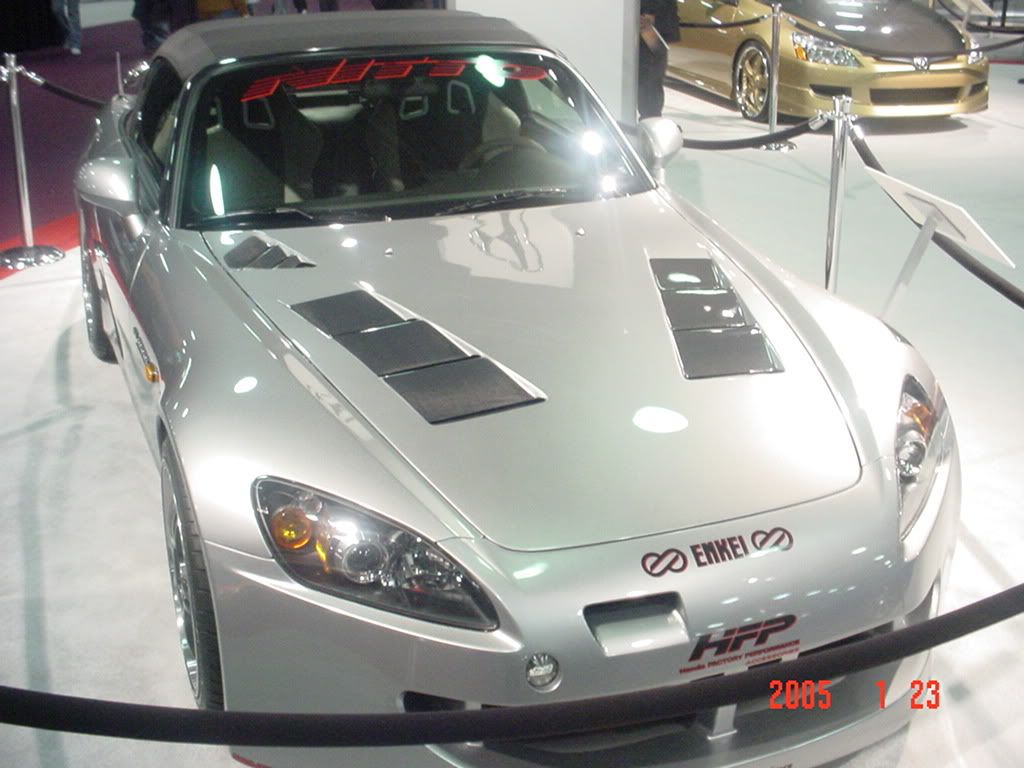 Tri-slot hoods own!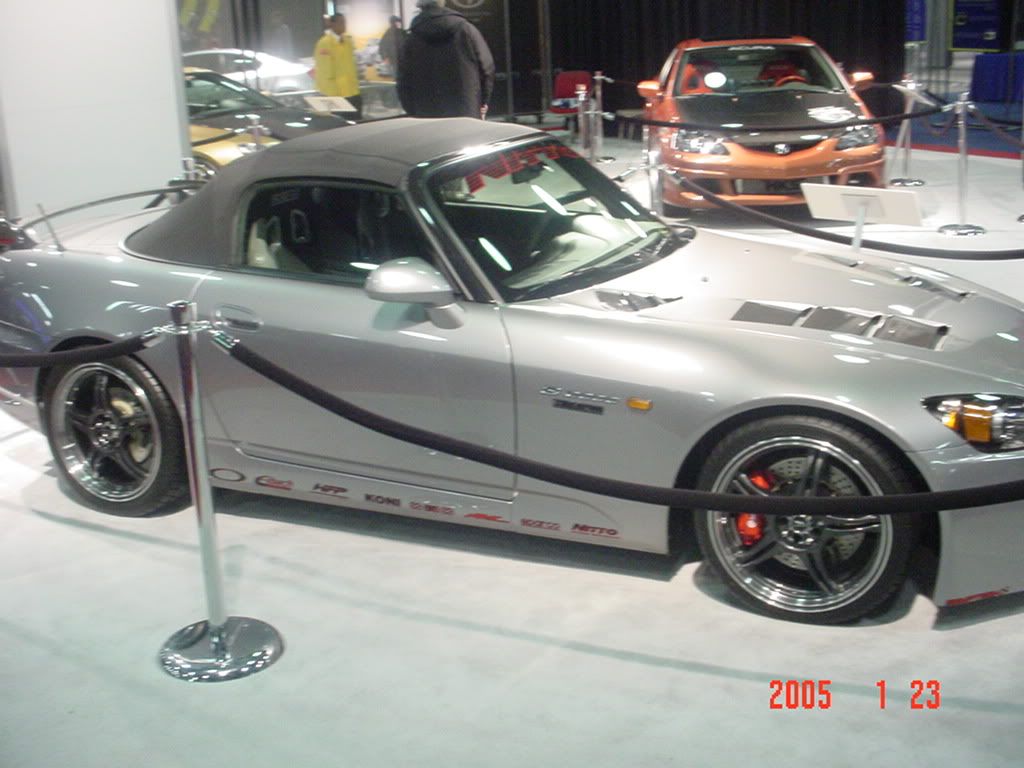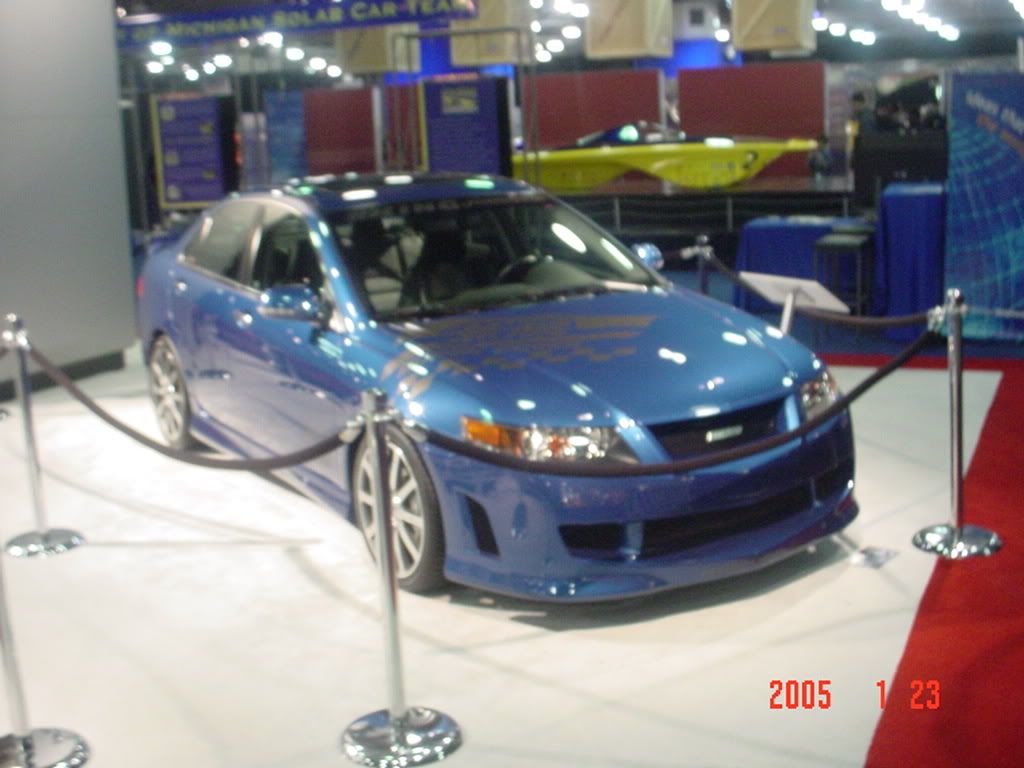 A Acura TL tuner, isn't that just a Euro version of a Honda Accord???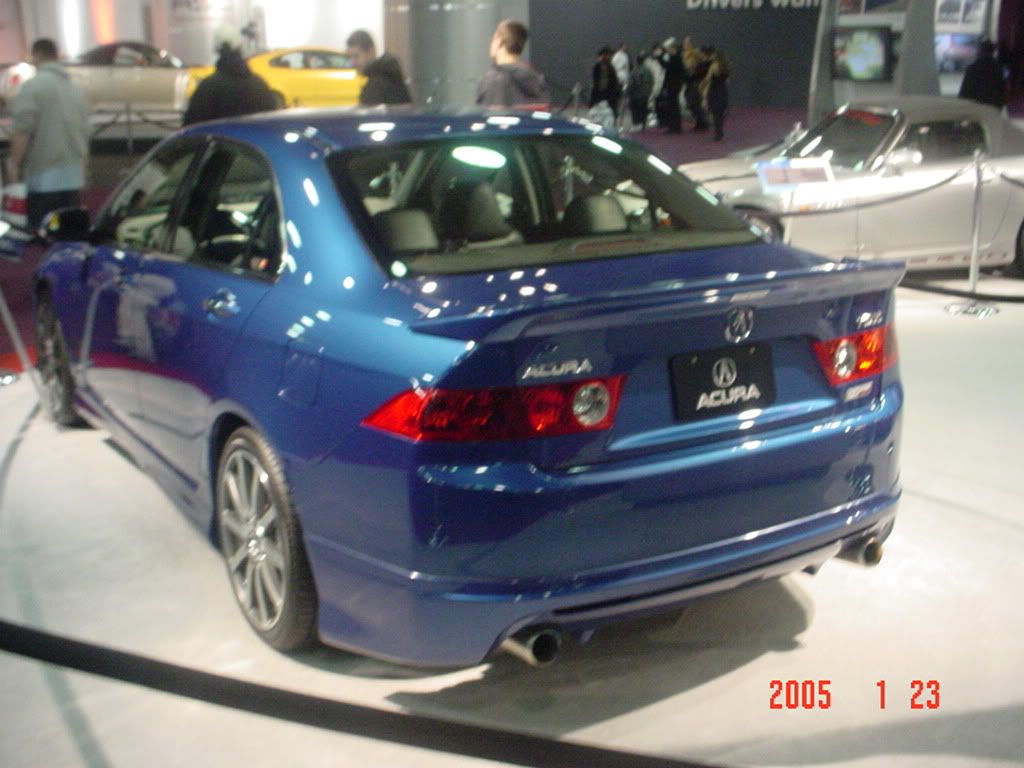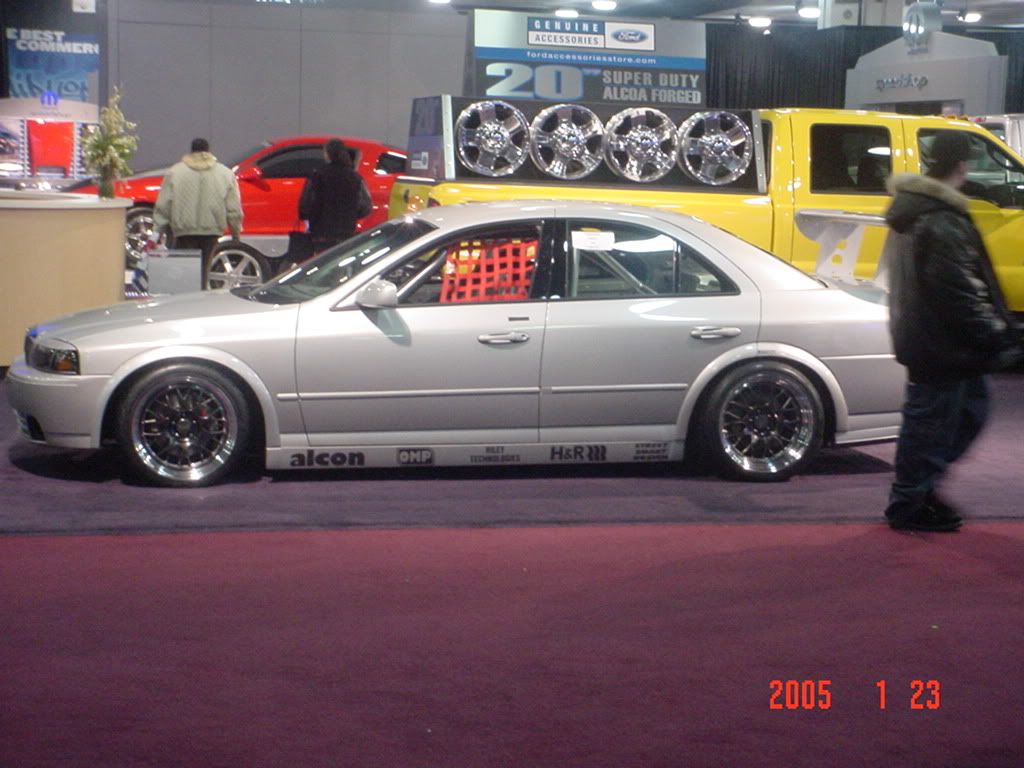 I've never seen a Lincoln LS V8 tuner, I guess people will tune just about anything.

This one's for you Z, left this for last...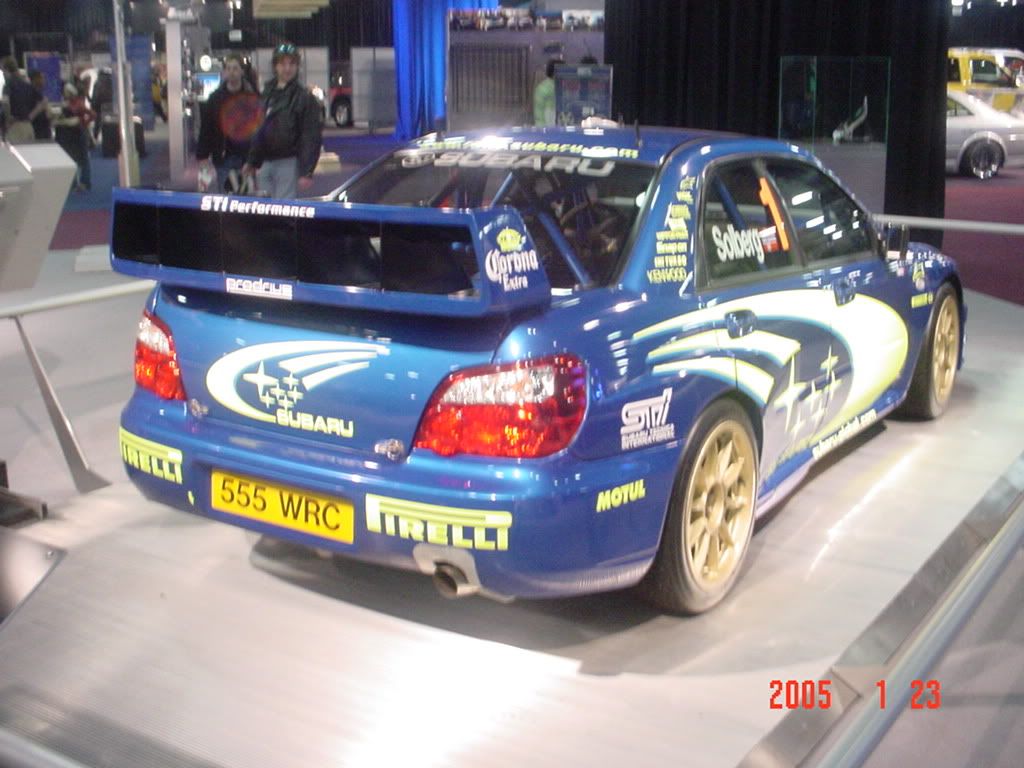 STi LOVE!!!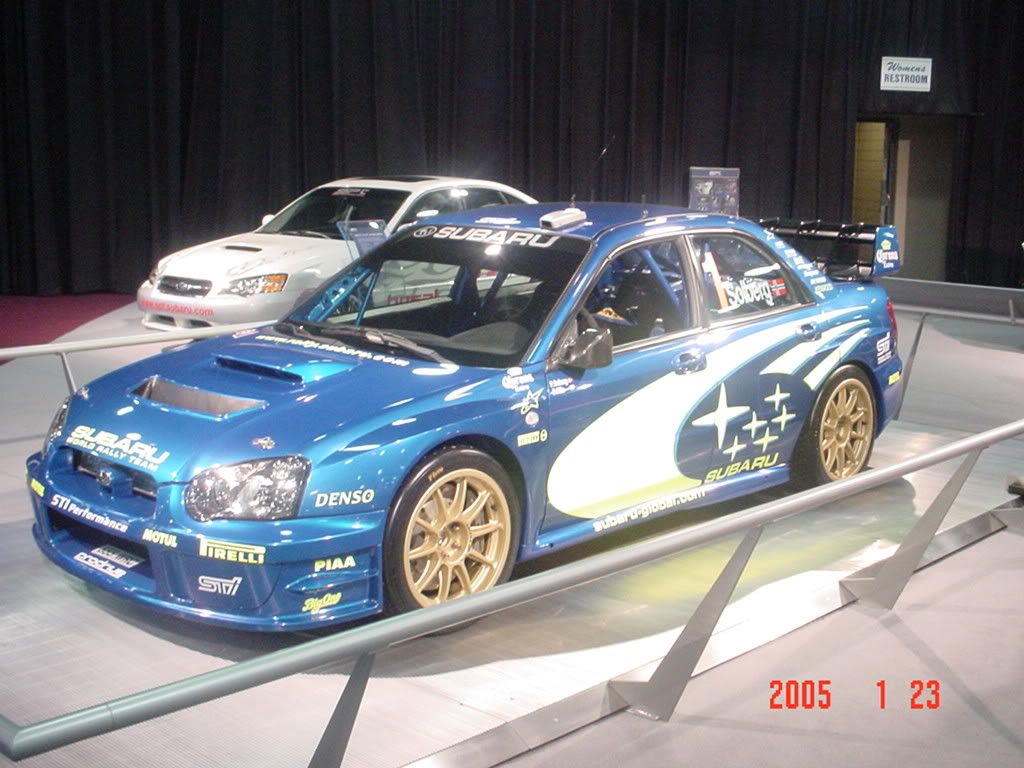 That car rules on GT4! And I love that blue mica paint!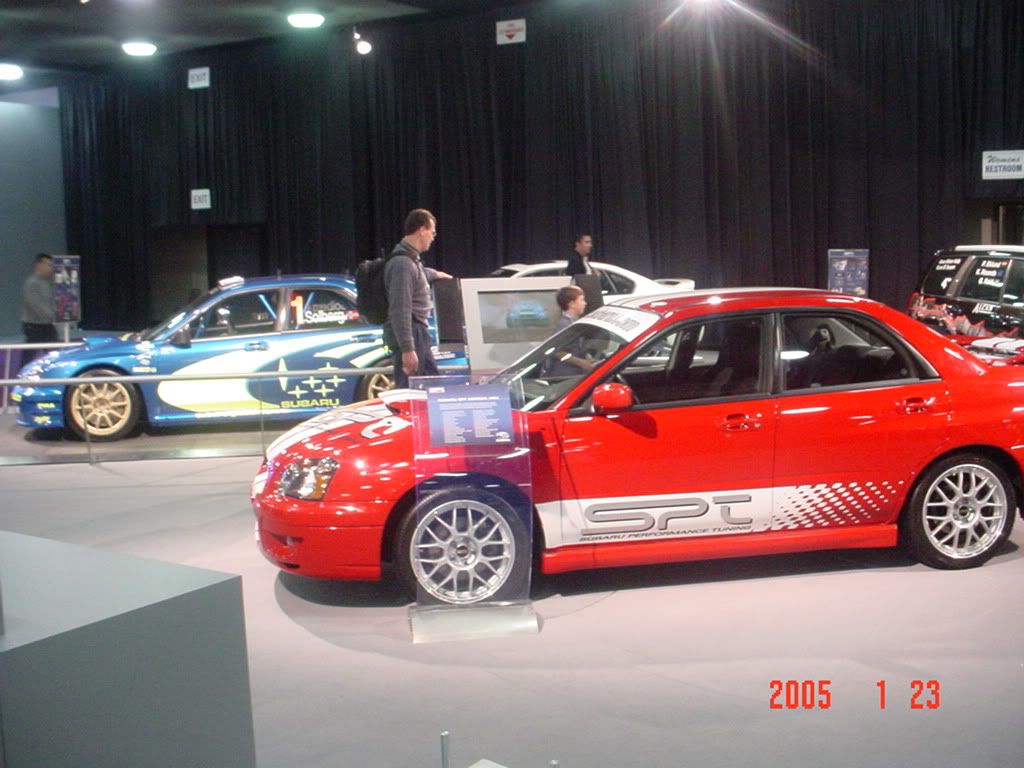 And now my battery is dead, God DAMN that was a lot of pictures. Hope you car nuts (like myself) enjoyed this.